Aaron Rodgers Gave a Perfectly Savage Response After His Hometown Team Passed on Him in the 2005 NFL Draft
Aaron Rodgers entered the 2005 NFL draft with the opportunity of a lifetime. Rodgers, a Chico, Calif. native and lifelong San Francisco 49ers fan, was one of the top quarterback prospects in the class out of college, and guess who was sitting there with the No. 1 overall pick?
His hometown team.
But Rodgers' lifelong dream of playing for the 49ers never came to fruition. Instead, San Francisco drafted Alex Smith out of Utah, and Rodgers fell all the way to the Packers at pick No. 24. After walking off the stage, Rodgers gave a perfectly savage response to the 49ers for passing on him in the draft.
Aaron Rodgers grew up with dreams of playing for the 49ers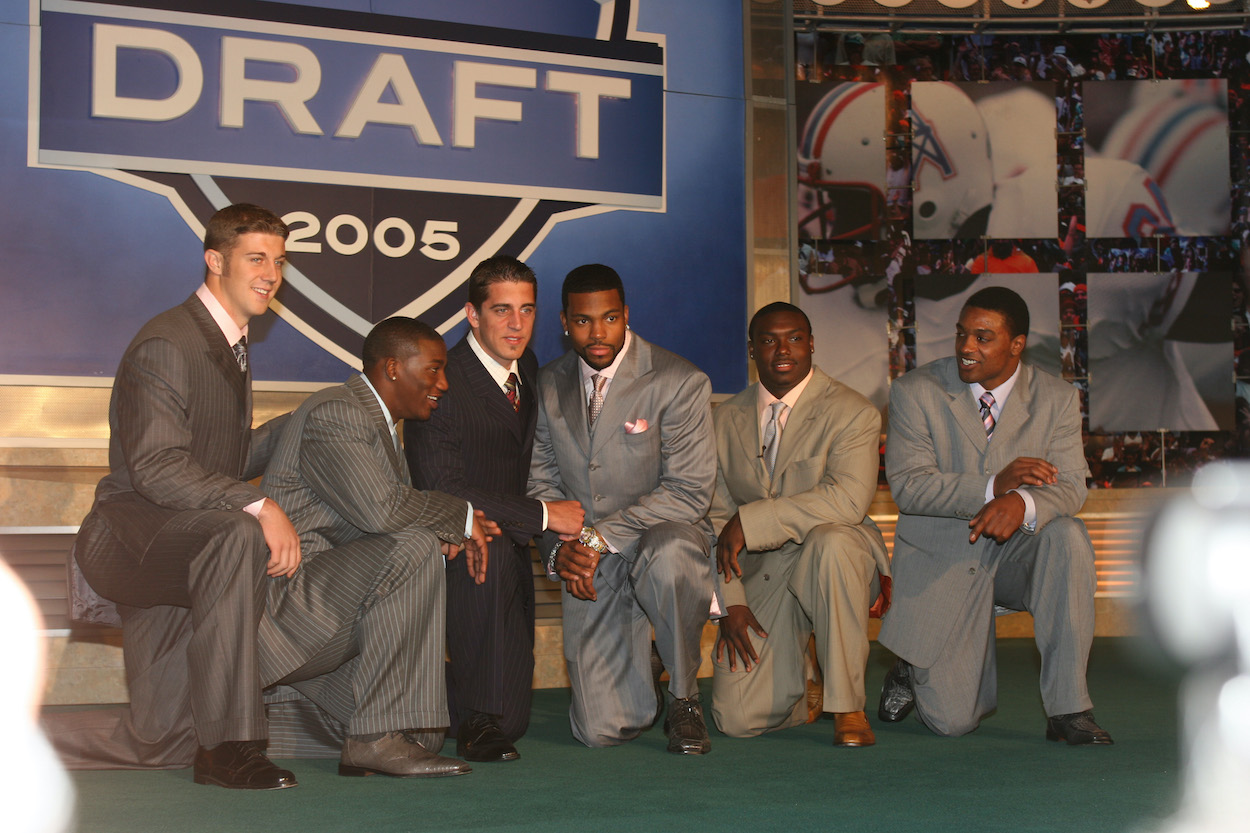 Rodgers is a California kid at heart. He spent the majority of his childhood in the Golden State, and he grew up idolizing Joe Montana and the 49ers.
"That was so important for me, as far as setting dreams and goals was being able to watch the late '80s and early '90s 49ers teams, which were obviously fantastic," Rodgers told NBC's Mike Tirico ahead of a "Sunday Night Football" game against the 49ers in 2019. "I remember sitting down, we'd have a big Super Bowl party, and watching [Joe Montana] and The Drive. Then thinking, even at 5, 6 years old, 'That's what I want to do. I want to go out and be like that.'"
Rodgers stayed in his home state to attend the University of California, Berkeley, where he quickly became a top NFL draft prospect. By the time the 2005 draft came around, Rodgers couldn't have been more thrilled with the order.
There sat the 49ers at No. 1 overall. Rodgers' lifelong dream of playing for his hometown team was about to come true. Or so he thought.
The 49ers snubbed Rodgers to draft Alex Smith
As Rodgers waited anxiously in the draft room for San Francisco's No. 1 selection, he knew he had the opportunity to achieve his childhood dream. But not many people are able to live our their exact aspirations. Rodgers is no different.
The 49ers passed on Rodgers and went with Smith at No. 1 overall. A crushing blow to the Chico, Calif. QB. Then, 22 more teams let him slip by.
Eventually, the Packers scooped Rodgers up with the 24th overall pick, and boy did that end up working out.
Rodgers gave a perfectly savage response to the 49ers
After Rodgers was finally drafted by the Packers in 2005, he was asked at the draft how he felt about the 49ers passing him up. His answer was pure gold.
"How disappointed are you that you will not be a 49er?" a CBS 5 reporter posed.
"Not as disappointed as the 49ers will be that they didn't draft me," Rodgers responded without hesitation.
And guess what? He sure was right.
Years later, Rodgers revealed the reason he was given as to why San Francisco drafted Smith ahead of him. If true, the franchise has some serious questions to answer.
"The story that I heard, and I don't know if it's true or not, was that Mike Nolan said that when he saw Alex open the car door for his mom, he knew that was the quarterback he wanted," Rodgers told Bill Simmons on HBO's Any Given Wednesday in 2016. "I was at lunch with [the 49ers]. My mom wasn't there. My dad wasn't there."
So a car door and some good manners stood in the way of the 49ers drafting Rodgers in 2005. Of course.