Aaron Rodgers Putting NFL Defenses and Former Scouts to Shame: 'He's a Better Player Than Akili Smith'
Aaron Rodgers is on a mission. Whether it's to prove his haters wrong, drive home the point the Green Bay Packers shouldn't have drafted Jordan Love, or show he can finally get the Packers back to the Super Bowl, Rodgers is headed for his fourth MVP. He has the Packers with the NFL's best record and has shown no signs of slowing down at age 38.
After getting humiliated by the New Orleans Saints in Week 1, Rodgers has lost once. In that game, he may have had statistically his best game this season, completing 23 of 33 passes for 385 yards and four touchdowns in a 34-31 loss to the Minnesota Vikings. While Rodgers is punishing defenses, he's also punishing those teams who passed on him in 2005.
Aaron Rodgers the favorite to win another NFL MVP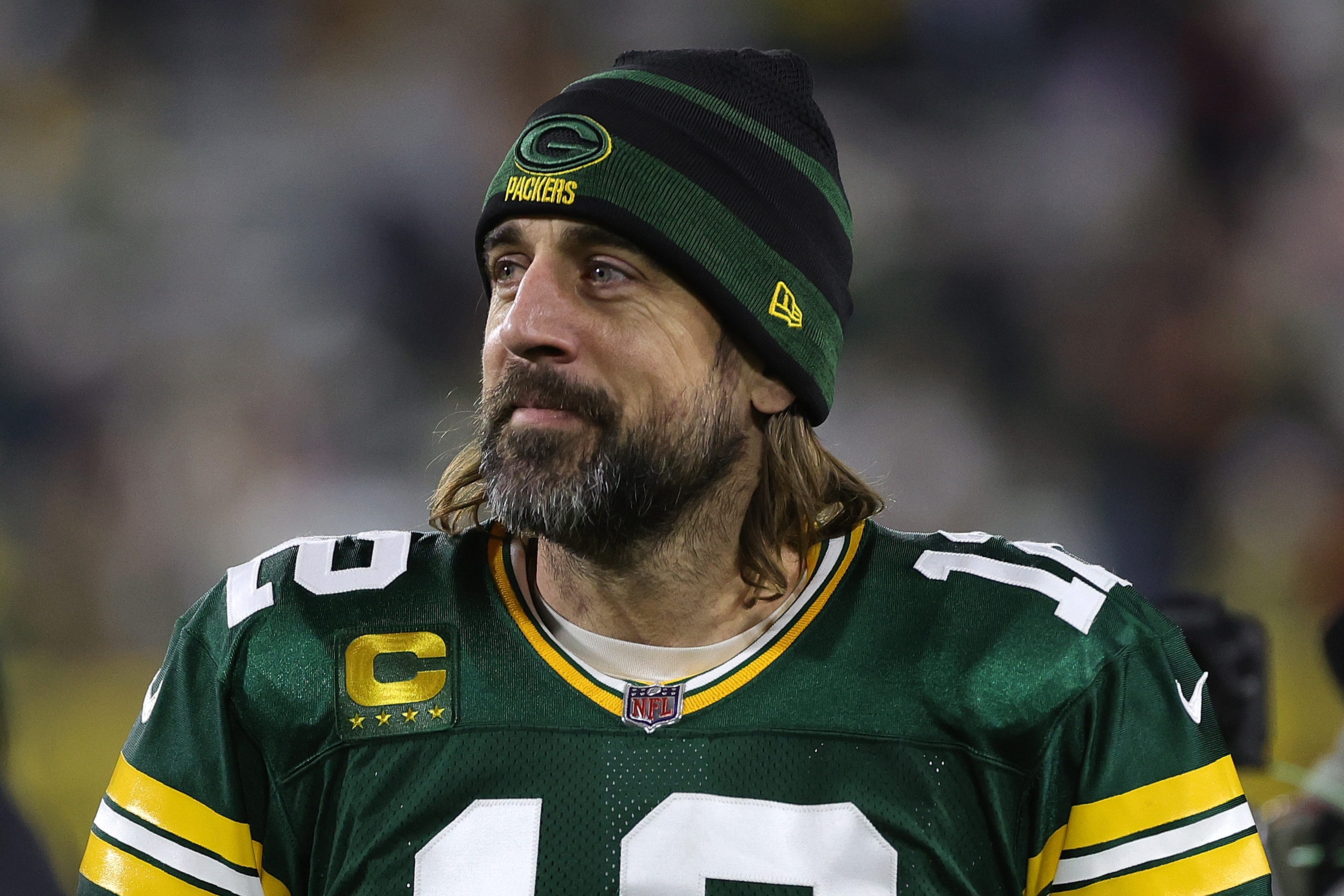 According to Odds Shark, Rodgers is the favorite to win his fourth MVP. With two weeks remaining in the season, it appears to be a three-man race between Rodgers, Tom Brady, and Indianapolis Colts running back Jonathan Taylor. Maybe Cooper Kupp and Patrick Mahomes get thrown into the mix. Rodgers, however, has been separating himself from the pack after guiding the Packers to a 12-3 record.
Rodgers' biggest hiccup came in the season opener when the Saints trounced the Packers 38-3. He had been away from the team in a contract dispute and questions quickly arose regarding his future in Green Bay after he threw two of his four interceptions in that game. Since that clunker, Rodgers has thrown 33 touchdown passes, two interceptions, and has gone 12-1. Green Bay's third loss came against the Kansas City Chiefs when Rodgers was sidelined with COVID-19.
On Sunday, Rodgers snapped a tie with Brett Favre for most touchdown passes in Packers history. Should Rodgers secure another MVP, he'll snap another tie with Favre as both own three. Rodgers would be one shy of Peyton Manning, who racked up five MVPs in his Hall of Fame career.
In his last five games, Rodgers has thrown 16 touchdown passes without an interception. The Packers have scored at least 31 points in four of those games. Green Bay hosts Minnesota and travels to face the Detroit Lions in the regular-season finale, both winnable games. Hand the award to Rodgers if Green Bay wins out and finishes 14-3.
Aaron Rodgers is making defenses and scouts look bad
Draft day 2005 may have been the longest day of Rodgers' football life. There was a question of whether he or Alex Smith would be selected by the quarterback-needy San Francisco 49ers with the first pick. The Niners opted for Smith, and Rodgers impatiently waited through 23 more picks before Green Bay took him at No. 24.
Rodgers has played with a chip on his shoulder since he took over for Favre in 2008. He's a 10-time Pro Bowler with 445 career touchdown passes. Not only has he embarrassed defenses, but he also put some of the scouting reports on him to shame.
Rich Snead, a 2005 scout for the Tennessee Titans said he liked Rodgers but his comparisons to other quarterbacks were far from flattering.
"I like him," Snead said, according to the Milwaukee Journal Sentinel. "I just don't know if he's maxed out. He's more accurate than (Kyle) Boller but probably not as athletic. He's a better player than Akili Smith. More athletic than (Trent) Dilfer was. He's a little more mobile than Joey Harrington."
Snead wasn't alone. Another AFC scout frowned upon Rodgers.
"I don't like him," the unnamed scout said. "He's a clone of Harrington and Boller. They all throw the same way. What have those guys done? Nothing. If you take him in the second round, fine. Heady guy. They do a marvelous job of coaching quarterbacks there. I don't think he's as good as the top quarterbacks coming out last year." 
One NFC scout on Rodgers: 'I think he has a good chance of being a bust'
Many scouts in 2005 said Rodgers, listed at 6-foot-2, was "too short." Others called him a "system quarterback." One NFC scout went as far as saying he felt Rodgers would be an NFL bust.
 "I think he has a good chance of being a bust," the scout said. "Just like every other (Jeff) Tedford-coached quarterback. The thing I struggle with him is he gets sacked a lot. He doesn't have great ability to change the release of the football. He's mechanically very rigid. Brett Favre can change his release point and find different windows. There will be more growing pains with Alex Smith but in the end, he has a much better chance to be much better."
Another AFC scout couldn't have been more wrong in his assessment.
"He's a system quarterback. 3-, 5-, 7-step guy," he said. "Can't create on his own. Panics under pressure. Gets flustered easy. I don't think there's a quarterback in the draft worthy of a first-round pick. I'm dead serious. None of them are worth it."
Rodgers had a rough draft day, but so did many of these scouts. Most were dead wrong, and Rodgers is now getting the last laugh.