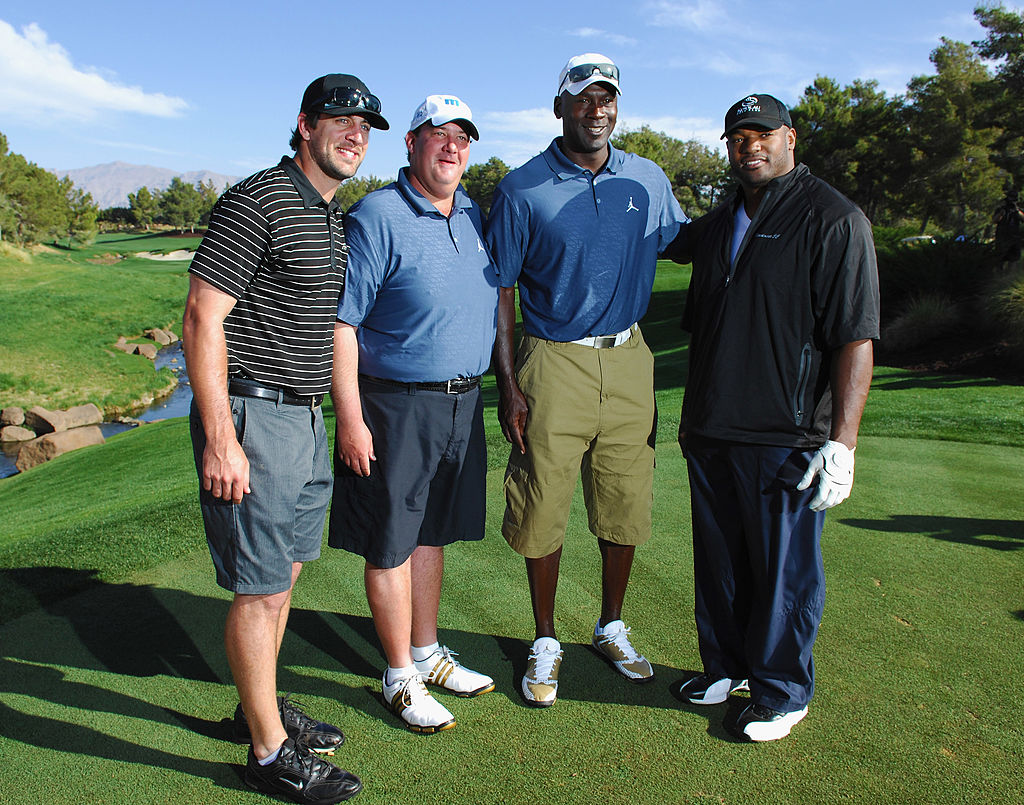 Aaron Rodgers Said He's Glad He Never Bet Michael Jordan on the Golf Course
Green Bay Packers quarterback Aaron Rodgers said he's happy he never bet Michael Jordan while on the golf course.
Aaron Rodgers and Michael Jordan are two ultra-competitive athletes. They are in the upper echelon of their respective sports. They also have a deep love for golf. Rodgers, the quarterback of the Green Bay Packers, reflected on the time he first met Jordan. He was happy to meet his idol and was happy they didn't bet when playing golf together.
Aaron Rodgers' life as a Green Bay Packer
Aaron Rodgers is arguably one of the most talented quarterbacks ever to play in the NFL. Drafted in 2005, Rodgers was forced to play the waiting game behind Hall-of-Famer quarterback Brett Favre. When Favre moved on from the team, Rodgers went right to work.
Rodgers, blessed with arm strength, accuracy, and mobility, went on to capture two Most Valuable Player awards and win a Super Bowl title. He is an eight-time Pro Bowl selection. He has thrown for better than 4,000 yards in eight seasons. Rodgers had done a tremendous job of taking care of the football. Since 2011, Rodgers has never thrown more than eight interceptions in any one season.
This year, the Packers traded up to select a quarterback in the first round, taking Utah State's Jordan Love. At age 36, Rodgers is still going strong. He threw for 4,002 yards and 26 touchdowns a year ago and guided the Packers to the NFC Championship Game. Like Favre did to him, Rodgers is hoping Love also has to play the waiting game for the foreseeable future.
Michael Jordan arguably the greatest ever
There's no argument when it comes to Michael Jordan's success in the NBA. He is always mentioned when the topic of the greatest player ever in the NBA comes up. Jordan has it all. He has the statistics and the championships to back up his GOAT stance.
Jordan is a 10-time scoring champion who guided the Chicago Bulls to six NBA titles. A five-time Most Valuable Player, Jordan finished his NBA career with 32,292 points despite missing four seasons due to two different retirements. Jordan played 13 seasons with the Bulls and then came back for two more with the Washington Wizards after sitting out three seasons.
Not only was Jordan a scorer, but he was an outstanding defensive player as well. Jordan was the league's Defensive Player of the Year during the 1987-88 season. He was made the NBA's All-Defensive Team for nine seasons. Jordan also was a three-time NBA leader in steals.
Rodgers meets Jordan
Growing up, Aaron Rodgers said basketball was his first love. When you love basketball, it's more than likely you'll love Michael Jordan. ESPN did a poll asking some of their athletes who their sports hero was and Rodgers said that no doubt Jordan was his and he explained why.
"It's very simple — because (Jordan) was the best, and basketball was my first love, as far as sports go," said Rodgers. "The first time (we met) was at this round on a Sunday at Edgewood Tahoe, and it was he, me, and Jerry Rice, and I was also a big Niners fan growing up. Jerry was grinding hard on his golf ball even though we were out of the tournament, but he was grinding away, so me and Mike just walked the fairways together, and he was fantastic."
Not only was Jordan pleasurable to talk to, but he was also pretty good at golf. "He's a really nice guy, I'm thankful he didn't bet me with me on the course, because he would've taken all my money," Rodgers said. "I was a little nervous — MJ plays the ball well and he has a great short game. I think in all the rounds we've played, I might've only beat him one time."