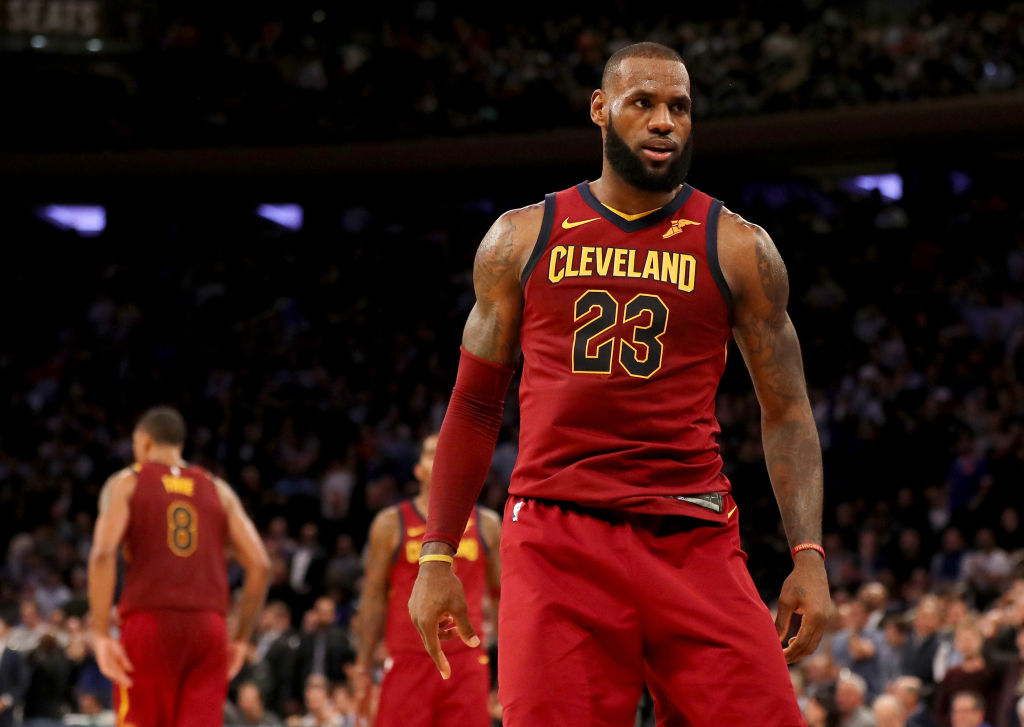 'Last Dance' Revisited: Should LeBron James Feel the Heat After the Michael Jordan Piece?
The GOAT debate: Should LeBron James feel any added heat after ESPN's "The Last Dance" docuseries on Michael Jordan?
LeBron James never got the chance to play against Michael Jordan in the NBA, yet the two will be forever linked. Who's the better player? Could James have played in Jordan's era? Could Jordan have played in today's era? How much of a factor is Jordan's six championships against James' three? Most of the older crowd tends to lean toward Jordan in the GOAT debate, while the younger generation seems to side with LeBron. ESPN's 'The Last Dance' gave those younger viewers an inside look at Jordan. Does that docuseries hurt James in his quest for being labeled the NBA's best of all time?
The Michael Jordan vs. LeBron James debate
The question will always come up and the debate will likely live on forever. Who is the greatest player to ever play in the NBA? They played in different eras, but Michael Jordan and LeBron James will be forever mentioned as two of the best. Jordan's six titles and five MVPs would seem to him in the driver's seat, but James is still going strong with three titles and could easily finish his career as the NBA's leader in points scored.
Jordan supporters will point to those six championship rings as well as his six NBA Finals MVPs. He also led the league in scoring for 10 seasons, including seven straight. He was an all-star for 14 seasons and was also a very strong defensive player. Jordan finished his career with NBA All-Defensive selections. He was also the league leader in steals for three seasons. Those supporters will also point to the fact he won all six titles with the same team.
James, at 35 years old, is still going strong. He has four MVPs under his belt and was in the running for a fifth this season before the league was put on hold March 11. Those pushing for James as the GOAT will say he's the more versatile player who was leading the league in assists this season. He has better assists and rebounding totals than Jordan and is now third on the NBA's all-time scoring list behind Kareem Abdul-Jabbar and Karl Malone. James is a 16-time NBA All-Star and has been on the NBA All-Defensive Team six times.
James said he would've worked well with Jordan
In a video released Monday by Uninterrupted, LeBron James said he would've been a perfect complement to Jordan if they played together. "I saw the things (Scottie Pippen) was able to do with Mike. I just think it would've been a whole nother level," James said. "Pip was one of my favorite players … It would've been a whole nother level with me being a point forward, with me being that point forward alongside of him during those Chicago runs."
Growing up, James was a big fan of Jordan and the Chicago Bulls. He said his ability to pass, combined with Jordan's scoring ability would've been a big-time combination. "I feel like my best assets work perfectly with Mike," James said. "Mike is an assassin. When it comes to playing the game of basketball, scoring the way he scored the ball, my ability to pass, my ability to read the game plays and plays and plays in advance."
The Last Dance portrayed Jordan as being difficult to play with. He picked on certain teammates. He was always challenging his teammates, something James would've embraced. "I love when a teammate comes to me and challenges me," James said. " I see that from Mike, and I feel like our games were a perfect correlation to be successful."
Does 'The Last Dance' help give Jordan an edge over LeBron?
While those older fans who saw The Last Dance already knew about Michael Jordan's success, the younger ones finally got a behind-the-scenes look at how good he was. Those who never saw Jordan win his six titles in person, got a glimpse at how high the bar was set for those like LeBron James. James answered a question about complementing Jordan if he was a teammate. He answered, but also said his competitive nature would've loved to go against him as well.
James took to Twitter on Monday, saying ESPN twisted his response about playing with Jordan. James wrote, "No, I didn't say I envisioned MJ as a teammate not an adversary. A question was asked, 'Do I think I could have been a teammate of his and compliment his game. I love the greats and would have loved to play with them all during their runs because I a historian of the game but I also would die to compete vs every single one of them too! Don't ever get it twisted! Nevertheless, MJ Thank You for being my angel, inspiration, superhero!"
James is 35 years old and, although he's still playing at a very high level, time is running out. James has been with three different teams during his career, plus two different stints with the Cleveland Cavaliers. He needed to create a super team in Miami, teaming with Dwayne Wade and Chris Bosh, for two of his titles. After winning a title in his second go with the Cavaliers, James went to Los Angeles and had to team with another superstar in Anthony Davis to get into title contention again. James has the fire, talent, and the desire to compete with Jordan for the GOAT debate, but is that enough?
All stats courtesy of Basketball Reference.