Aaron Rodgers Selfishly Broke an Old Bill Parcells Rule By Talking Too Much About His Injury, According to a Former NFL GM: 'It Becomes About Self, More Than the Team'
No NFL fan can escape Aaron Rodgers news these days. Whether it's about the Green Bay Packers quarterback's happiness with the franchise, his vaccination status, or his now-famous toe injury, there is no shortage of Rodgers headlines out there. When it comes to the injury topic, former general manager Scott Pioli doesn't like how the QB has handled the discussion around that, citing an old rule from his father-in-law: iconic head coach Bill Parcells.
Aaron Rodgers has discussed his toe injury a lot
In early November, Aaron Rodgers announced that he tested positive for COVID-19. As part of league protocols for unvaccinated players (which Rodgers surprisingly was), the Packers QB quarantined at home for 10 days.
At some point during that quarantine period, Rodgers injured his toe. We know this because it is one of the many things the reigning NFL MVP has talked about regarding his toe injury, most during his weekly Tuesday appearances on the Pat McAfee Show.
Rodgers first disclosed only that he has a painful toe injury. Then, when asked if it was turf toe, he said it was more a more painful injury than turf toe.
From there, Rodgers and McAfee joked that the injury was "COVID toe," which, at the time, neither seemed to know was a real thing.
The Wall Street Journal knew that COVID toe is a real malady and subsequently published an article stating that Rodgers admitted he had COVID toe on the talk show.
This caused Rodgers — who, to anyone who watched the interview and was familiar with his rapport with McAfee, was clearly joking — to reveal what his injury actually was, which was a fractured toe.
To prove that the injury was a fracture and not COVID toe, Rodgers conducted a truly bizarre press conference where he showed off his bare foot to the media.
All this is to say, Rodgers has talked a lot about his toe injury in the last month, which would have infuriated old-school NFL coaching legend, Bill Parcells.
Bill Parcells' son-in-law and former NFL GM Scott Pioli suggests that Rodgers selfishly broke his mentor's rule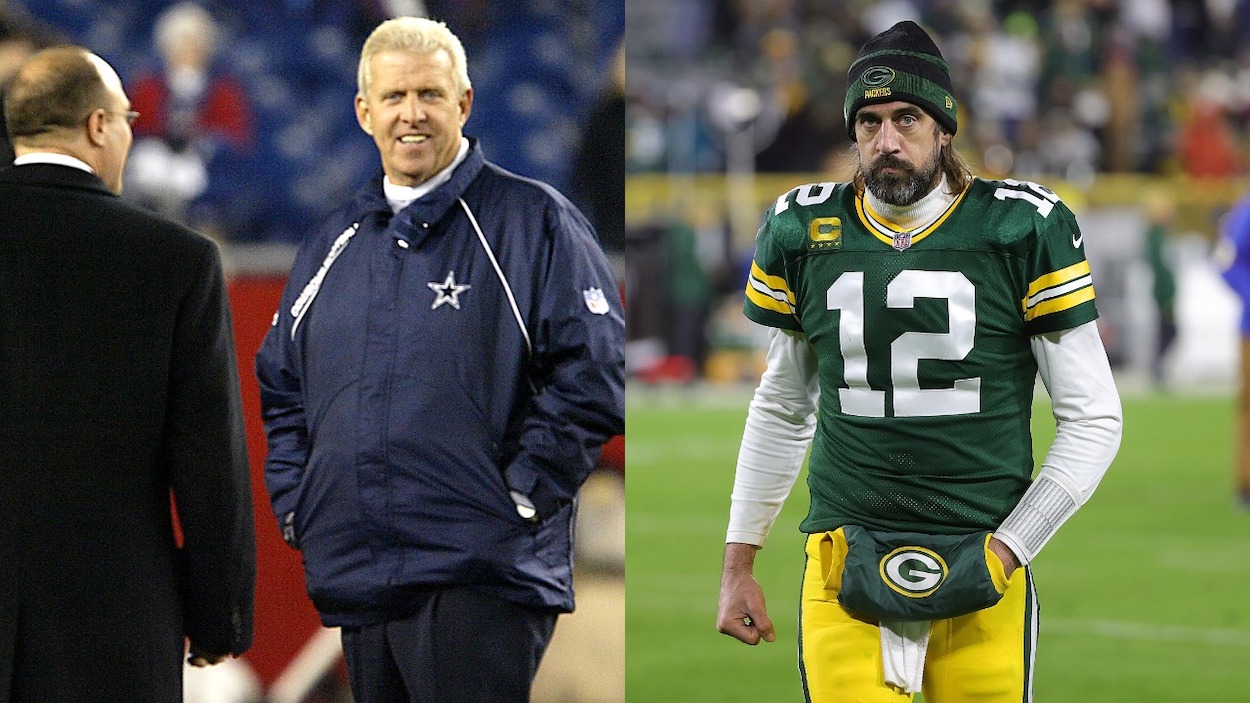 Scott Pioli is an incredibly successful NFL figure in his own right. He was Bill Belichick's right-hand man in the New England Patriots personnel department from 2001-2008.
After being part of three Super Bowl wins, Pioli left and became general manager for the Kansas City Chiefs from 2009-2012.
However, even now that Pioli is an NFL analyst who appears on NFL Network, he will never be as well-known as his mentor Belichick or Belichick's mentor (and the father of Pioli's wife Dallas), Bill Parcells.
During an appearance on Good Morning Football this week, Pioli shared that he's not a fan of Rodgers sharing so much information about his injury. The former GM noted that his feelings go back to his time with Belichick in Cleveland. The six-time Super Bowl-winning coach was always super-secretive about injuries but never shared why.
Pioli then told the hosts that, a few years later, while working with Parcells as the New York Jets Director of Player Personnel, the Hall of Fame coach — who the rule pertaining to not talking about injuries emanated from — finally explained to Pioli his reasoning behind this:
[Parcells] feeling was this: If a player was talking about injuries, he was trying to do one of two things. He was either trying to protect himself in case he failed. So if he didn't play well, of course he didn't play well because it was an injury. But if he played injured and he was successful, then he was some kind of superhero, and he was bigger and better than the rest of the team, and separating himself from the team. And it was something that Parcells really didn't like because it was about the individual trying to protect himself or elevate themselves. So, I'm a big believer and come from that camp that injuries shouldn't be talked about because, really, it becomes about self, more than the team.  

Scott Pioli on Bill Parcells' rule about discussing injuries
Armchair sports psychologists can figure out why Aaron Rodgers is talking so much about his toe injury, but one thing is certain. If Parcells were the coach of the Packers, he would not be happy with his celebrity QB discussing his injury so much.
The Green Bay Packers QB has earned the right to be selfish
We know that Bill Parcells, Scott Pioli, and even Bill Belichick would undoubtedly think that Aaron Rodgers is being selfish talking about his toe injury so much. Reasonable minds can disagree on whether this is true or not, but, even if it is, being a little selfish is something Rodgers has earned during his 17 years as a member of the Green Bay Packers.
From being thrust in the middle of the Brett Favre/Packers drama at the beginning of his career to winning a Super Bowl to having the tables turned on him when Green Bay drafted Jordan Love, Rodgers' tenure with the Packers has been a rollercoaster ride.   
He's undoubtedly had a Hal of Fame career, but the last two seasons have been especially impressive.
Despite the Packers' front office continually building for the future instead of cashing in for "right now" in Rodgers' last few seasons, the QB has carried a young team on his back.
In 2020, on the heels of the Love pick, Rodgers set the NFL on fire and won the MVP Award.
While leading the team to a 13-3 record, he put up 4,299 yards and led the league in completion percentage (70.7%), passing touchdowns (48), and QB Rating (121.5).
This season, after a boatload of offseason drama, he is once again putting up MVP-level numbers. He is 9-1 in his 10 starts and has 2,878 yards, 23 TD passes, and just four interceptions.
If Rodgers wants to talk about his poor pinky toe to set himself up as "some kind of superhero," he absolutely seems to have earned that right.
All stats courtesy of Pro Football Reference