Davante Adams Embarrassed Odell Beckham Jr. After He Asked for the Packers Star's Jersey: 'Don't Put a Hole in the Wall This Time'
Even other top NFL wide receivers are becoming hip to the fact that Green Bay Packers WR Davante Adams is one of, if not the best pass-catcher in the NFL in 2021. The Los Angeles Rams' Odell Beckham Jr. is one player who seems to understand this fact. He asked to get Adams' jersey after his team lost to the Packers 36-28 on Sunday.
Adams did give OBJ his game-worn No. 17 following his victory in Week 12. However, he didn't do it without giving the newest Ram some grief first.
Davante Adams dominated the LA Rams in a crucial Green Bay Packers win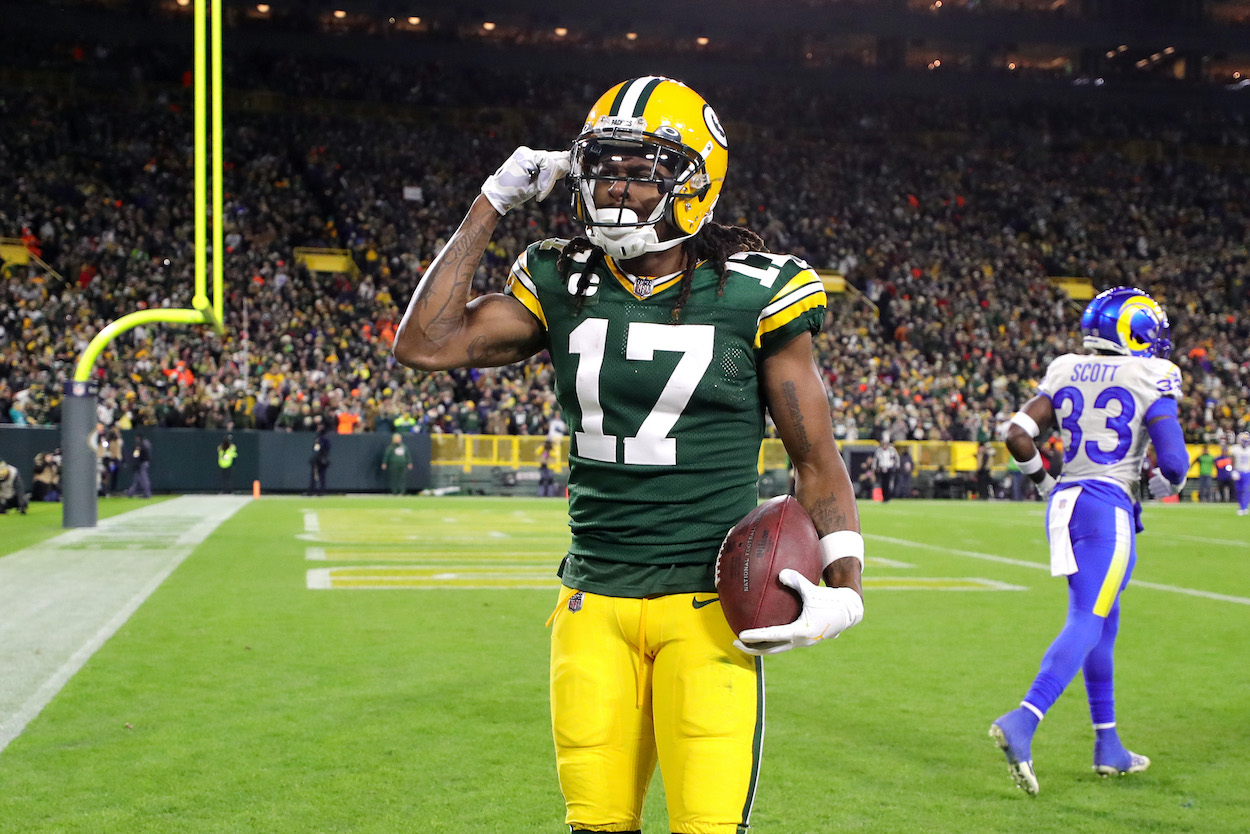 Green Bay Packers quarterback Aaron Rodgers gets the majority of the headlines in Wisconsin, but he is just one-half of the dynamic duo driving the Packers' offensive machine.
Just like Montana needed Rice and Lennon needed McCartney and Jay needed Silent Bob, Rodgers wouldn't be Rodgers in 2021 without Davante Adams.
The former Fresno State pass-catcher's brilliance was on full display during a critical conference win over the LA Rams in Week 12. With his eight catches for 104 yards, Adams not only came up big when his team needed him most, but he also broke the Rams' spirit and won his head-to-head matchup with the best cornerback in the NFL, Jalen Ramsey.
After leading the league in receiving touchdowns (18) and yards per game (98.1) in 2020, Adams is again at the top of the league in 2021. He's currently fourth in targets (115) and catches (80) and second in yards (1,083) and yards per game (98.5).
The 2014 second-round pick is arguably the best receiver in the league right now, and other players are taking notice. That includes the newest Rams WR, Odell Beckham Jr., who asked for Adams' jersey after the game.
The Packers star had the perfect response.
LA Rams reciever Odell Beckham Jr. asked for Adams' jersey after the game, and the Packers WR had a great answer
Adopting a long-standing soccer tradition, NFL players have started exchanging jerseys after games in recent years. Ahead of the Green Bay Packers vs. LA Rams matchup, Odell Beckham Jr. reached out to fellow famous wideout Davante Adams and asked for his jersey after the game.
During that initial discussion, Adams teased Beckham about choosing to go to the Rams after leaving the Cleveland Browns instead of the Packers, which was widely reported as his second choice.
Adams told the NFL's Network Michael Irvin (h/t @PFF_Fantasy) that he said to OBJ, "I told him, 'Go get Cooper Kupp's jersey,' since that's obviously his guy and that's who he wanted to be with."
The Green Bay receiver did eventually acquiesce to Beckham's request, but he did have one more zinger for his pal during his postgame press conference:
I sent him the jersey. I sent it to the locker room, I just told him, 'Don't put a hole in the wall this time. Otherwise, I'm taking it back.'

Davante Adams on sending Odell Beckham Jr. his jersey
Adams was referring to Beckham's infamous 2016 playoffs assault on Lambeau Field.
After a 38-13 Wild Card Round loss to the Packers, the then-New York Giants WR punched a hole in the wall outside the Lambeau grounds crew locker room and banged his head against a door, per ESPN.
No word if Beckham took out his frustrations on the stadium again on Sunday.
The Green Bay wideout says he's the best in the NFL 
Ranking players by position in the NFL is a cottage industry of its own these days, especially among the offensive skill positions.
On any list of top wide receivers in 2021, you'll find Davante Adams alongside names such as Cooper Kupp, Stefon Diggs, Tyreek Hill, and DeAndre Hopkins, as well as newer entrants to the conversation such as Justin Jefferson, Deebo Samuel, and CeeDee Lamb.
If you ask Davante Adams, though, there is a clear-cut No. 1 player at the position.
Following an 11-catch, 206-yard, one-TD performance in Week 5 vs. the Cincinnati Bengals, NFL Network's Stacey Dales asked Adams, "There's no debating who the best receiver is in the NFL, correct?"
Adams answered:
Oh, absolutely, correct. There's no debating. I mean, I'm done making the lists and talking about myself, but I feel like I've shown with my work and consistency that it's me.

Davante Adams on the best WR in the NFL
While there is a conversation to be had as to how much of Adams' success is purely the wideout's skill and talent and how much comes from playing with ol' No. 12, there is no debating that Adams' name has to be in the top handful of players at the position in 2021.
One thing that would help put Adams' name firmly at the top of that list is getting something that no other WR named above except for Hill has: a Super Bowl trophy.
And jokes about OBJ aside, that seems to be what Adams and the Green Bay Packers are focused most on now.
All stats courtesy of Pro Football Reference