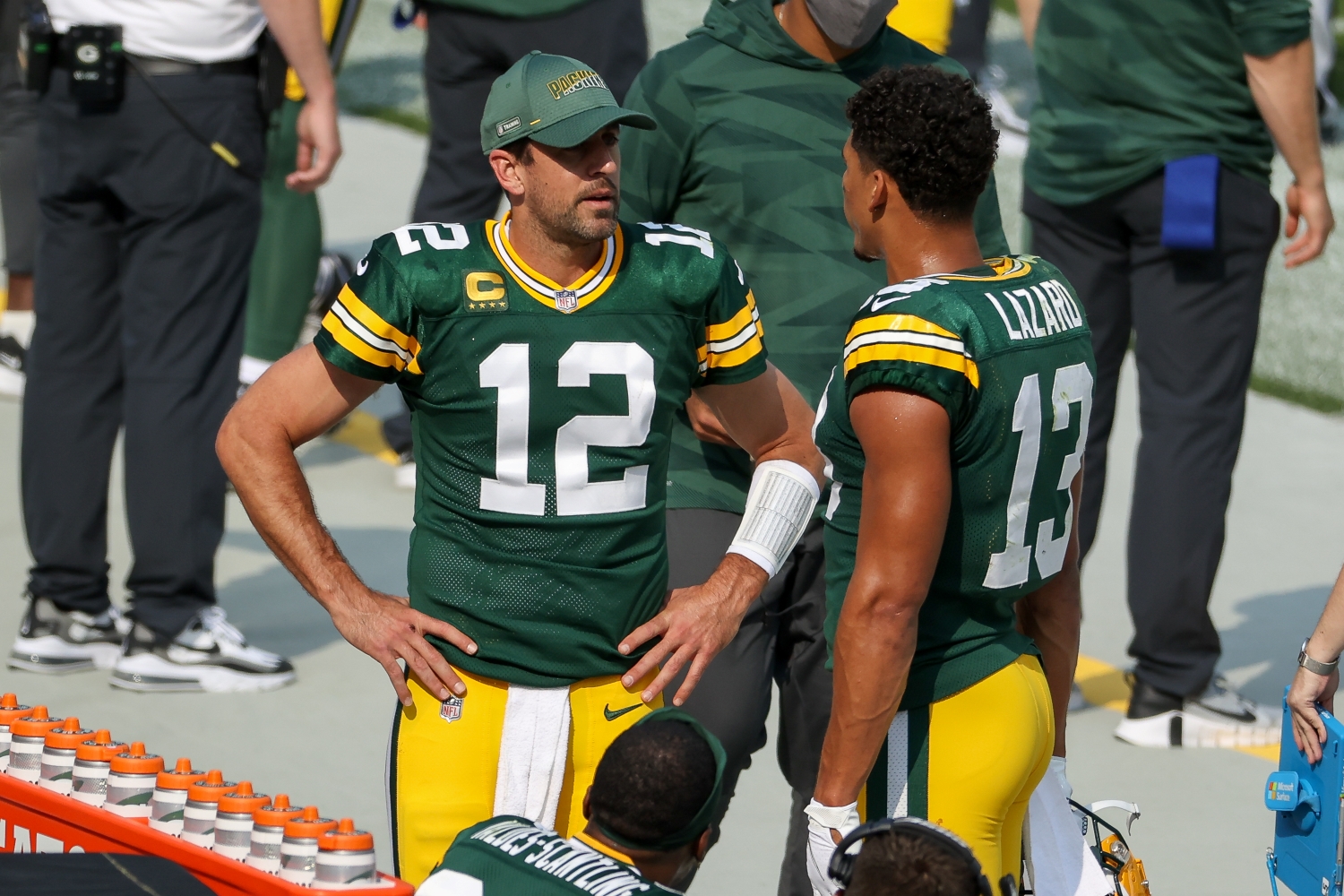 Aaron Rodgers Surprisingly Throws Key Packers Teammates Under the Bus With Self-Absorbed Statement That Truly Exemplifies His Arrogance
Aaron Rodgers apparently thought quite highly of former Packers WR Jake Kumerow. Unfortunately for some of the star quarterback's key teammates, his self-absorbed statement looks like nothing but an example of Rodgers throwing them under the bus.
Green Bay Packers fans may be happy about Aaron Rodgers returning to work, but some of his teammates may want to hash things out with the superstar quarterback.
As someone who constantly toes the line between confident and cocky, the three-time MVP has made more than a few self-absorbed comments over the years. However, by surprisingly throwing some of his key teammates under the bus, Rodgers not only exemplified his arrogance but also put more pressure on himself to bring the Lombardi Trophy back to Green Bay before he finds a new NFL home.
Packers fans and players can officially look forward to having the reigning NFL MVP under center for the 2021 season
Packers fans have endured quite a dramatic last few months.
Coming off another heartbreaking defeat in the NFC Championship, the team's most important player raised eyebrows by making some less-than-optimistic comments about his future. Rodgers took things to another level by skipping voluntary organized team activities and mandatory minicamp. Unhappy with the front office and his lack of input on personnel decisions, the reigning MVP seemed set on never playing for the Packers again.
Then everything changed.
Although it appeared as though Rodgers could retire instead of returning to work, he surprisingly pivoted from his stance of staying away. While it still looks likely that he will get traded next offseason, the reigning MVP will have at least one more chance at winning a second Super Bowl ring as a member of the Packers.
Instead of extending his holdout, Rodgers reported to training camp. According to Adam Schefter of ESPN, the team agreed to make concessions that convinced the 37-year-old to come back for the 2021 season.
And it didn't take long for the Packers to make one of Rodgers' wishes come true.
On Wednesday, Green Bay traded a sixth-round pick to the Houston Texans for Randall Cobb. Reunited with his former quarterback, the 31-year-old receiver went from playing for a rebuilding team to joining one with legitimate Super Bowl aspirations. Of course, Cobb only caught 38 passes for 441 yards and three touchdowns during the 2020 season, so he faces an uphill battle to make Rodgers look smart for essentially forcing the front office to bring back his old friend.
However, while Cobb certainly has to be excited about working with the future Hall of Famer again, other members of the Packers' receiving corps may not feel so chipper about seeing No. 12 back at practice.
Aaron Rodgers surprisingly threw some of his key teammates under the bus by making another self-absorbed statement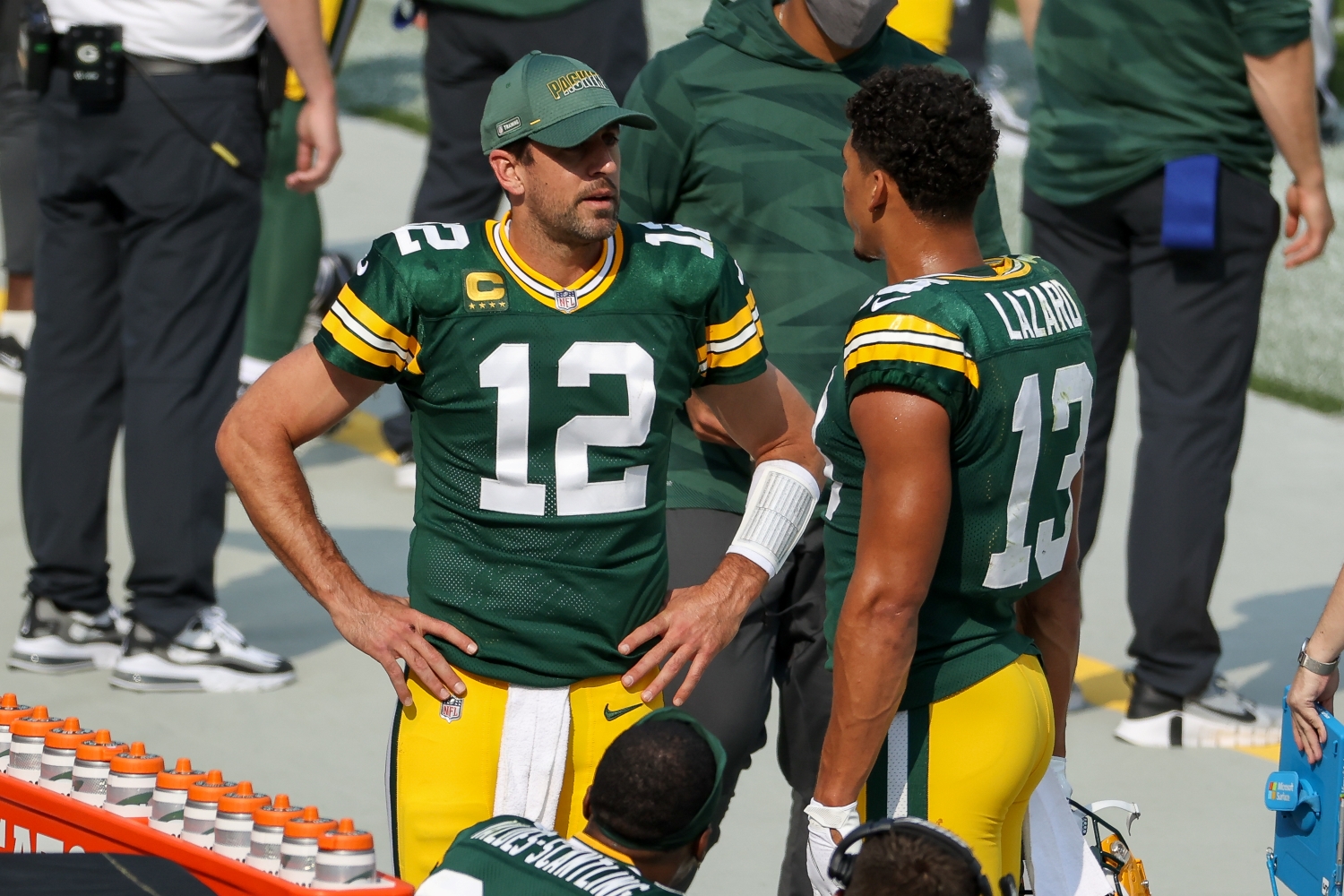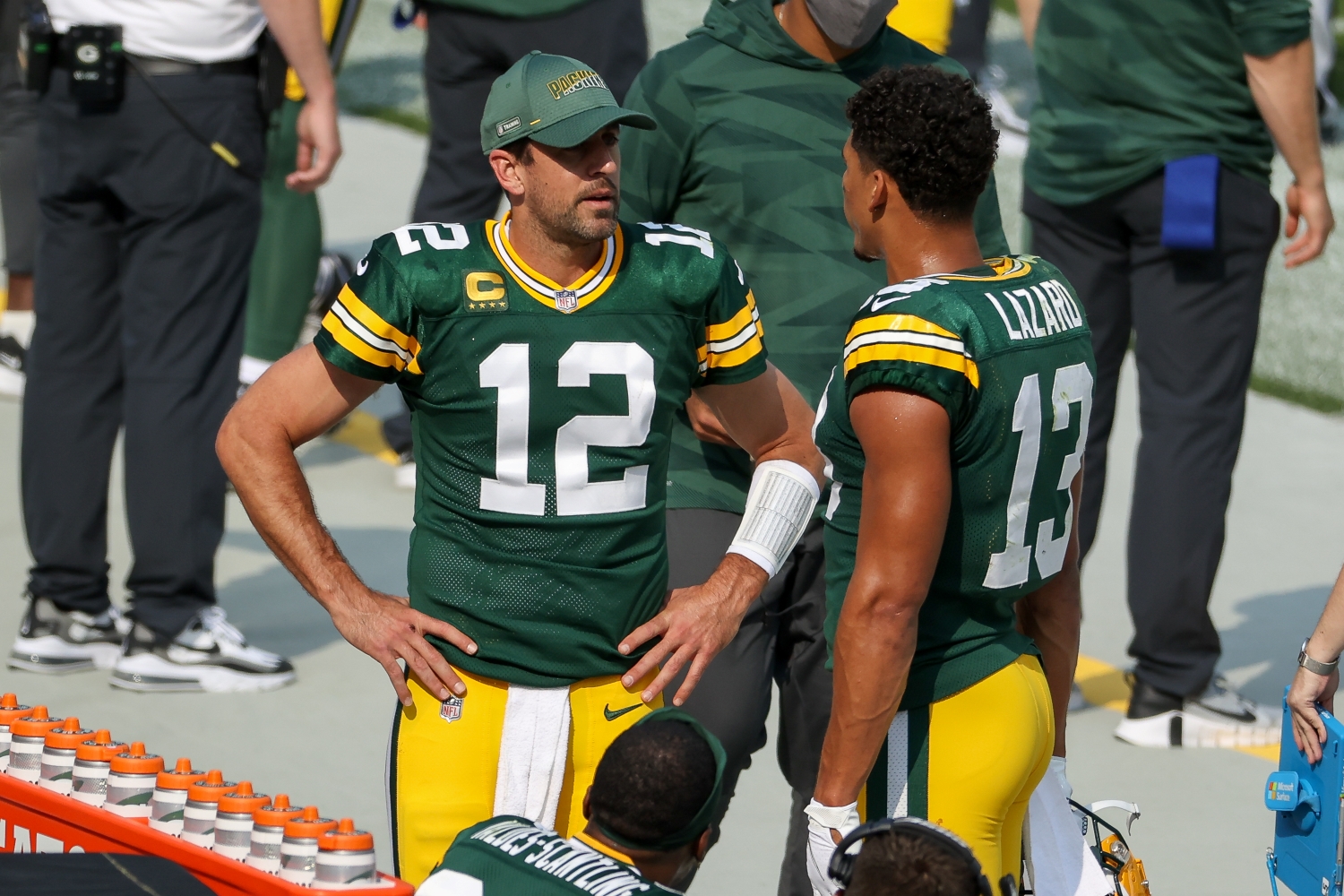 Rodgers spoke about a number of topics during his Wednesday press conference, including his input (or lack thereof) on personnel decisions. Clearly unsatisfied with how little the team included him in the roster-building process over the years, the 17th-year quarterback delivered a self-absorbed statement that once again involved Jake Kumerow.
"If you're going to cut a guy who was our second-best wide receiver in training camp last year, maybe run it by me," Rodgers told reporters.
That statement should raise eyebrows on multiple levels.
First, Rodgers is clearly referencing Kumerow, who Green Bay released during final cutdowns ahead of the 2020 season after catching 20 passes for 322 yards and two touchdowns from 2018-19. By calling Kumerow the second-best wideout in training camp last year, Rodgers didn't do himself any favors with Allen Lazard, Marquez Valdes-Scantling, or Equanimeous St. Brown, all of whom joined the organization in 2018.
After all, it's hard to take the quarterback's scouting report seriously when Kumerow only caught one pass in six games during the 2020 season. Meanwhile, Lazard and Valdes-Scantling both finished the year with 33 receptions. Even St. Brown outproduced Kumerow with seven catches for 117 yards and one touchdown in 12 games.
Besides the fact that he threw his teammates under the bus by bluntly expressing his thoughts on the Packers' receiver hierarchy in camp a year ago, Rodgers made himself look rather arrogant with his statement.
Why should the Packers have to run anything by him? Does he spend time watching college film, writing scouting reports, and putting together a draft board? Did Green Bay draft him and sign him to multiple contract extensions because of his ability to play the quarterback position or to make player evaluations?
No matter how dominate he may be on the field, Rodgers doesn't get paid to get involved in constructing a team, making trades, and building a depth chart. However, he once again seems to think he deserves to have a unique role that would allow him to have some level of influence on how the roster gets built.
Seems rather self-absorbed from a guy who's made sure to get top-of-the-market deals, right?
Rodgers has put all the pressure on himself to deliver a Super Bowl title before he departs
Ultimately, the Packers' other receivers behind Davante Adams will have to brush off Rodgers' comment and focus on staying healthy and producing at a higher level in 2021. Lazard and St. Brown combined to miss 10 games last season, and Valdes-Scantling posted a disappointing catch rate of 52.4%.
Clearly, all three have room for improvement heading into their fourth year with the franchise.
However, the player who faces the most pressure to perform in 2021 is undoubtedly Rodgers. With all the drama he created this offseason, it's either Super Bowl or bust for the nine-time Pro Bowler. If he fails to win his second ring in what should be his last year in Green Bay, all of his posturing and self-absorbed comments will look even worse. As much credit as he deserves for his individual brilliance and gaudy passing statistics, Rodgers simply hasn't gotten it done in the playoffs.
So, even if he replicates or exceeds his magical 2020 regular-season numbers, it won't matter if the Packers don't win Super Bowl 56.
Of course, Aaron Rodgers will have to get his team there first.
All statistics courtesy of Pro Football Reference.