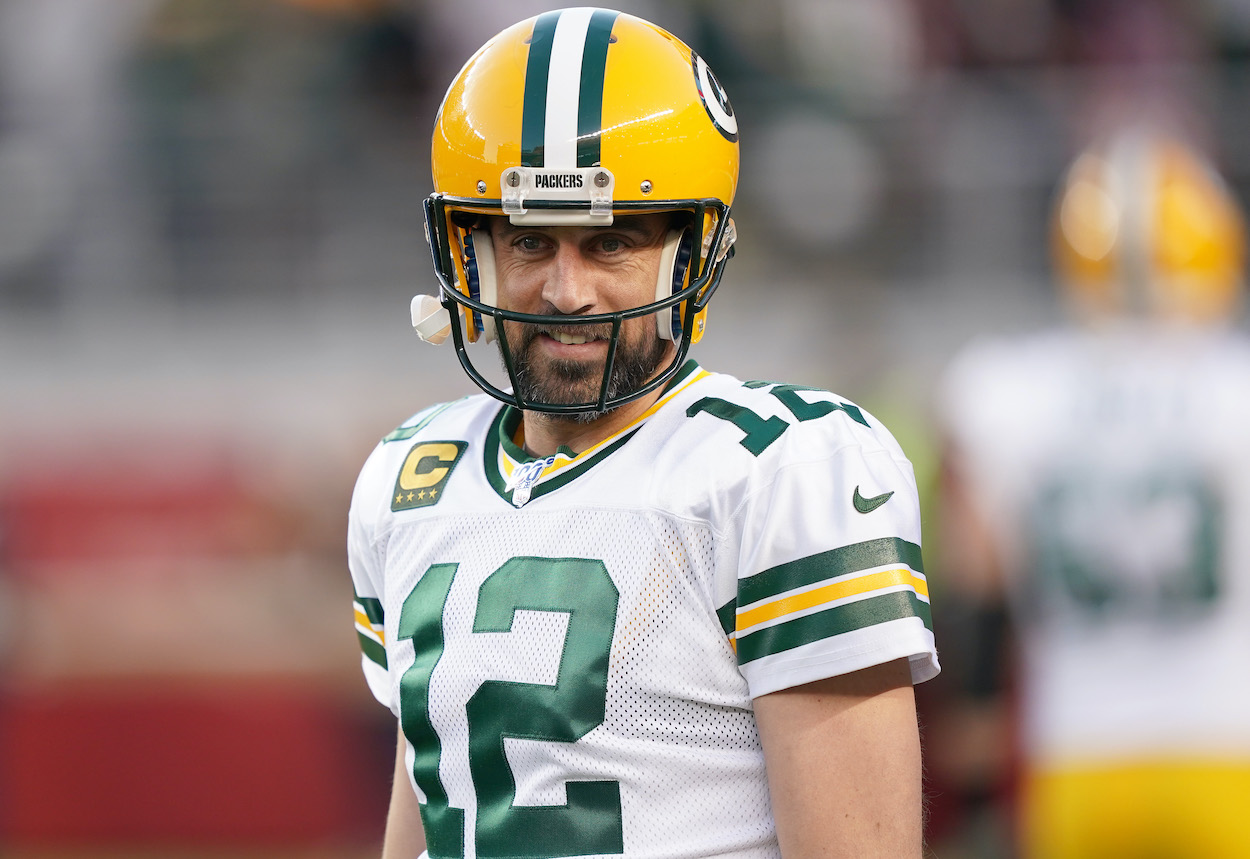 Aaron Rodgers Lets His T-Shirt Do All the Talking in Calculated Shot at Mark Murphy and the Packers
Aaron Rodgers has been relatively quiet over the past few weeks, but he just sent a strong message to the Green Bay Packers without saying one word.
It's certainly been an eventful offseason for Aaron Rodgers and the Green Bay Packers. Rodgers set the NFL on fire during draft night when a report dropped stating he had demanded a trade from his longtime team. Ever since then, Packers President and CEO Mark Murphy has been forced into some desperate damage control to no avail.
Rodgers clearly doesn't want to play another snap in Green Bay, and Murphy hasn't been doing a great job of convincing him otherwise with his recent comments. The team president recently called his superstar QB a "complicated fella," which prompted a calculated response from Rodgers using nothing but his T-shirt.
Mark Murphy is pushing Aaron Rodgers away from the Packers
Rodgers has made it abundantly clear this offseason that he has no interest in continuing his NFL career in a Packers uniform. He demanded a trade earlier this year and hasn't changed his tone over the recent months.
The nine-time Pro Bowler has been absent from all of Green Bay's voluntary offseason workouts. And when the Packers kicked off their mandatory minicamp last week, Rodgers was still nowhere to be found.
Rodgers seems to have already made his mind up regarding his future in the NFL, but Murphy's recent comments haven't done much to win him back. In fact, they've only made matters worse.
"The situation we face with Aaron Rodgers has divided our fan base," Murphy wrote on June 5 in his monthly column on the Packers' official website. "…We remain committed to resolving things with Aaron and want him to be our quarterback in 2021 and beyond. We are working to resolve the situation and realize that the less both sides say publicly, the better."
Blaming Rodgers for dividing the fanbase is one thing, but calling him names is another.
While speaking during an event at Lambeau Field last week, Murphy stoked the fire even more.
"I'm often reminded though of Ted Thompson, as most of you know, just a great general manager, passed away," Murphy said, per WGBA. "[Thompson] often talked about Aaron, and it wasn't just Aaron. A lot of different players. He would say 'He's a complicated fella.'
"So, I'll just say that."
Yeah, that'll surely convince Rodgers to stay.
Rodgers lets his T-shirt do all the talking in calculated shot at Murphy and the Packers
Rodgers has been relatively quiet since demanding a trade earlier this offseason. He's undoubtedly heard Murphy's comments in addition to the media backlash stemming from his ongoing holdout, but the QB hasn't spoken out outside of a few vague comments on SportsCenter last month.
Rodgers might not have to say a single word to get his point across, though. On Tuesday, he let his T-shirt do all the talking for him.
During a video press conference with Tom Brady, Phil Mickelson, Bryson DeChambeau, and Brian Anderson for Capital One's The Match, Rodgers donned a black T-shirt with the words "I'm offended" printed across the chest. The shirt also included an angry emoji under the short, but powerful message.
The press conference marked Rodgers' first public appearance since Murphy's "complicated fella" comment. Sure, his T-shirt could be chalked up to sheer coincidence, but Rodgers isn't that naive. Everything he does, especially this offseason, is calculated down to the most minute detail.
Your move, Murphy.
What's next for the reigning NFL MVP?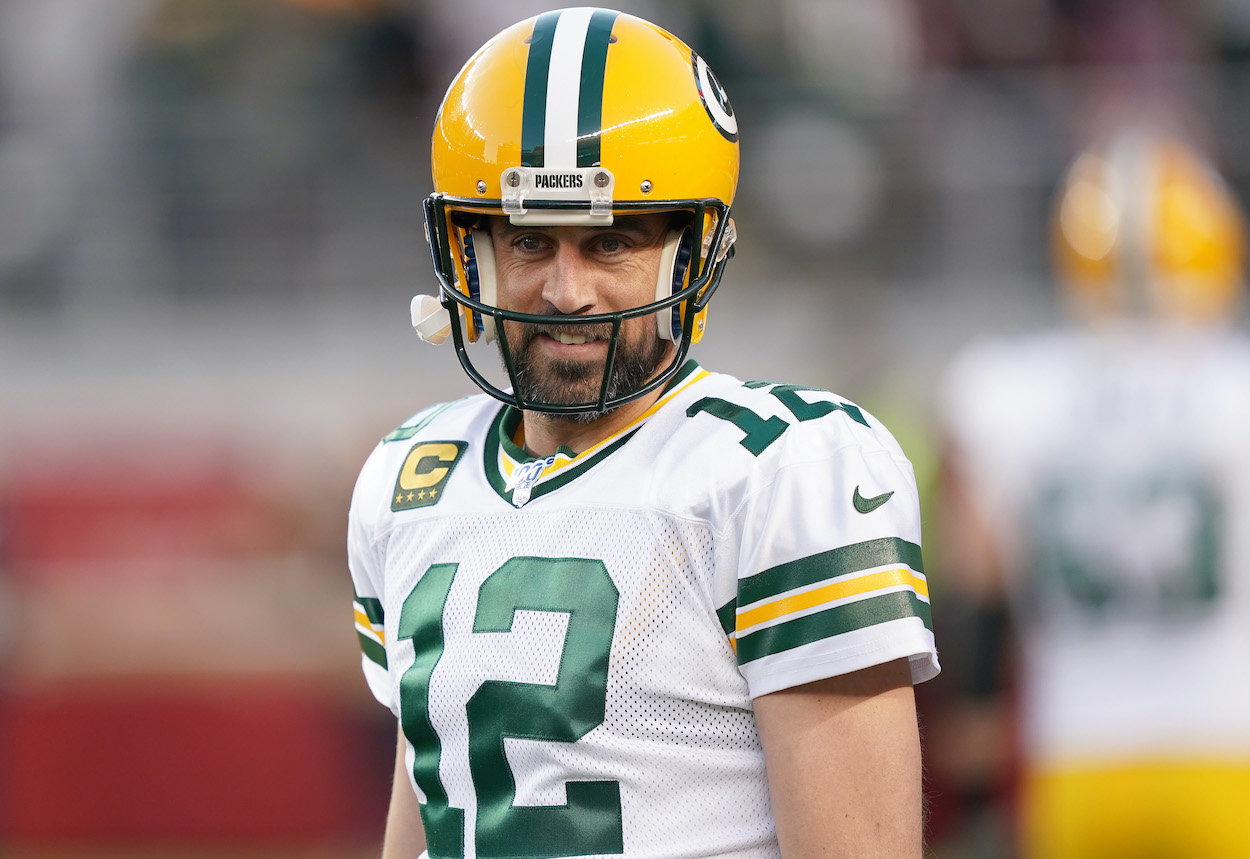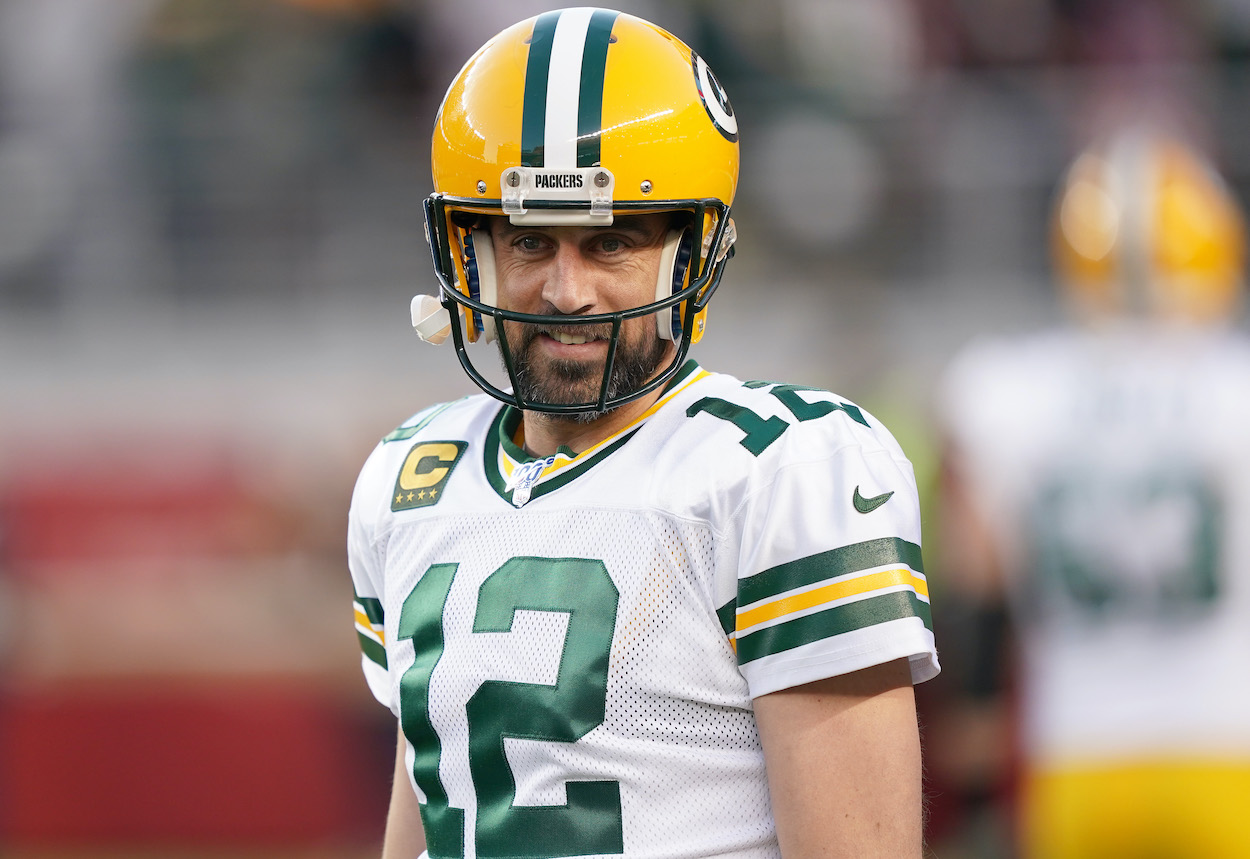 There are clearly more questions than answers regarding Rodgers' future with the Packers. The reigning MVP seems to be committed to holding out until a trade is completed, and he might be willing to sit out the entire 2021 season if that doesn't happen.
If Rodgers doesn't report to the team before the season begins this fall, the Packers are entitled to fine him $2.05 million in training camp fines and $93,085 in minicamp fines. He's already out $500,000 for failing to show up for previous offseason workouts.
According to Spotrac, Rodgers will forfeit $35,643,085 if he sits out the entire season. But for a guy who's already banked more than $240 million in NFL contract money alone, Rodgers wouldn't be too torn up about it.
All that's left to do is watch the standoff play out and see who caves first. Rodgers isn't budging any time soon, so the Packers can even trade him to finally end the toxic relationship or call his bluff and hope he shows up to camp at some point this summer.
For now, though, the stare down continues.