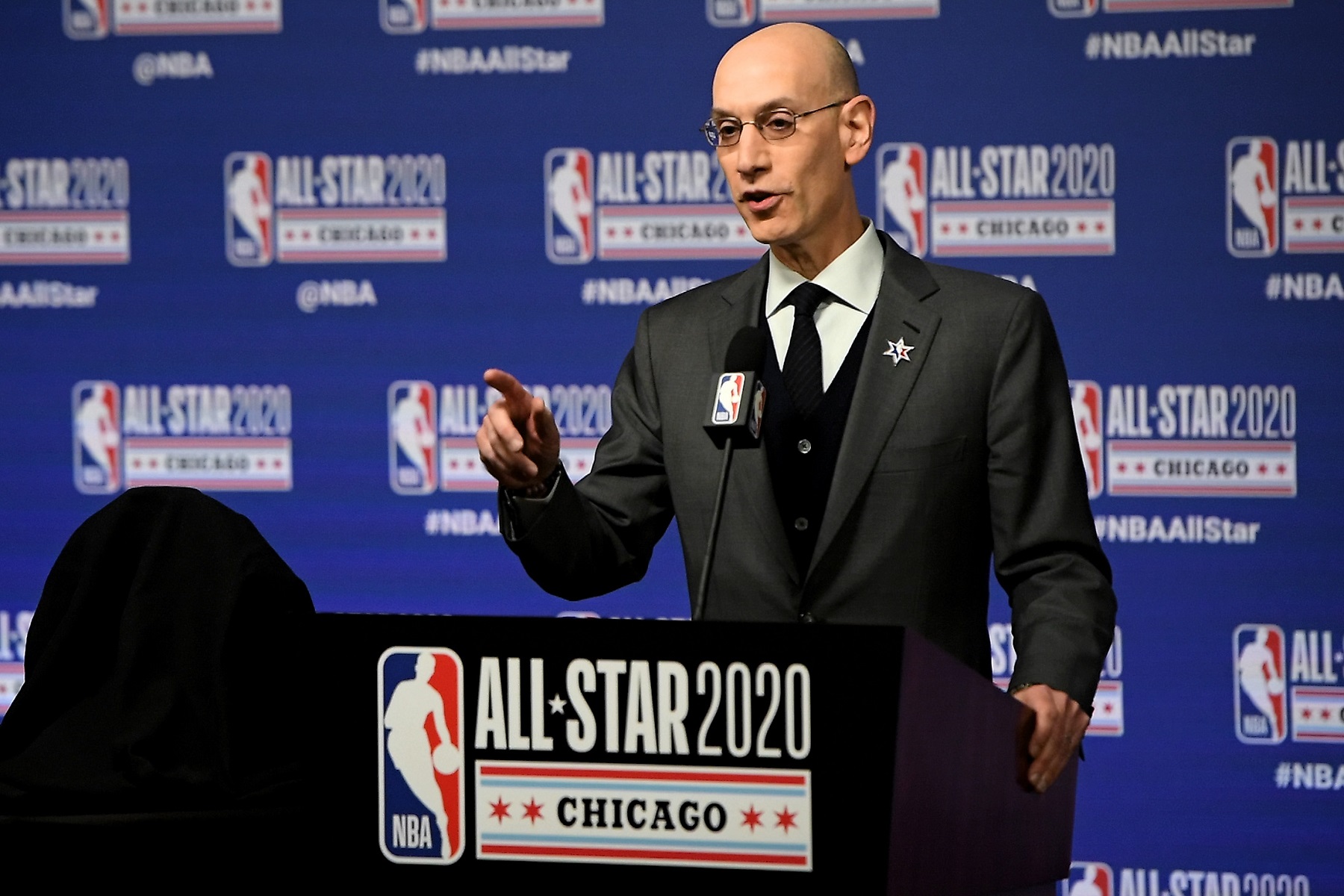 Adam Silver's Risky Plan To Keep NBA Money Flowing Will Excite Fans in 2 Cities
With few or no fans in the seats at the start of the NBA season, commissioner Adam Silver is talking about expansion.
Commissioner Adam Silver pulled the NBA through a potential disaster this summer by using the bubble in Orlando to finish the season. But the worries start all over this week as the champion Los Angeles Lakers and the 29 other teams face huge financial losses playing in front of small home crowds or even in entirely empty arenas.
Silver has floated an idea that will excite basketball fans in a few cities but poses long-term risk for the teams he is trying to help.
NBA attendance will suffer this season
When the NBA season tips off on Dec. 22, only six teams will be allowing fans to attend home games. Of the six, only three will be permitting enough fans to make even a mild financial impact: The Toronto Raptors (3,800 fans per night while temporarily relocated in Tampa), Orlando Magic (4,000), and Houston Rockets (4,500).
Commissioner Adam Silver has previously said that playing the whole season without fans means a league-wide average loss of 40% of teams' revenue. The situation would be even more dire except that the five nationally televised games on Christmas Day preserve a big payout from TV partners. Also, the projected 70-game schedule locks in most of the sponsorship money from partners eager to cash in on the popularity of stars like LeBron James, Kawhi Leonard, Luka Doncic, and Giannis Antetokounmpo.
Still, that only constitutes treading water. Between most teams losing eight to 10 home dates last spring when the pandemic halted the regular season in March plus playoff games, teams and players missed out on well over $1 billion in shared revenue. Keeping the doors locked during games this season only compounds the problem.
Adam Silver says the league will consider expanding
Major League Baseball and the NBA have 30 franchises apiece, the NFL 31, and the NFL 32. The fact that they're all in the same ballpark is an indication that there might not be much room for basketball (or any other sport) to grow its way out of its money worries brought on by COVID-19.
However, that's exactly what commissioner Adam Silver says he is contemplating.
"It's sort of the manifest destiny of the league that you expand at some point," Silver said, according to USA Today. "I'd say it's caused us to maybe dust off some of the analyses on the economic and competitive impacts of expansion. We've been putting a little bit more time into it than we were pre-pandemic."
The NBA hasn't expanded since charging owners of the Charlotte Bobcats (now the Hornets) $300 million to enter in 2004. Before that, the Memphis Grizzlies and Toronto Raptors joined in 1995. There is no precise formula in determining what a new owner pays to come into the league; the number would probably fall close to the current value of teams in similarly sized markets.
If NBA owners agreed to add two teams for the 2022-23 season – it's hard to imagine ramping up more quickly than that – the existing teams should come out with at least $90 million apiece.
However, that comes at a cost. The national TV contracts that are now divided into 30 equal shares would be split 32 ways. With there already being wall-to-wall national coverage, adding teams will not automatically increase the TV contracts negotiated with the networks.
Where could the NBA expand?
The first city that observers point to as an NBA expansion target is Seattle, which lost the SuperSonics to Oklahoma City in 2008. With the commitment to redevelop KeyArena, the city would be attractive to both basketball and hockey, so NBA commissioner Adam Silver may want to strike first.
Second on the list would be Las Vegas. The close ties to gambling made owners squeamish as recently as a decade ago. However, legalized sports betting is exploding, and the NFL and NHL have already come to town. The tourism industry would throw its full weight behind the prospect of Los Angeles Lakers and Chicago Bulls fans flying in for a three-day weekend to see their team play.
On the list of largest U.S. cities without an NBA team, Tampa ranks first and Seattle second. But with Orlando just 90 minutes to the northeast of Tampa, owners would run the risk of damaging an existing franchise. Similarly, Columbus, Ohio, would be a hard sell because it is just a little more than two hours from Cleveland, and rapidly growing Austin is too close to San Antonio.
In the spring, CBS Sports floated Mexico City as another possibility, but it's 800 miles from the nearest NBA franchise. The travel over an 82-game season would wear on players who might not be all that enthused about living there.
Like Sportscasting on Facebook. Follow us on Twitter @sportscasting19.