African Nations at the World Cup: Is the Morocco National Team Already the Most Successful in Competition History?
While the World Cup's title suggests a truly global event, things aren't 100% equal in the soccer space. Historically, the competition has been dominated by a handful of nations from Europe and South America. Entire continents, like Africa, are generally overlooked and written off as place-fillers. No one, for example, expected much from the 2022 Morocco national team.
The Atlas Lions arrived in Qatar without much fanfare and were generally considered to be the third-best team in a mediocre group. Not only did Morocco survive, but they went on an unlikely run to the tournament's semifinal. That wasn't just a victory for the national team, but it was a step forward for African nations in the World Cup.
Let's break it all down.
Has an African Team ever won the World Cup?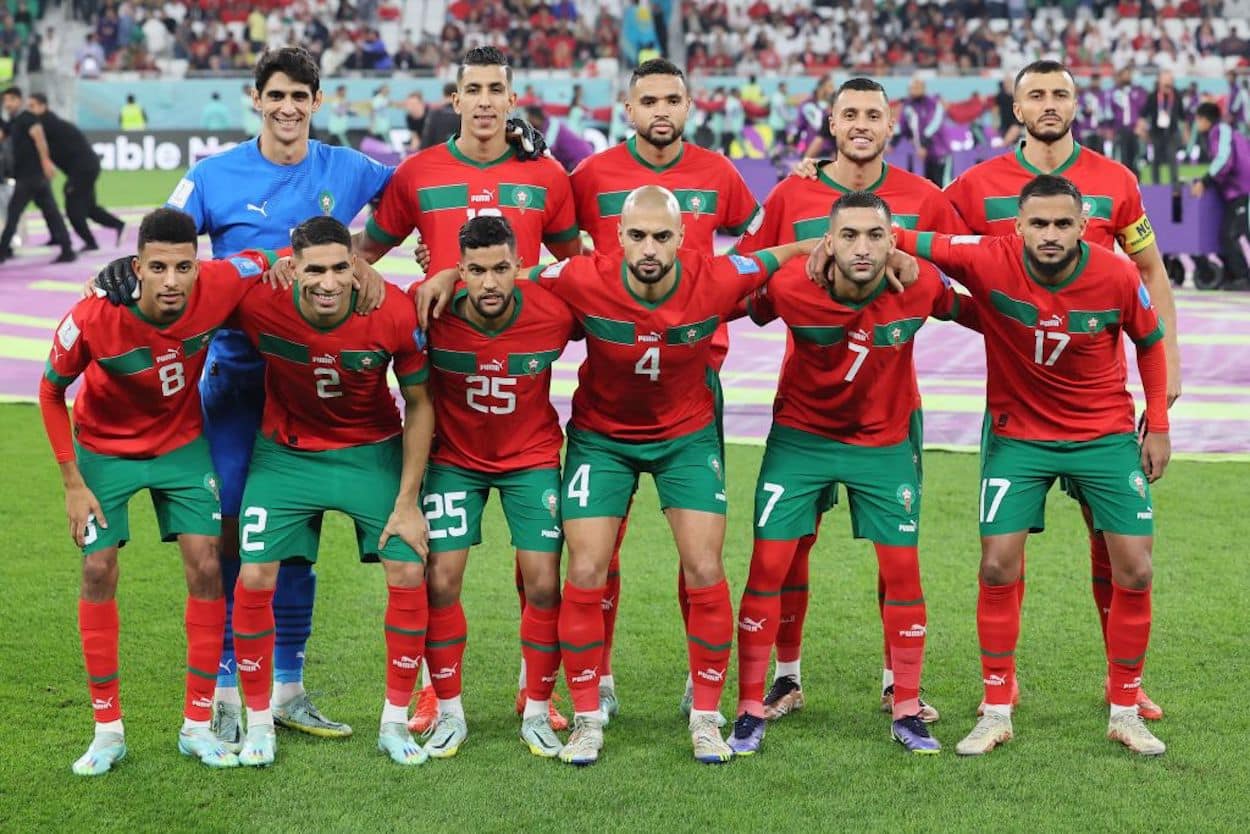 For a footballing nation, there's no bigger prize than winning the World Cup. As of 2022, only a handful of countries around the world have reached the top of the metaphorical mountain. All of those past winners hail from Europe and South America.
When we flip through the pages of history, England and Spain each have one World Cup title. Uruguay, France, and Argentina have each tasted glory twice, while Germany and Italy are tied at four victories apiece. Lastly, Brazil rules the roost with five World Cup wins.
That means no World Cup winners have hailed from North and Central America, Africa, Asia, or Oceania.
And while that historically makes sense — those nations are either European or have strong European ties, and, in general, have had the wealth, population, and infrastructure to devote to high-level sport — it has led to some unfortunate shorthand.
Sports fans, like everyone else, like to make easy comparisons and lean on preconceived notions. Since Europe and select parts of South America are traditional football powers, anyone outside that group is generally looked down upon as a less-than-serious opponent. That, of course, isn't completely fair to every other nation in the world. An African squad, like the 2022 Morocco national team, shouldn't be considered lesser since they're from a different continent.
What is the furthest an African team has ever gone in the World Cup?
While we've established that an African nation is yet to win the World Cup, that doesn't mean there haven't been some strong performances from the continent. Prior to 2022, three squads made it as far as the quarterfinals.
The first of those teams was Cameroon, who won Group B ahead of Argentina during the 1990 World Cup. The Indomitable Lions then beat Colombia in the Round of 16 but fell to England in the quarterfinals.
Then, in 2002, Senegal made it out of a tricky Group A, advancing ahead of Uruguay and France. That set the stage for a Round of 16 victory over Sweden, but the Lions of Teranga's tournament ended in the quarterfinals with a defeat to Turkey.
Africa's third quarterfinalist hit the scene in 2010, when Ghana advanced out of the group stages during the South African edition of the tournament. The Black Stars outlasted the USMNT during the Round of 16 but lost to Uruguay after an infamous Luis Suarez handball.
In 2022, however, everything changed. The Morocco national team won Group F ahead of Belgium and Croatia and began an unlikely march forward. The Atlas Lions outlasted Spain in the Round of 16 and Portugal in the quarterfinals to earn a date with France in the semis. Even if that outing ends there, the squad has already made African World Cup history.
The impact of the 2022 Morocco national team shouldn't be overlooked
At the time I'm writing this post, Morocco are yet to play their semifinal match against France. Regardless of how that match goes, though, the squad's impact on African football has already been secured.
As I somewhat mentioned above, Africa can be a forgotten, if not disrespected, continent in the footballing space. While there are plenty of standout players across multiple national teams — think Mohamed Salah, Sadio Mane, Thomas Partey, Victor Osimhen, and others — no one expects Africa to do much during a World Cup. Even the African Cup of Nations, the continent's premier domestic tournament, is generally viewed as an annoyance because it takes place during the European season, causing domestic clubs to lose key players.
While I'm not naive enough to pretend the Moroccan national team will change that perception overnight, the Atlas Lions have potentially set a new precedent. Now that an African nation has pushed into the upper echelon of a World Cup, why shouldn't we expect this to be the norm?
And, beyond perception, this performance can also change things on the ground. As Michael Cox laid out in The Athletic, this World Cup saw multiple African squads playing with distinct identities and nuanced tactics. Even the Morocco national team, which you could cynically argue have ridden its collective luck and won with last-ditch defending, has used some interesting wrinkles to stifle the opposition.
In Qatar, we've also seen more foreign-born players representing African nations and more African managers representing their own nations. That all combines to suggest that the continent is maturing from a soccer perspective. It's no longer a case of simply importing a washed-up European manager, heading to a World Cup, and hoping for the best.
If anything, Morocco's 2022 World Cup success will validate that approach and prompt other African nations to say, "why not us?"
Out of respect for the Morocco national team, I won't make a statement suggesting that their success is the real victory and being an inspiration is the true trophy at the end of the tournament. The Atlas Lions were a legitimate squad that headed to Qatar in order to win. With that being said, though, their place in African soccer history probably won't be forgotten anytime soon.