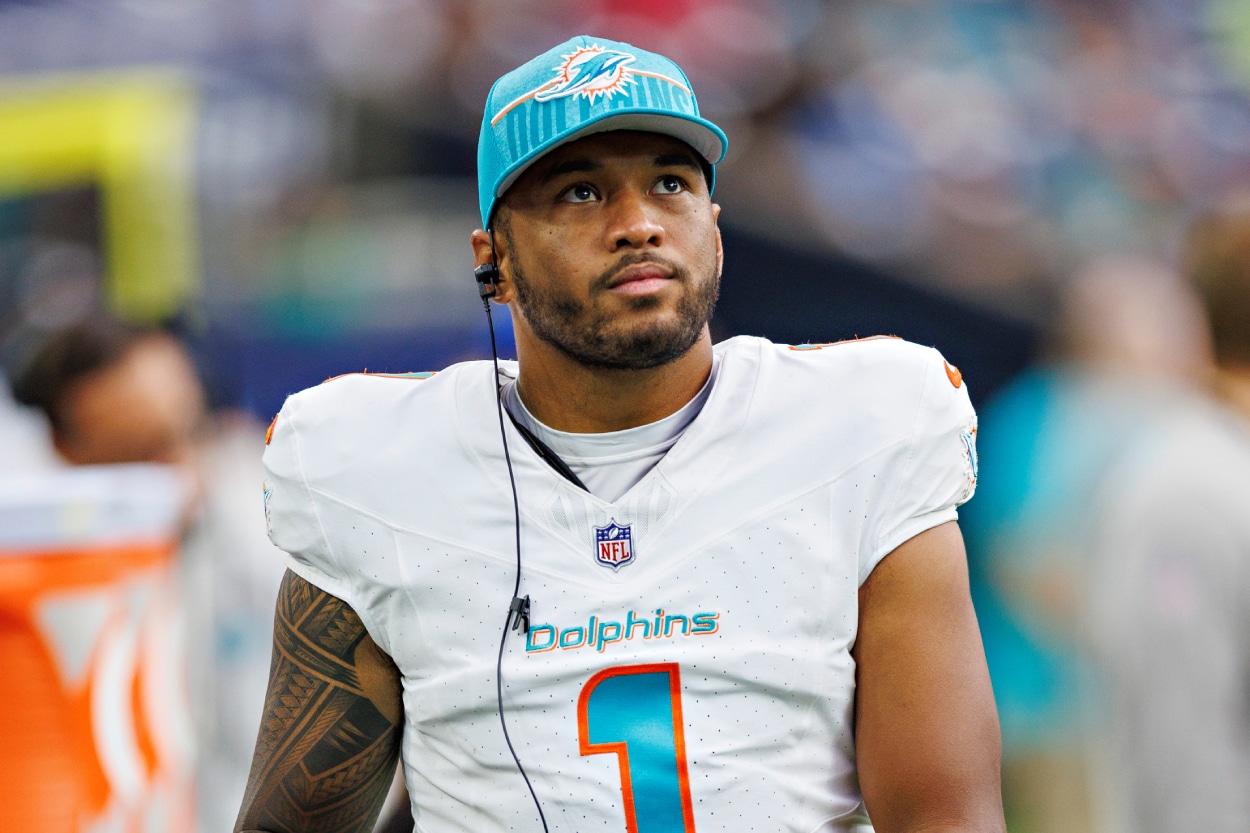 After Blasting Tua Tagovailoa for His Work Ethic, Ryan Clark Issues Apology
Tua Tagovailoa handled himself like a pro when criticized by ESPN's Ryan Clark.
ESPN analyst Ryan Clark ripped into quarterback Tua Tagovailoa recently, making fun of his weight and work ethic. Tagovailoa spent time at a press conference Wednesday addressing Clark's comments, handling himself like a professional.
On Thursday, Clark, who received plenty of backlash on social media, issued an apology to the Miami Dolphins QB. Clark, a former defensive back who played 13 seasons in the NFL, said his "ego was involved" when he made his comments.
Ryan Clark ripped Tua Tagovailoa during an episode of 'NFL Live'
Ryan Clark tried to go from NFL analyst to comedian during an episode of NFL Live this week. It didn't work out so well.
During a roundtable discussion, Clark poked fun at Tua Tagovailoa's appearance, saying it appeared he didn't do much working out. He also said the QB didn't take any advice from his nutritionist, prompting laughter from the other in-studio hosts.
"Let me tell you what he wasn't doing: He wasn't in the gym, I'll bet you that," Clark said. "He might spend a lot of time in the tattoo parlor. He was not at the dinner table eating what the nutritionist had advised. He looks happy. He's thick. He's built like the girls working at Onyx right now."
Tagovailoa was asked about Clark's comments Wednesday.
"It's a little weird when other people are talking about other people when they're not that person," Tagovailoa told reporters.
"My background, I come from a Samoan family. Respect is everything. But it does get to a point where, hey, a little easy on that buddy. I think we're pretty tough-minded people. If we need to get scrappy, we can get scrappy, too.
"You think I wanted to build all this muscle? To some extent, I wanted to be a little lighter. There's a mixture of things that people don't understand that people don't know about that are talked about behind the scenes.
"I'd appreciate it if you kept my name out of your mouth. That's what I'd say."
Clark issued an apology on Thursday
Whether it's damage control or sincerity, Clark took to social media and issued an apology to Tagovailoa. Clark opened by saying he truly was joking when he made those comments, but he felt that if Tagovailoa had to spend time answering questions about Clark's comments during a press conference, he better try to clear the air with an apology.
"If I've offended you, Tua, if I've hurt you, if I've disrespected you, if anybody that supports you and loves you feels some sort of way because of what I said, I truly apologize," Clark said.
"I had two priorities when I started this job. Number one, respect the players and the executives, and the coaches that make this game run. Number two, it was earning the respect of those very same people, and more importantly, keep it. Anything contrary to that, then I gotta check myself.
"Don't get me wrong, my ego was involved. When Tua was asked about how he felt about these comments, he said, 'Keep my name out your mouth.' My first thought was, 'Or what?' Or when he says he's scrappy, I think to myself, 'Man, I fed my family on violence.' That's the pride that doesn't enable me to see what this dude's going through."
It was a long-winded apology that ended with Clark saying, "I wasn't questioning the way you work. I wasn't questioning how much it mattered to you."
Yes, you were.