Tua Tagovailoa Contract: Dolphins Must Give QB $22.6 Million Despite Concussion Concerns
Franchise quarterbacks are hard to come by in the NFL. When a team finds one, they need to lock him up and pay him a lot of money. The Miami Dolphins drafted Tua Tagovailoa in 2020 in hopes of finding a franchise QB — something they haven't had since Dan Marino retired in 1999. Is the former Alabama signal-caller a true franchise guy? Maybe. Is his future in doubt after multiple concussions this season? Maybe. Did the QB play well enough this season that the Dolphins must take a $22.6 million gamble on an extended Tua Tagovailoa contract this offseason? Absolutely.
The Dolphins have a $22.6 million decision to make this offseason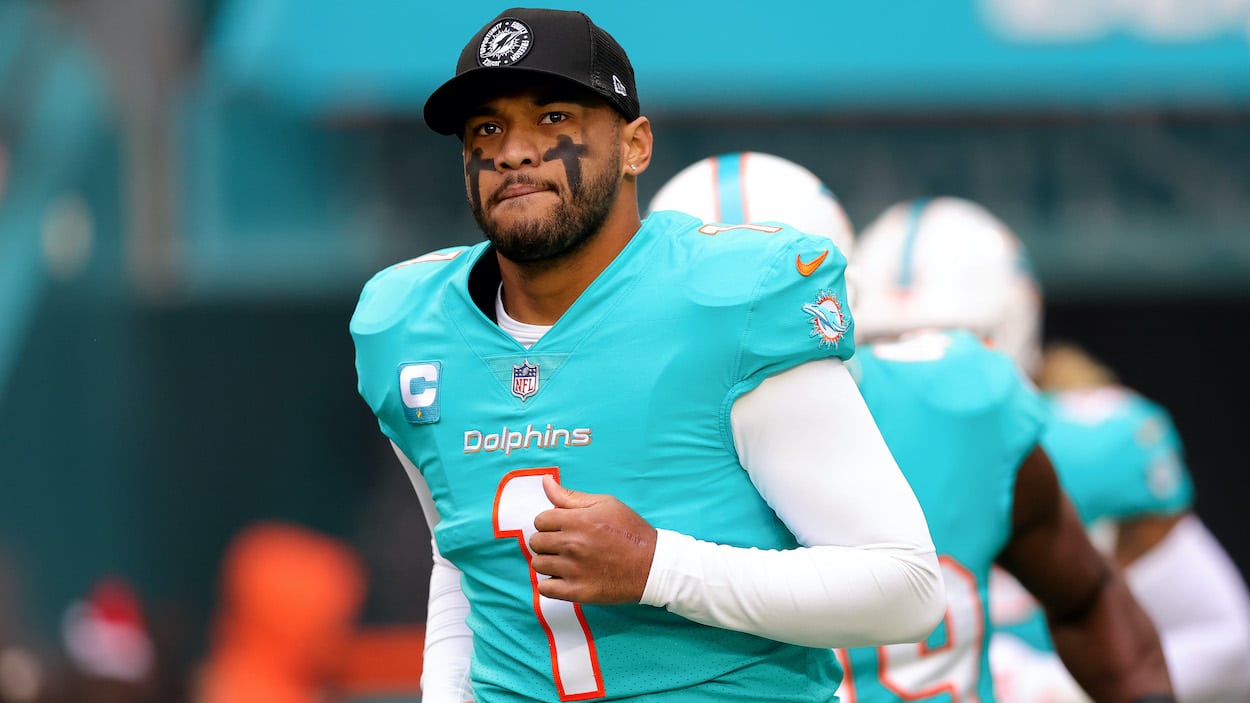 As the No. 5 overall pick of the 2020 NFL Draft, the initial Tua Tagovailoa contract was a four-year, fully-guaranteed $30,275,438 deal that included a $19,578,500 signing bonus. The pact has an average annual value (AAV) of $7,568,860, per Sportrac.
This season, Tagovailoa's deal pays him an $895,000 base salary, $4,894,625 in prorated signing bonus, and a $2,467,313 roster bonus for a cap hit of $8,256,938. In the final year of the deal, Tua will make $1,010,000 in base salary, the $4,894,625 prorated signing bonus, and a $3,728,469 roster bonus, with a cap hit of $9,633,094.
While 2023 is the final year currently on the rookie Tua Tagovailoa contract, the team does have a mechanism to keep him at least through 2024. That is by picking up the contract's fifth-year option. 
Triggering the fifth-year option allows the Dolphins to keep Tua Tagovailoa for an extra year at a relatively reasonable (and set) price. Based on Tagovailoa's position, draft spot, playing time, and the fact that he has not made a Pro Bowl yet, the estimated fifth-year option for the Dolphins signal-caller will be $22,673,000.
And while that's a big number, it's one Miami has to decide to pay this offseason.  
Why Miami must pick up the fifth-year option on the Tua Tagovailoa contract
Heading into Week 18 of the 2022 NFL season, Tua Tagovailoa's football future is very much up in the air. He has at least two diagnosed concussions this season, with a possible (and controversial) third that happened in Week 3 vs. the Buffalo Bills.
These concussions mean it's possible that Tagovailoa will be out for the rest of the season, whether the team makes the playoffs. It's even possible his career could be over. If it's not, though, the Dolphins should pick up the QB's fifth-year option this offseason.
Tagovailoa has been excellent this season. He's thrown for 3,548 yards with a 64.8% completion rate, 25 touchdowns, and eight interceptions. Tua also leads the league in yards per attempt (8.9), yards per completion (13.7), and Quarterback Rating (105.5). He's also 8-5 as a starter, and, maybe more importantly, the Dolphins are 0-3 in games he doesn't start.
The $22.67 million fifth-year option on the Tua Tagovailoa contract is a significant number. However, it's only about half of what the top quarterbacks in the league make. It is also around what the franchise would have to pay to sign one of the top (realistic) free-agent quarterbacks this offseason, like Jimmy Garoppolo, Taylor Heinicke, Gardner Minshew, or Cooper Rush.
Picking up Tagovailoa is a calculated risk that the Dolphins must take this offseason. If it works out and the QB comes back strong next season, it will be a bargain. If it doesn't, the team will only be down (on the field and with the salary cap) for a year, and they can reset in 2024.