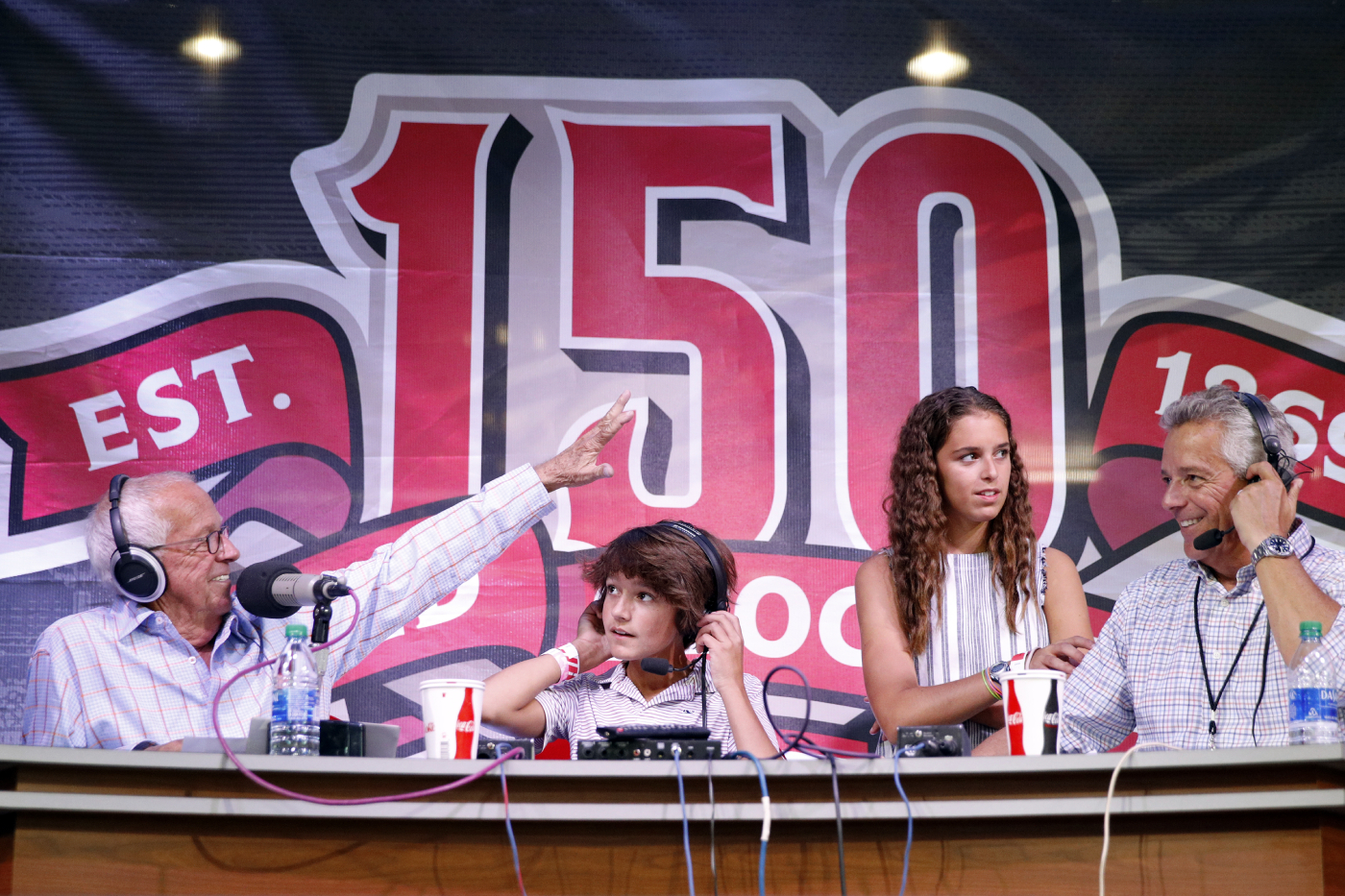 After Marge Schott's Fiasco, Thom Brennaman Is Another Black Eye for Cincinnati Reds
After racist remarks by former owner Marge Schott, Thom Brennaman's recent comment is another black eye for the Cincinnati Reds.
Thom Brennaman is a top-notch announcer. He also made one of the dumbest moves Wednesday night. The now-suspended Cincinnati Reds announcer used an anti-gay slur not knowing he was on the air during the Reds game against the Kansas City Royals. Not only is using the slur foolish, but it's also a bad look for the Reds who recently had to relive the racist remarks by former owner Marge Schott.
Brennaman's comment likened to Marge Schott's remarks
In 1984, Marge Schott purchased a controlling interest in the Cincinnati Reds and became CEO and team president. Schott wasn't a big baseball mind. Known for her St. Bernard dogs and for being frugal, Schott was later known for being racist.
According to a 1996 article in Sports Illustrated, Schott wasn't shy about her racist or homophibic comments. She once said, "Only fruits wear earrings." Schott was also the author of racists comments, saying things such as "Dave (Parker) is my million dollar ni–er." Schott, who died in March of 2004, was a woman who said what's on her mind.
Schott's comments eventually caught up with her. According to ESPN, on Nov. 24, 1992, Sharon Jones, a former Oakland Athletics executive assistant, said she heard Schott use the N-word during a conference call. Jones was quoted in The New York Times as saying she heard Schott say, "I would never hire another ni–er. I'd rather have a trained monkey working for me than a ni–er."
Schott forced to give up control of the team
According to the ESPN timeline, Marge Schott was suspended for one year in 1993, fined $25,000 for language the executive council judged "racially and ethnically offensive." She served the suspension and was back running the team in 1994.
In 1996, Schott showed her lack of sensitivity when home plate umpire John McSherry died of a heart attack in the first inning of the Reds' season opener. The game was postponed, but not before Schott pleaded for the game to continue. "I feel cheated. This isn't supposed to happen to us, not in Cincinnati," she said. "This is our history, our tradition, our team."
On May 14, 1996, Sports Illustrated quoted Schott speaking in a "cartoonish Japanese accent" mimicking Japanese prime minister Kiichi Miyazawaafter the two met. On June 6 of that year, Major League Baseball told Schott to either give up control of the team within a week or face a suspenion that could be for more than one year. Schott gave up day-to-day operation of te team through the 1998 season. On Oct. 23, 1998 Schott agreed to sell control of the team.
Thom Brennaman's comment another black eye for the Reds
Comparing Cincinnati Reds announcer Thom Brennaman to former Reds owner Marge Schott might be a stretch. Brennaman made one anti-gay slur, while Schott made many public homophobic and racist remarks. Either way, it's a bad look for the Cincinnati Reds. Schott's name had been in the news recently when the University of Cincinnati removed her name from the baseball stadium. Other organizations and facilities followed suit.
Brennaman's comment came during Wednesday night's doubleheader against the Kansas City Royals. He didn't realize he was back on the air and was talking about an unknown city, calling it the "(slur) capital of the world." Brennaman issued an apology during the game by saying, "I made a comment earlier tonight that I guess went out over the air that I am deeply ashamed of. If I have hurt anyone out there, I can't tell you how much I say from the bottom of my heart I'm so very, very sorry."
Later that night, Brennaman was suspended by the Cincinnati Reds. The Reds put out a statement saying the organization was "devastated by the horrific, homophobic remark made this evening by broadcaster Thom Brennaman."