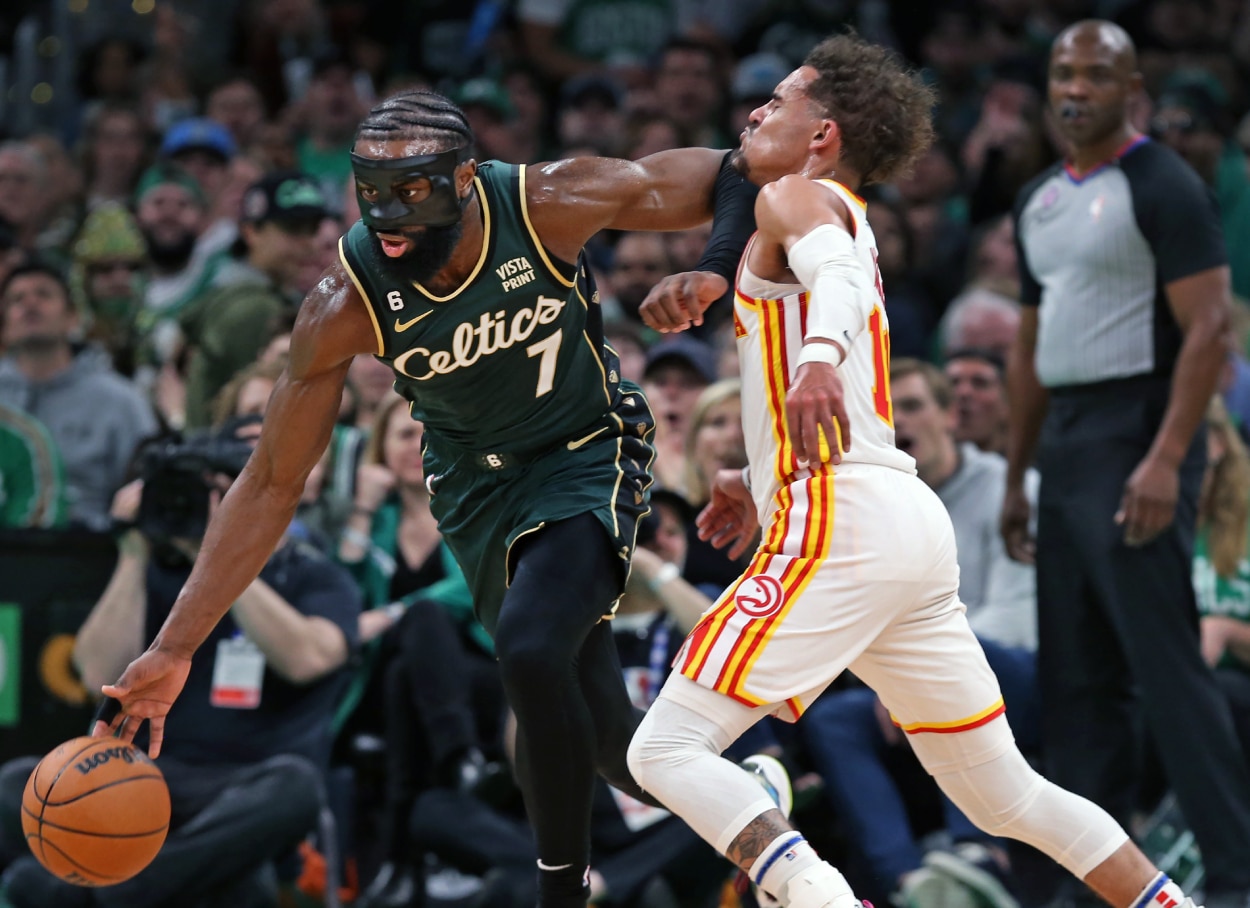 After Telling Postgame Conference, Let's Just Agree to the Jaylen Brown for Trae Young Trade Now
Imagine playing the Atlanta Hawks in a playoff game and showing up to a press conference wearing an Atlanta hat? Jaylen Brown did that Tuesday.
Maybe I'm just a pessimist, but count me in as one of those guys who believes Jaylen Brown won't be a member of the Boston Celtics when his current deal expires. Brown can become a free agent after next season, and I'm of the belief he'll want out of Boston to play for a team where he's the No. 1 option. Along with Brown's recent interviews, Tuesday's press conference after the Atlanta Hawks embarrassed the Boston Celtics strengthened my opinion.
Is Jaylen Brown's future with the Boston Celtics?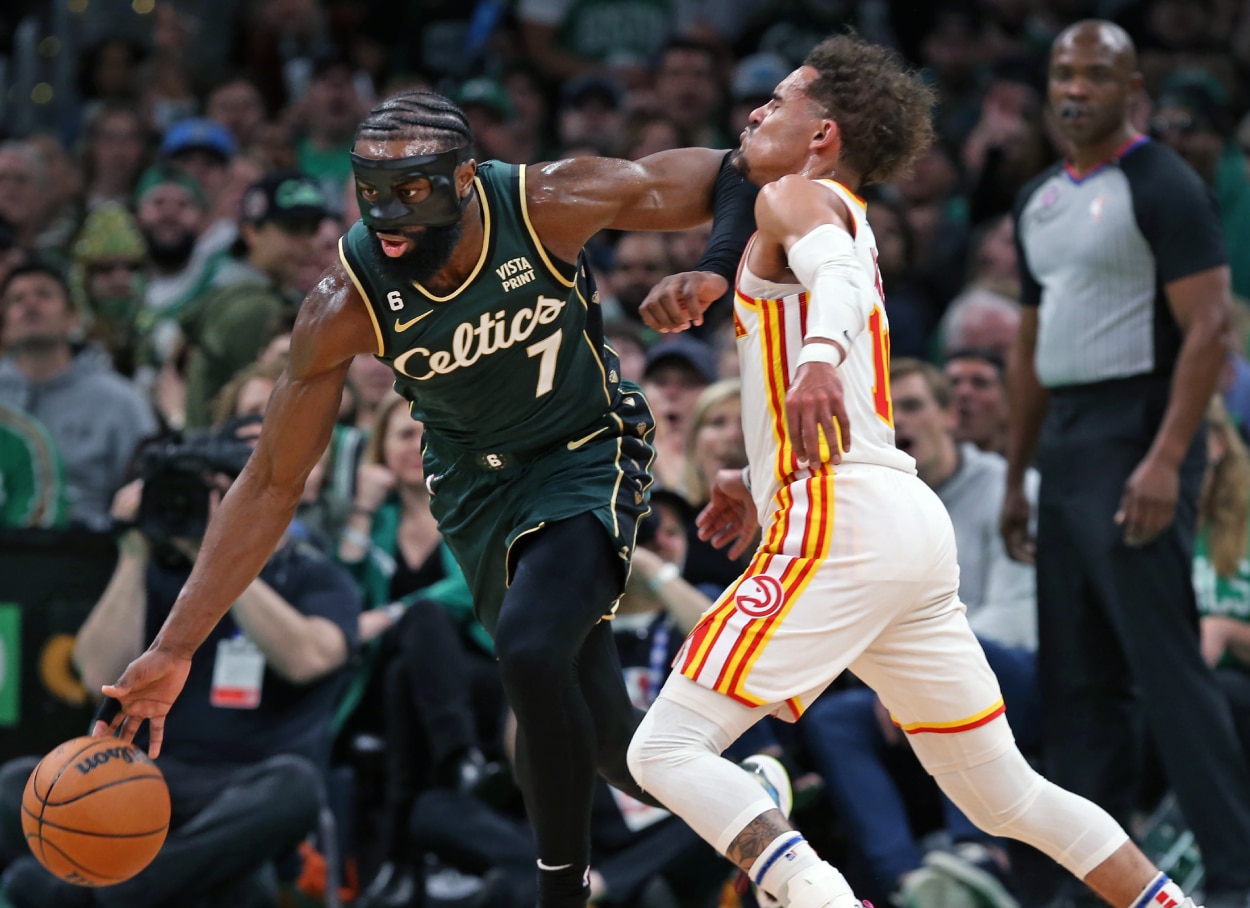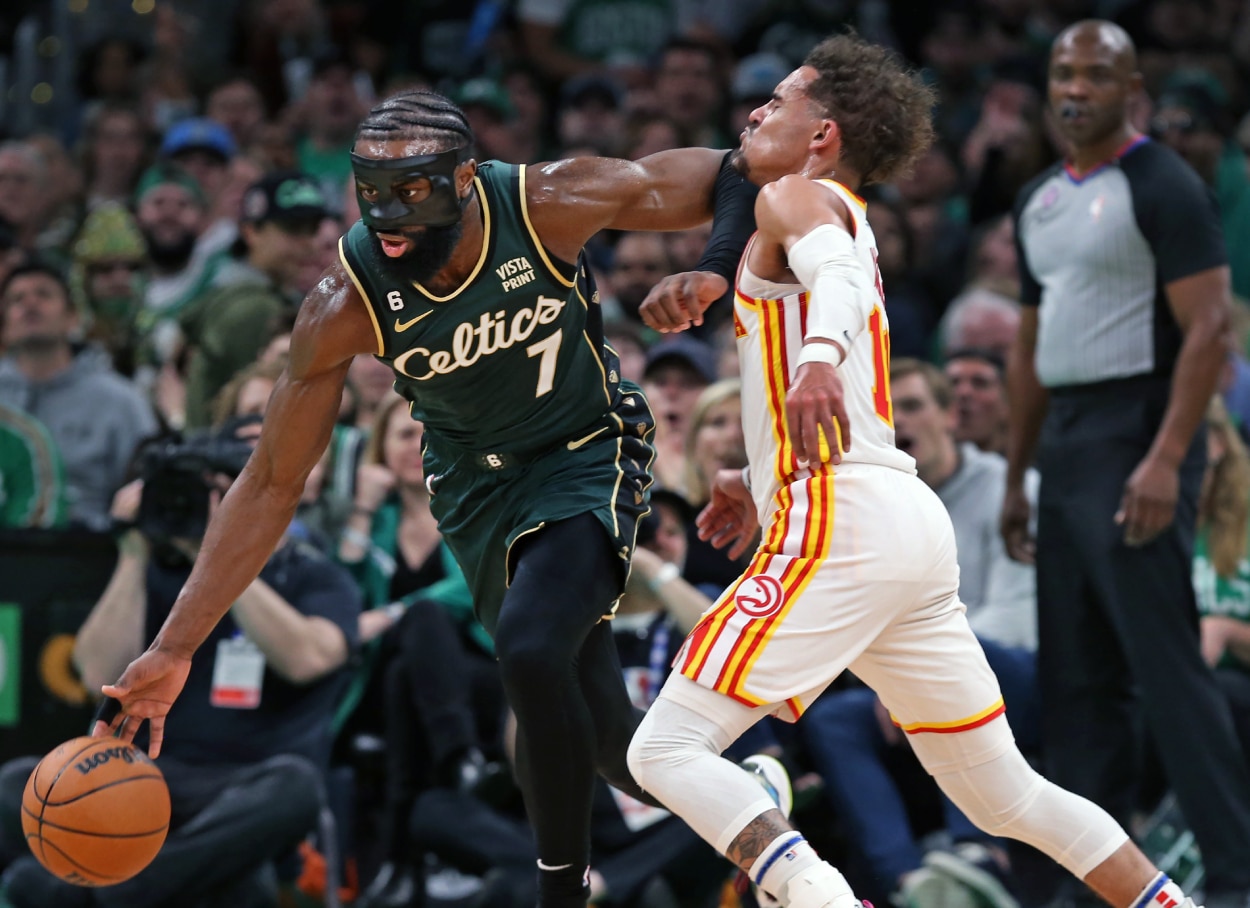 Jaylen Brown was one of just a couple of bright spots for the Boston Celtics in Tuesday's 119-117 loss to the Atlanta Hawks in Game 5 of the first round of the playoffs. Trae Young carried the visiting Hawks on his back by scoring 38 points and sending the game back to Atlanta for Game 6 on Thursday.
Brown led the way for Boston with 35 points, while Derrick White had 18 points on 7-for-11 shooting, and Malcolm Brogdon had 14 points off the bench. After that, there were no positives for the Celtics.
Turnovers aside, Brown has has a strong postseason after putting together the best regular season of his seven-year NBA career. While Brown has helped the Celtics to the No. 2 seed in the Eastern Conference by making his second All-Star appearance, it might not bode well for his future in Boston. Brown has played in the shadow of Jayson Tatum throughout his career, and it's understandable if he wants to test free agency.
It's also understandable if the Celtics seek out ways to protect themselves if Brown does decide to leave town. Brown has been non-committal regarding his desire to stay in Boston. During an interview with Logan Murdock of The Ringer, he gave no hints when asked if he wanted to stay in Boston long term.
"I don't know. As long as I'm needed. It's not up to me," he said. "We'll see how they feel about me over time and I feel about them over time. Hopefully, whatever it is, it makes sense. But I will stay where I'm wanted. I will stay where I'm needed and treated correct."
He also didn't want to answer how long he wanted to play with Tatum.
"I just enjoy the time that you have now," he said. "If it's your whole career, it's your whole career. If it's not, it's not. Some of the greatest players of all time haven't finished with their organization. Michael Jordan retired a Wizard. As much as we like it here and enjoy being here, you see where life takes you. You see how the process goes."
The Celtics should just agree on a Brown for Young deal now
After Tuesday's game, Brown didn't give Celtics fans any added hope of staying in Boston. He showed up at his postgame press conference sporting an Atlanta hat — a brown retro Braves cap.
Yes, Brown is from Atlanta. He's proud of where he came from. But can you imagine Paul Pierce wearing an LA hat at a press conference when the Celtics played the Lakers? It's not a good look and only leads to more speculation.
Should Brown remain non-committal into next season, the Celtics will need to cover themselves and find a trading partner. They can't let him walk away without compensation. If Brown makes an All-NBA team this year, he'll be eligible for a supermax, but I'm not sure that's enough to keep him around in Boston.
If he loves Atlanta so much, and he wants to be a No. 1 guy, swing a deal with the Hawks and bring Young to Boston. Brown would get his money, play at home, and Young would likely trade being a No. 1 player on a mediocre team for a chance to be a No. 2 on a championship-caliber squad.
Sure, it's probably a bit too early to discuss next year, but the Atlanta hat opened a can of worms. If Young heads to the press table Thursday wearing a Red Sox hat, we may be on to something here.