Jaylen Brown Contract: The Boston Celtics Could Have a Significant Decision to Make Sooner Than Later
The smart move is for the Boston Celtics to pay up. Although Jaylen Brown's contract with the Celtics runs through the 2003-24 season, the Celtics need to stay ahead of the game.
Brown and Jayson Tatum have arguably become the best duo in the game, with many believing the "arguably" can be dropped. Locking Brown up beyond 2024 and keeping him paired with Tatum has to be the Celtics plan. But what if it's not their choice?
Jaylen Brown contract: Boston Celtics star to make more than $28 million next year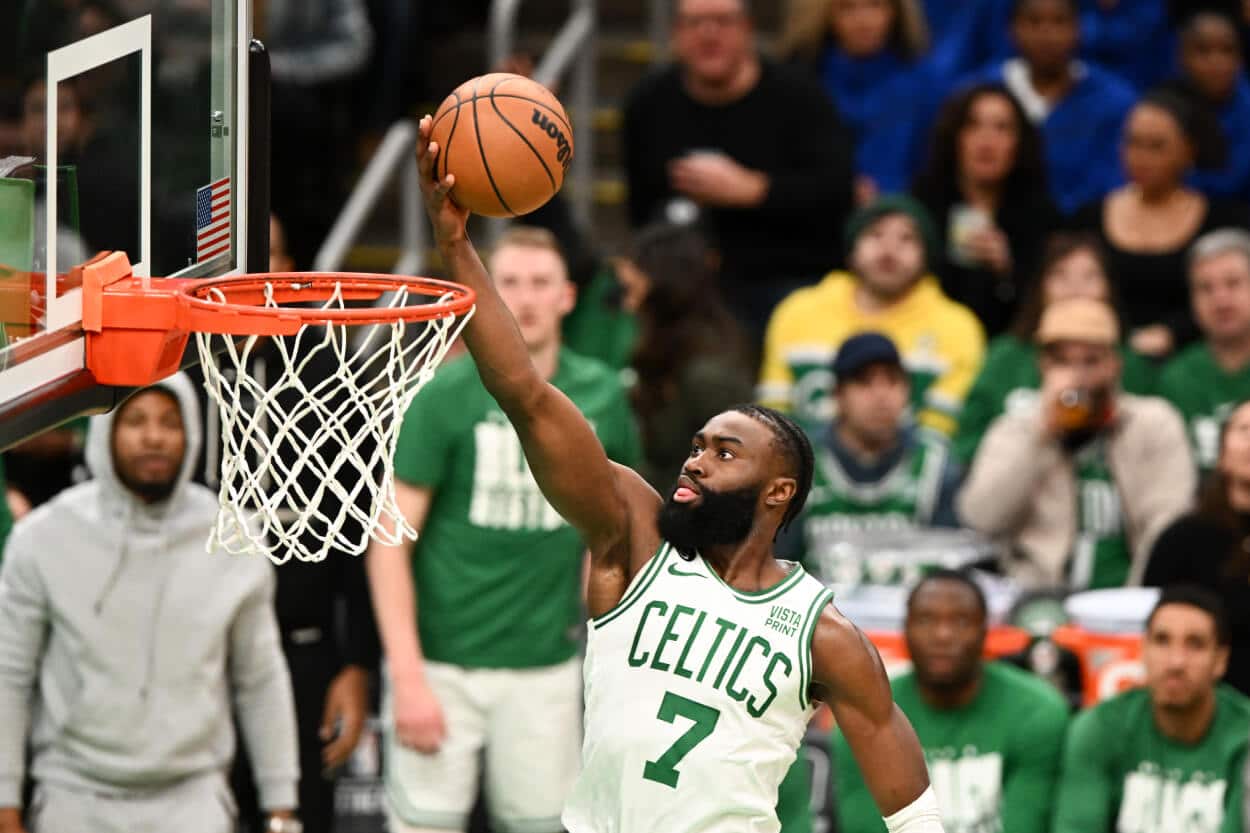 Brown is in the middle of a four-year deal worth $106,333,334. With an annual average salary of $26,583,334, Brown is vastly underpaid by today's NBA standards. Players like Zach Lavine, Tobias Harris, and Rudy Gobert are making at least $10 million more than Brown this season. Ben Simmons makes $33 million, Bradley Beal collects $43 million, and Russell Westbrook takes in $47 million.
Brown gets a modest raise next year and will have a base salary of $28,508,929, according to Spotrac. A $2 million raise is nothing to be upset about, but when it still put you $15 million behind Beal's 2022-23 salary, it's undervalued.
Until Brown suffered a facial fracture when he collided with Tatum in a game last week, he was having his best season. Brown has career-highs in points (26.5) and rebounds (7.0) and has the Celtics sporting the best record in the NBA.
After failing to reach the NBA Finals in his previous five years in the league, Brown got to the big show last year. Brown had been to the Eastern Conference Finals three previous times but never reached the championship round. After a sluggish start to last season, Tatum and Brown led the Celtics to an impressive turnaround as the Celtics finished the regular season 26-6 after starting 25-25.
The Celtics could have a significant decision to make
If the Celtics want to keep their young tandem together, they'll have to dig deep into their pockets. Brown's going to command much more than a $2 million raise when he hits free agency, and there will be plenty of suitors looking to bring him on board.
The question isn't whether the Celtics want to keep Brown. They'll likely shell out fair market value for their All-Star guard. The big question is whether or not Brown wants to remain in Boston.
That's not a knock on the franchise or the city. Brown has earned the right to test free agency and see what teams are willing to pay him. In Boston, he's No. 2 behind Tatum. There's a great chance that some team outside Boston is going to give him No. 1 money. He has every right to test the waters.
The Celtics also have every right to not let him walk away without compensation. They can't afford to play the waiting game with him and let him reach free agency. If he's adamant about playing out his four-year extension in Boston and hitting free agency, the Celtics will have a major decision to make — trade him or risk getting nothing in return while trying to win a championship.
Neither party is in the wrong. Brown might want to go elsewhere and be a team's top dog and get paid handsomely for it. If he confirms that's the case to the Celtics behind the scenes, Boston needs to pull the trigger on a deal next season. Ideally, the Celtics and Brown come to an agreement on an extension, but ultimately, that choice is up to Brown.