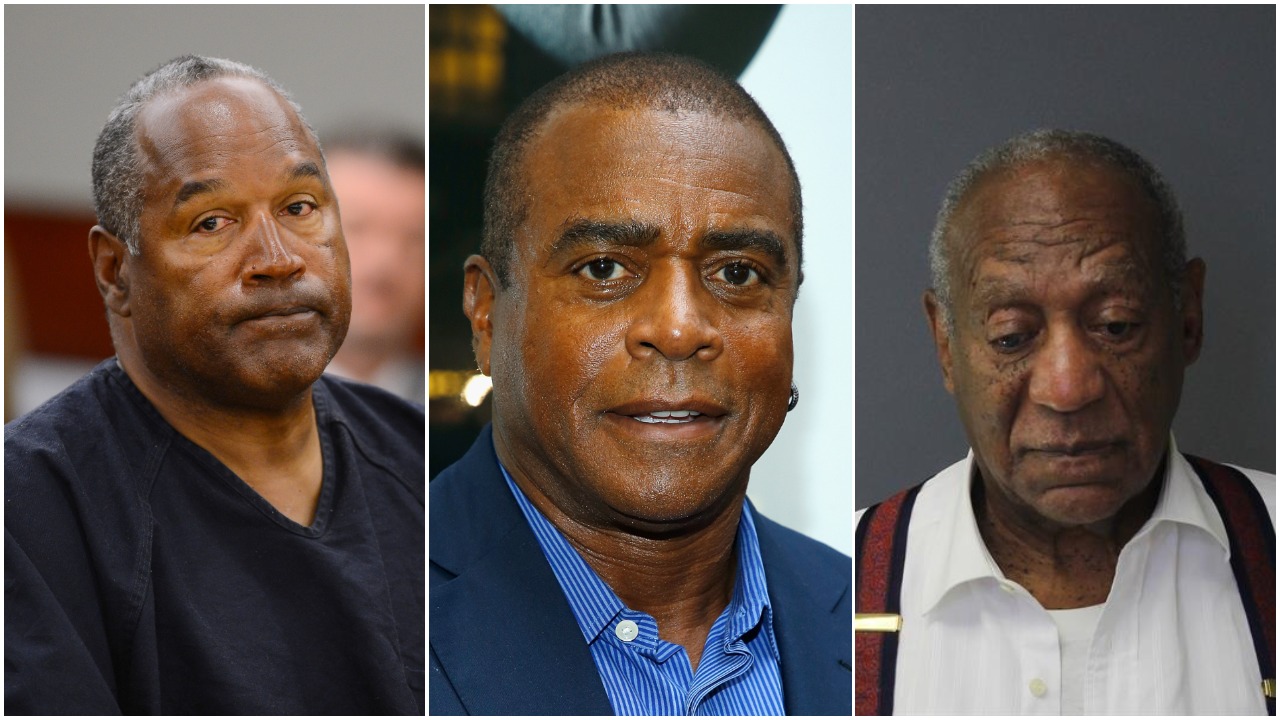 Ahmad Rashad's Comments On Having O.J. Simpson and Bill Cosby In His Wedding Party Are Absolute Gold
Former NFL star and longtime broadcaster Ahmad Rashad was once great friends with both O.J. Simpson and Bill Cosby but has now "erased" both of them from his mind.
Ahmad Rashad has been a lot of things in his life. He was an All-American running back at the University of Oregon and a four-time Pro Bowl wide receiver with the Minnesota Vikings. With his playing days behind him, he became a highly successful sports media personality covering the NFL, NBA, and Major League Baseball. He's been Michael Jordan's confidant, a husband, and a father. But Ahmad Rashad is also the guy that once had O.J. Simpson and Bill Cosby in his wedding party when he married The Cosby Show actress Phylicia Rashad.
Now, back in the day, that was obviously an amazing pair of groomsmen, right? O.J. Simpson was a Heisman Trophy winner and became one of the best running backs in NFL history. And Bill Cosby was the biggest star on television at one point. But over the years, things changed for those two a little bit. Simpson was accused of murdering two people and then spent time in prison on robbery and kidnapping charges. And Cosby is still sitting in a jail cell after being convicted of felony sexual assault.
When a picture of the three emerged a few years back, Ahmad Rashad was asked about it and gave the perfect response.
Ahmad Rashad and O.J. Simpson were teammates in Buffalo for one season
Ahmad Rashad met O.J. Simpson in the early 1970s and the two quickly became good friends. They worked out together in the summers and spent a lot of time partying together. When Rashad, who was born Robert Earl Moore, was taking heat for converting to Islam, it was O.J. that helped him through it. Rashad was playing for the St. Louis Cardinals at the time and as the backlash continued to build, Simpson told his team, the Bills, to bring his good friend to Buffalo, which they did.
The two spent just one season together in Buffalo but that lone season breathed new life into Ahmad Rashad's career and he went on to become a four-time Pro Bowler with the Minnesota Vikings.
Bill Cosby helped him transition to TV and set him up with Phylicia Rashad
Like it was with O.J. Simpson, Ahmad Rashad first met Bill Cosby while still in college in Oregon. Cosby was passing through Eugene and the two struck up a friendship. As Rashad tells it in his autobiography, "Rashad: Vikes, Mikes, and Something on the Backside," Cosby told him not to let a game run his life and helped steer him toward television when his playing career was over.
When both of Rashad's parents died in 1980, Bill Cosby even started introducing him as his son, which Rashad said "always made me proud," and was constantly trying to fix him up with women. When that didn't go so well, Ahmad Rashad eventually begged Cosby to fix him up with his co-star on The Cosby Show, who was then known as Phylicia Ayers-Allen, which Cosby did.
The two met, fell in love, and Ahmad Rashad proposed to her on Thanksgiving Day in 1985 during the pregame show of NBC's broadcast of a game between the New York Jets and Detroit Lions.
Ahmad Rashad has 'erased' O.J. Simpson and Bill Cosby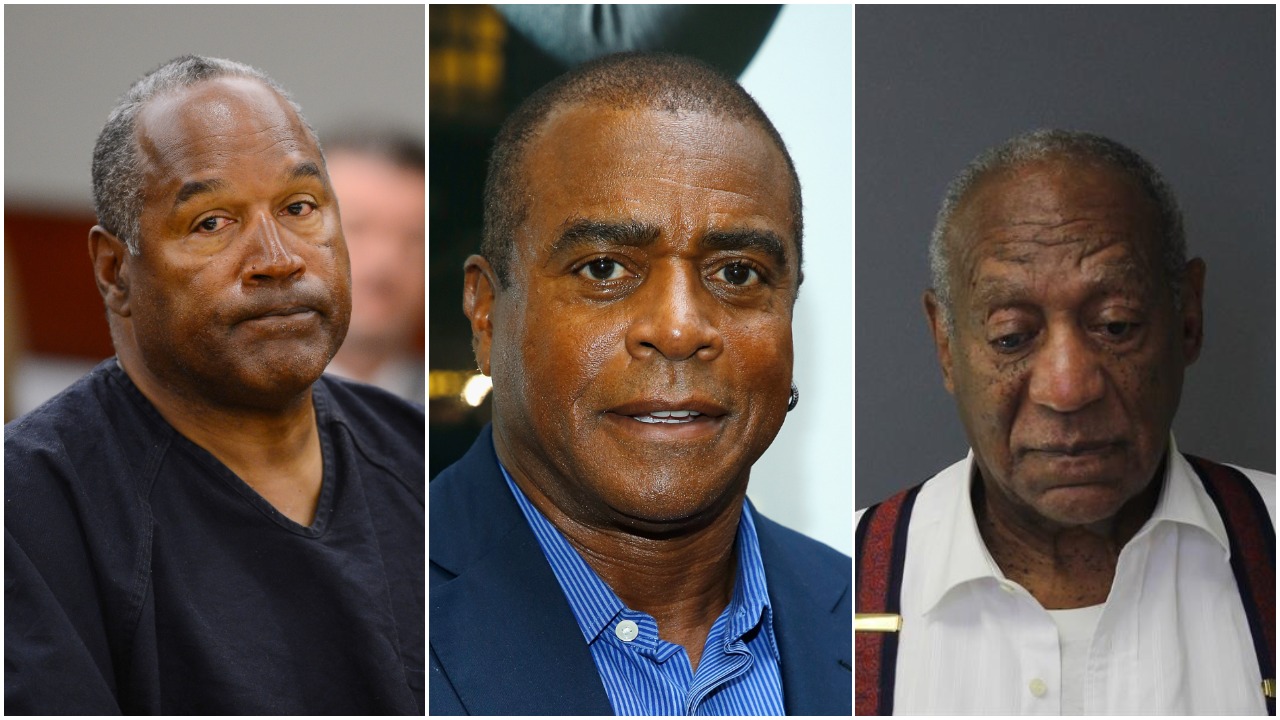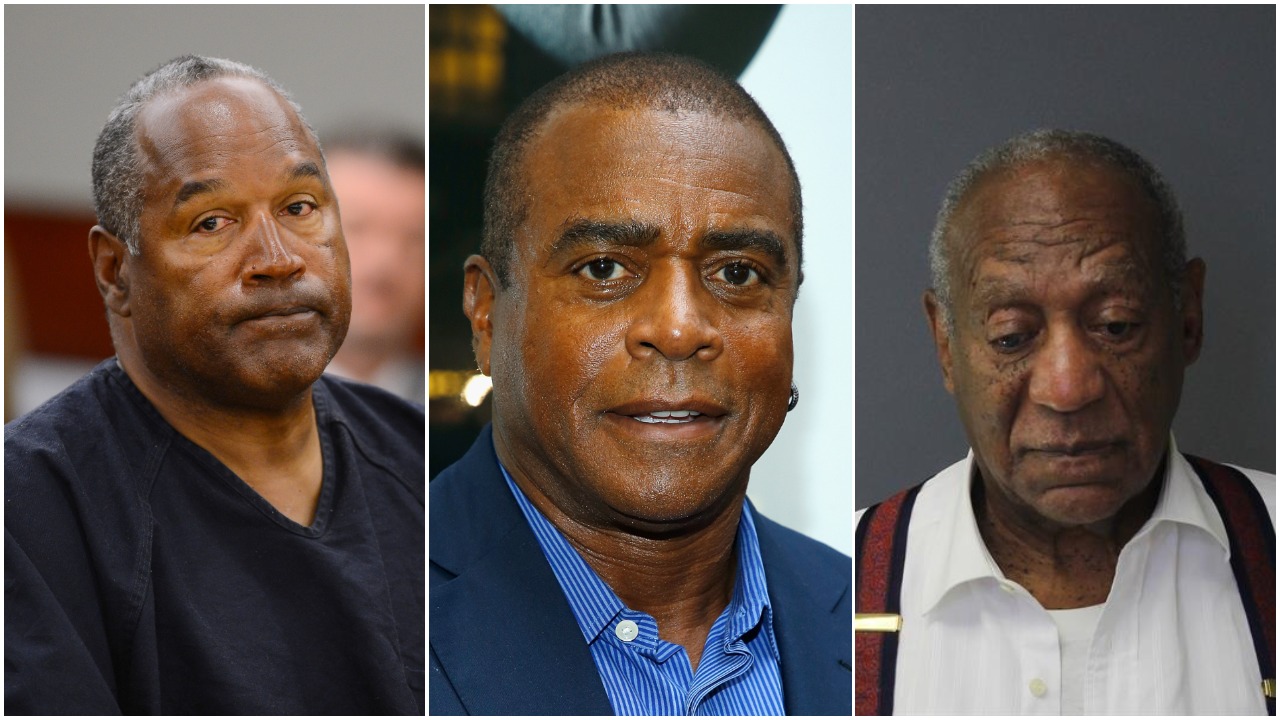 In May 2018, a photo of Ahmad Rashad, O.J. Simpson, and Bill Cosby at Rashad's wedding began circulating around the internet. This was only a few weeks after Cosby had been found guilty of three counts of aggravated indecent assault against a Toronto woman. Just eight months earlier, Simpson had been released from prison after serving nine years for kidnapping and robbery. So it's understandable why former Daily Show writer Travon Free described the photo the way that he did.
Now, a lot of times when people are asked about their famous friends that have done something wrong, they try to defend them. But when Sports Illustrated brought up this photo and asked Ahmad Rashad about O.J. Simpson and Bill Cosby, it wasn't that way at all.
"Here's my feeling about that. Everybody has their cross to bear. Those two guys' crosses are pretty f—— heavy. I'm sure they knew a lot of people. Maybe you just didn't know them as well as you thought you knew them. You just don't know. I'm as devastated as everyone else with these two people. It's like, holy s—.

"They were in chapters [of my life]. So were a lot of other people. They weren't the main characters. I'm the main character in my own book. Those two things are just … maybe the most … oh, I can't even describe it. It's just … heartbreaking all around. And not so much for them, but the victims. It's like, that's f—— crazy. But like I said, that's their cross.

"Yeah, I've seen that photo and the only people I see in it are me and my wife. I don't see those two f—— guys. They've disappeared out of my memory. I've erased them out of my consciousness."

Ahmad Rashad on O.J. Simpson and Bill Cosby
In that same interview with SI, Rashad said that he had a falling out with O.J. Simpson in 1988 that he didn't want to discuss and that he hadn't talked to Bill Cosby in years.
Ahmad and Phylicia Rashad divorced in 2001.