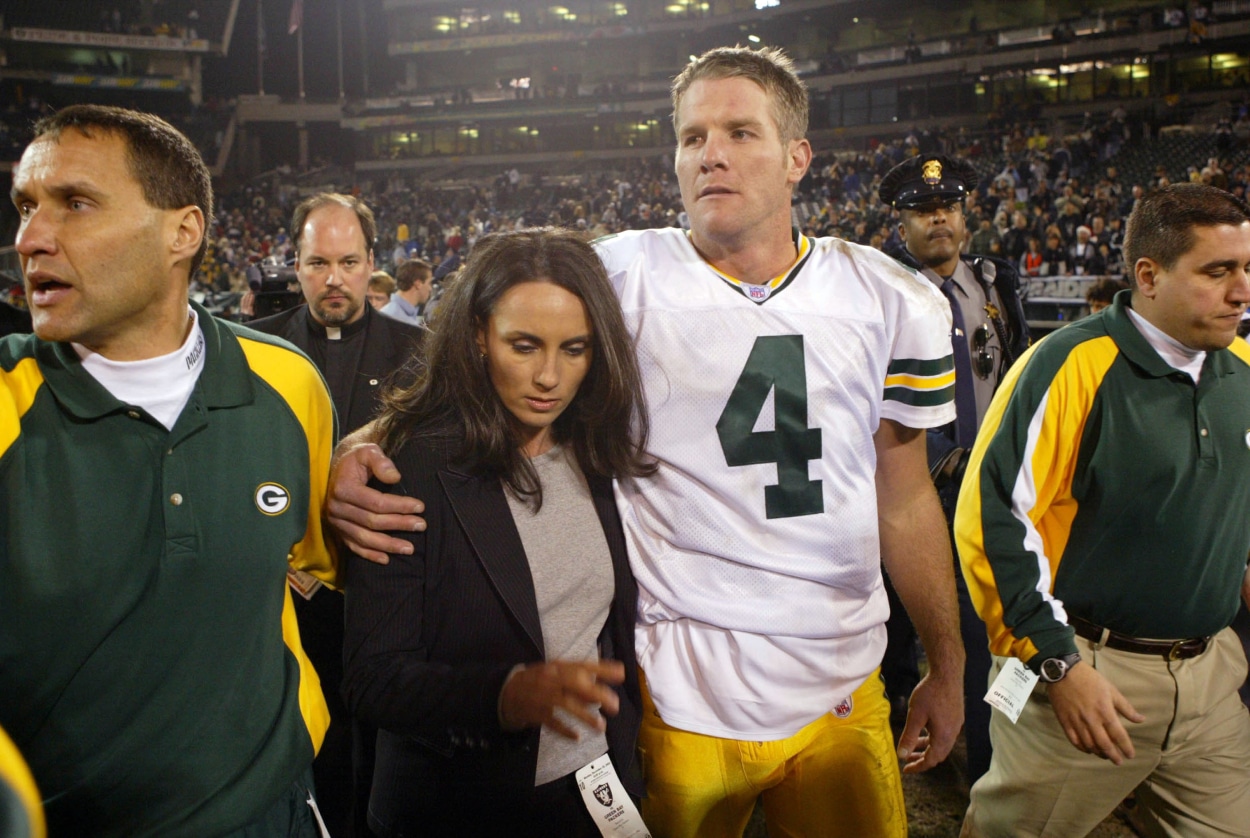 Akbar Gbajabiamila Relives Brett Favre's Iconic 'MNF' Game Following Dad's Death
Brett Favre had one of the most iconic performances of his career the day after his dad died. Former Raiders player Akbar Gbajabiamila recently looked back at it.
If you're an NFL fan and you were born before the turn of the millennium, you likely remember where you were when Brett Favre played in a game for the Green Bay Packers just one day after his father died.
Irvin Favre suffered a heart attack and died unexpectedly on Dec. 21, 2003. The next day, Brett and the Packers played a game against the Oakland Raiders on Monday Night Football.
The Hall of Fame quarterback had one of the most iconic performances of his career that night. And in a recent conversation with Sportscasting, former Raiders defensive lineman Akbar Gbajabiamila looked back on that historic game.
Akbar Gbajabiamila looked back on Brett Favre's historic "Monday Night Football" game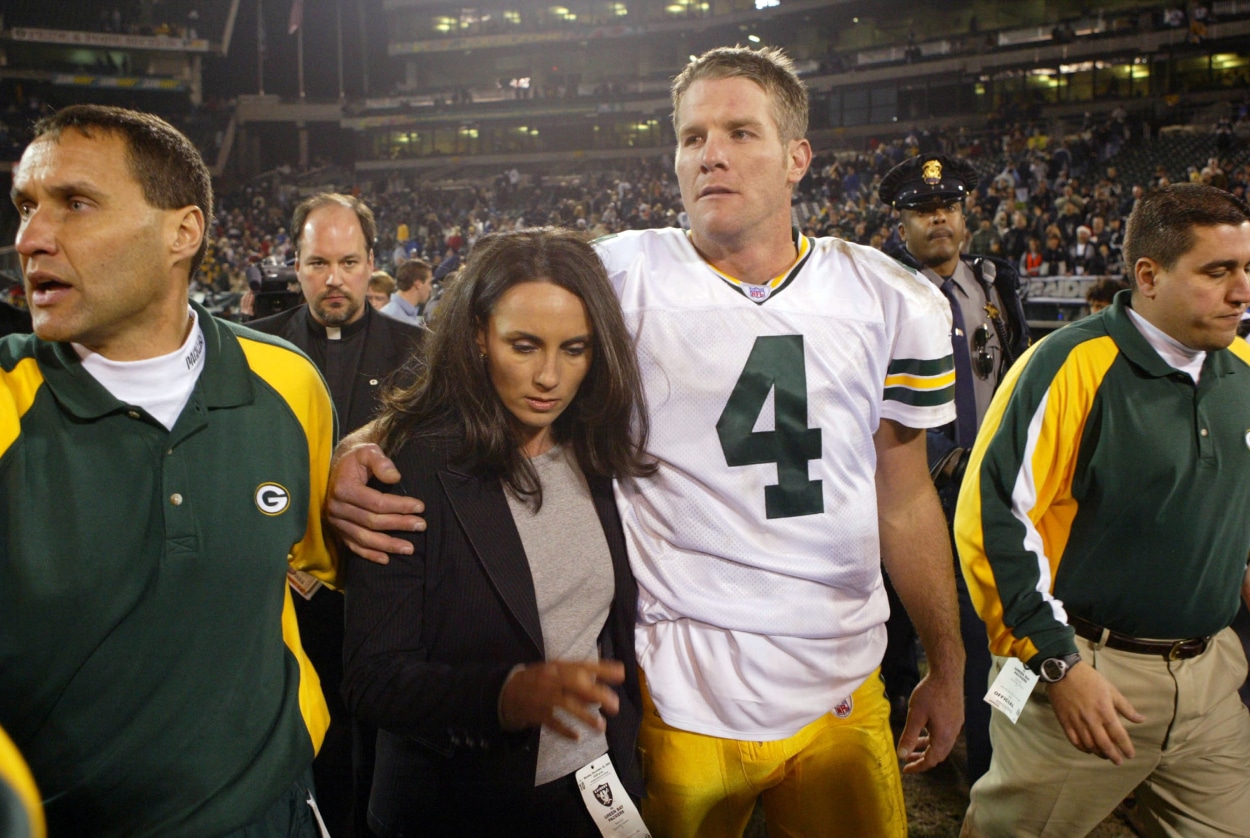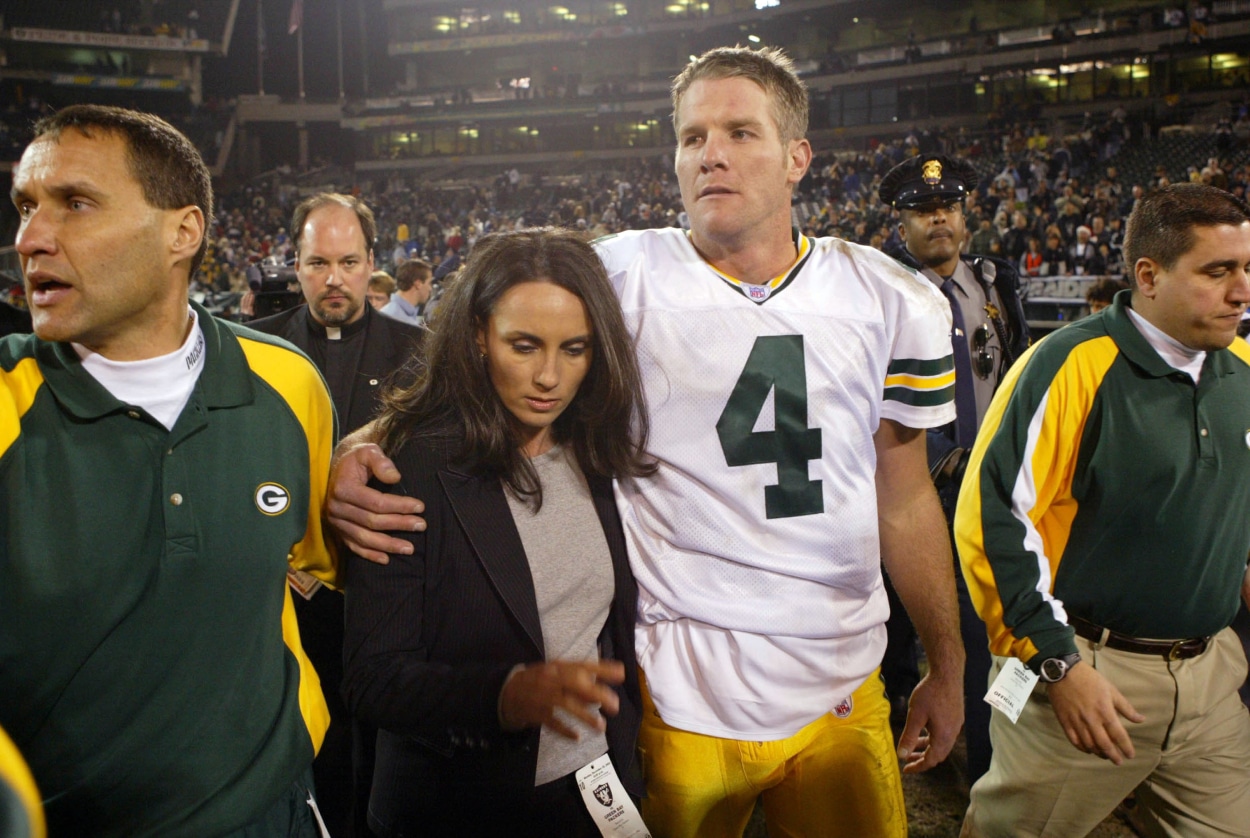 Everyone could tell Brett Favre had extra motivation as soon as that MNF game kicked off in 2003. He completed his first nine passes and eventually led the Packers to a 31-7 halftime lead. Favre had 311 passing yards and four touchdowns … in the first half.
Overall that night, the three-time MVP completed 22-of-30 passes for 399 yards and four touchdowns. The Packers added to their lead during the final 30 minutes, winning 41-7. The victory improved Green Bay's record to 9-6 and helped the team's standing in the NFC playoff race.
The game meant a lot to Raiders defensive lineman Akbar Gbajabiamila because his brother, former Pro Bowl defensive end Kabeer Gbaja-Biamila, played on the Packers. But Kabeer and his Green Bay teammates were playing for more than just a win that night. And Akbar could tell there was something special in the air.
"Even though we were on the losing end, what we witnessed was just … there was an angel," Akbar said in a recent interview with Sportscasting, while discussing Snapdragon Stadium. "His father was there with them; I'm convinced. I'm convinced his father was with him that game because he was throwing into triple and quadruple coverage and throwing touchdowns."
So, what was the Raiders' locker room like that night?
"Usually, it's cussing and screaming, and you're mad, and the coach is like, 'That's horrible,'" he said. "I think literally; everyone was in shock. Because it's not that we played poorly, it was just there was a 12th man on the field. It really felt like that. … I've never, in all my sports life, I've never witnessed anything like that."
Gbajabiamila knew what Favre was going through to a degree. He lost his mother just days before his final college game at San Diego State. So, the former Aztec took time to see Favre, someone he had never met but already had a connection to because of Kabeer, later that night.
"I remember going over to the Green Bay Packers locker room, and I gave Brett Favre a hug," he said. "I had never gone over to the opposing team's locker [room], but I had never met Brett Favre. … When my mother passed, he lent his private jet to my brother to get home to Los Angeles, and that gesture was really kind."
Everyone who watched Favre play for his dad that night will likely remember the game for the rest of their lives. But that's especially the case for Akbar Gbajabiamila, who had a front-row seat to the magical performance.
Stats courtesy of Pro Football Reference