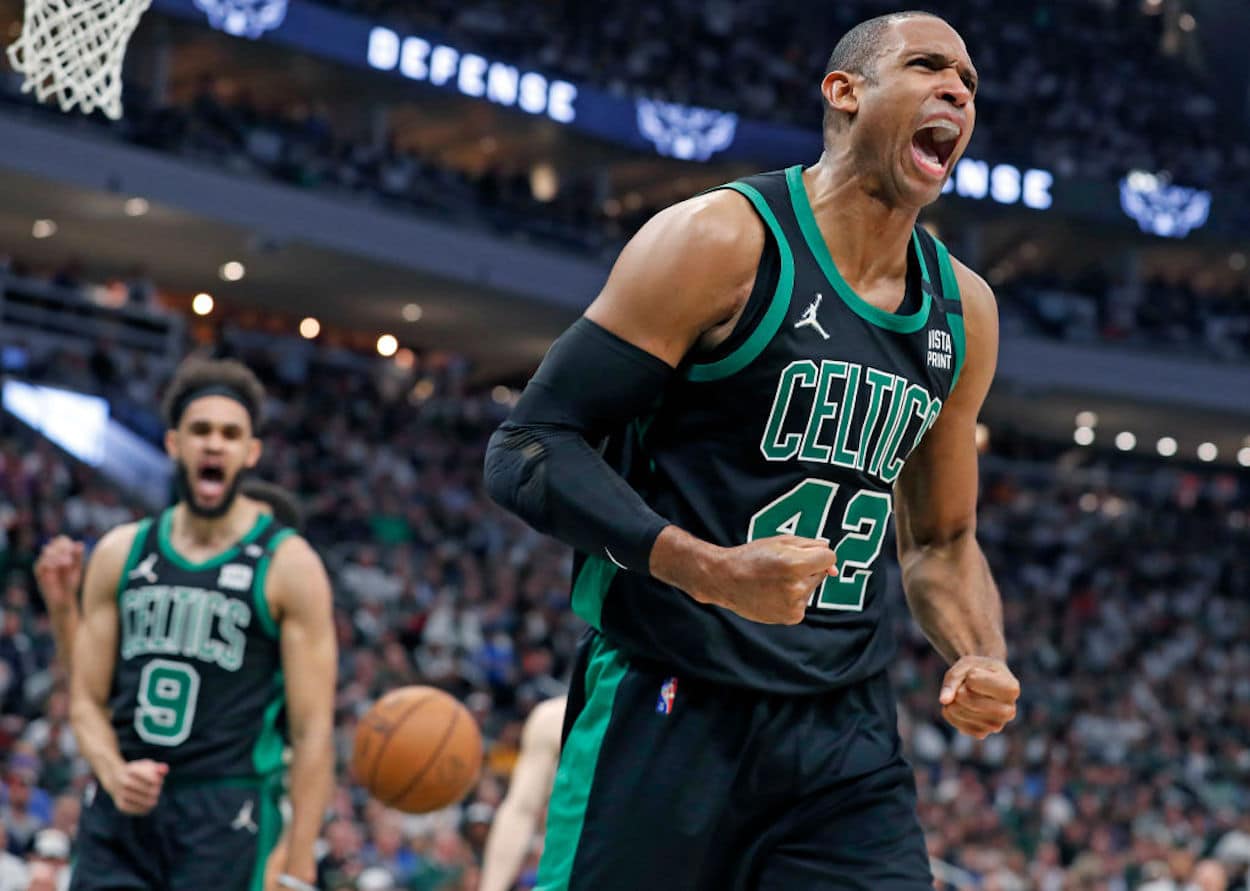 Al Horford Has $12 Million Worth of Motivation to Win a Championship With the Celtics
Al Horford is doing his part to both help the Celtics win an NBA title and ensure he makes a bit of extra money during the 2022-23 campaign.
While he might not be the biggest name on the roster, Al Horford has already played a big role in the Celtic's postseason run. Beyond his overall solid contributions, the veteran pitched in with a career performance in Game 4, helping Boston knot their series with the Bucks at two games apiece.
Every NBA player wants to win a championship, and Horford is no exception, but the center has something else driving him forward. If he is able to lift the Larry O'Brien Trophy this season, he'll add an extra $12 million to his bank account.
Al Horford has some championship-related incentives built into his contract
When he signed his current contract, Al Horford was still a member of the Philadelphia 76ers. While he's bounced around since then, suiting up for the Oklahoma City Thunder before coming to Beantown, that doesn't change the nuts and bolts of his deal.
Take, for example, some non-guaranteed money. ESPN's Bobby Marks reported in 2019 (h/t Spotrac). The big man only has $14.5 million guaranteed for the 2022-23 season. If his team, in this case, the Celtics, reaches the NBA Finals, he'll add an extra $5 million to that amount. If they win the championship, Horford's guaranteed salary would increase by a total of $12 million, topping out at $26.5 million.
At the risk of trotting out a cliche, Horford probably isn't paying that much attention to the money. He's earned almost $240 million in salary over the course of his career and, at this, presumably wants to win a title before retiring. No one, however, will ever look a $12 million gift horse in the mouth.
Can the Celtics actually win a championship and get Horford his extra cash?
At this point in the season, every team remaining has to believe that they've got a shot at claiming an NBA championship. While the road ahead won't be easy, the Boston Celtics shouldn't be an exception to that.
When the postseason began, the underlying narrative was that the Celtics were playing good basketball and could survive any series thanks to their team defense and the duo of Jayson Tatum and Jaylen Brown. While things have shifted a bit — questions about the Tatum and Brown's ability to play together have returned — Boston is looking like a quality squad. They have a relatively balanced scoring attack, with five players averaging double-digit points per outing, role players capable of stepping up during crunch time, and a lockdown defender in Marcus Smart.
If Ime Udoka's squad can get past the Bucks, they'll either face an inconsistent 76ers team or the Miami Heat in the Eastern Conference Finals. While Miami won't be easy to brush aside, Boston will feel emboldened by their opposition's game. Miami probably won't outscore you, meaning the Celtics can probably go toe-to-toe and rely on their offensive firepower without worrying about being run out of the gym.
While 538's prediction model isn't perfect, it does mirror that potential reality. The site currently gives Boston a 50% chance of reaching the final round and a 33% chance of claiming the title. The only team with better odds of lifting the Larry O'Brien Trophy is the Suns, who clock in at 34%. The Celtics also hold 538's highest "current ranking" if you put any stock in that metric.
Part of the joy of sports, though, is that anything can happen whenever two teams take the floor. At this point, all we can do is wait and see if the Celtics can reach the promised land and help Al Horford pocket a bit of extra cash.