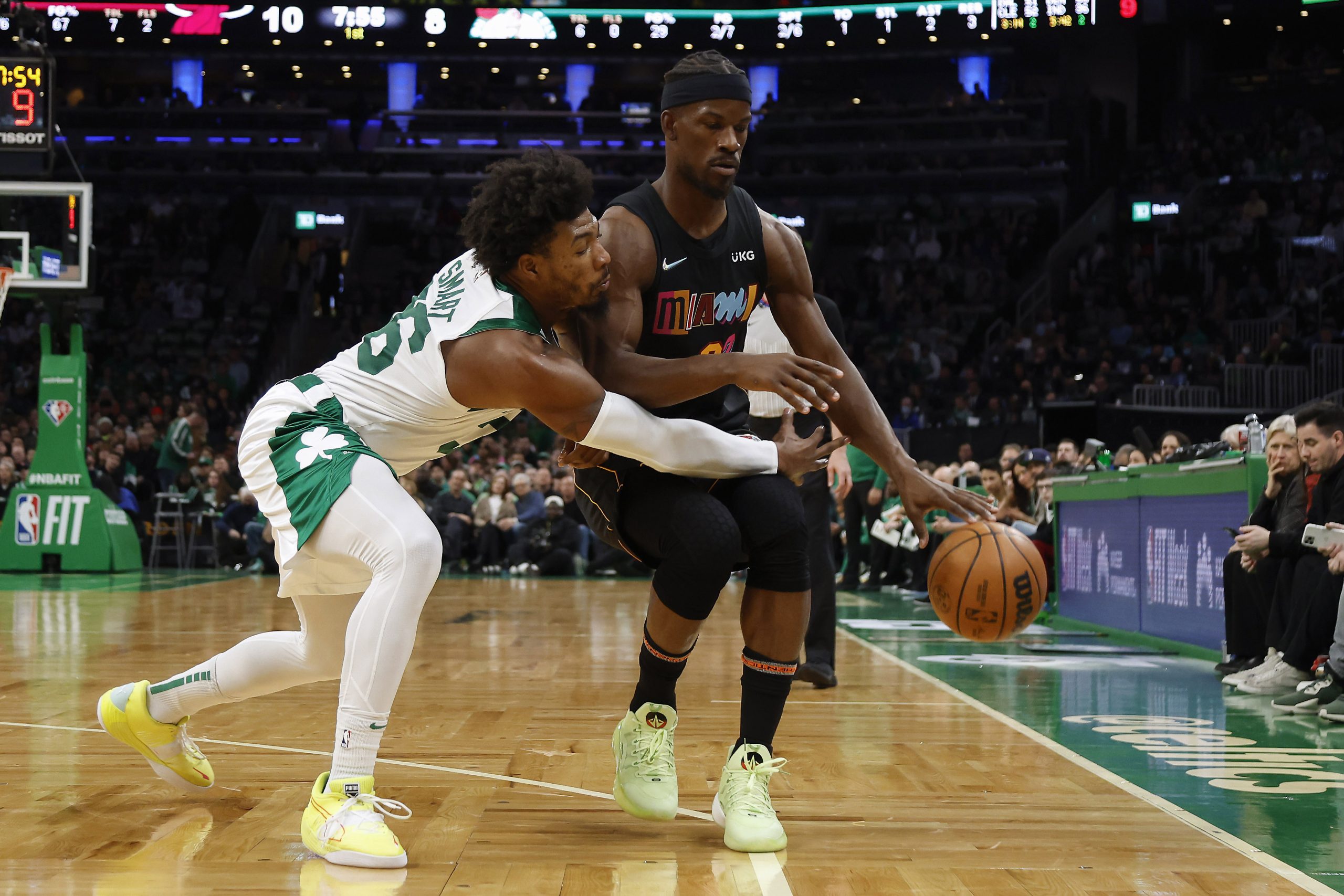 Marcus Smart Gets the Ultimate — Although Far-Fetched — Compliment From Brian Scalabrine
Brian Scalabrine got a bit carried away in his assessment of Marcus Smart's defensive play.
Before Wednesday night's showdown between the Boston Celtics and the Miami Heat, there was a little defensive talk. Brian Scalabrine, who does some television work for the Celtics, and Jason Jackson, the Heat's radio play-by-play man, talked about their respective team's top defensive player.
The two compared Boston's Marcus Smart and Miami's Bam Adebayo, each making valid points. Scalabrine then got a bit carried away with his assessment of Smart.
Marcus Smart is the leader of the Boston Celtics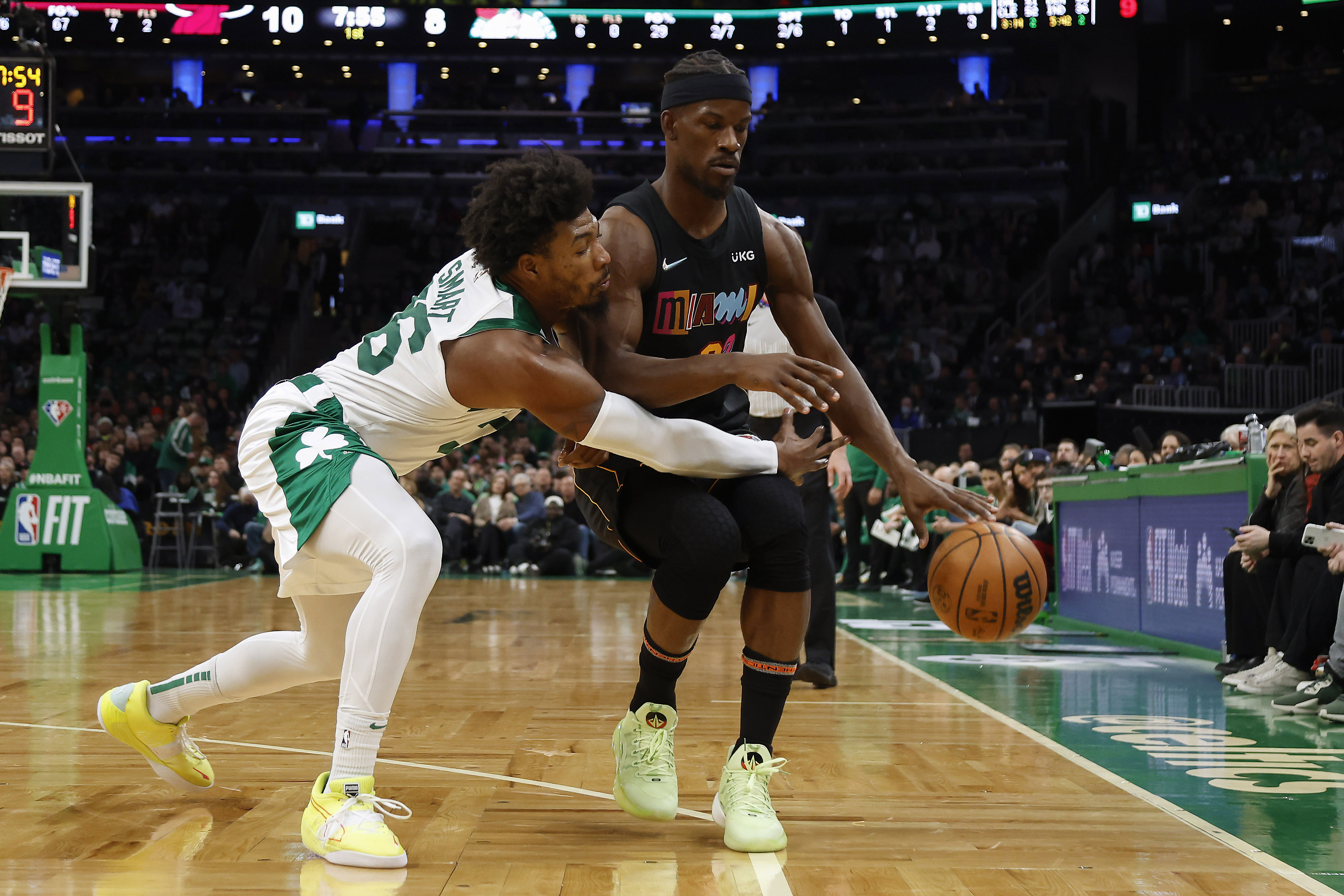 Smart doesn't get much glory for the Celtics because he doesn't always light up the scoreboard. Jayson Tatum and Jaylen Brown usually get the ink. Smart typically does all the dirty work.
The eight-year veteran doesn't care about stats. He's the one out there usually guarding the other team's best players, regardless of size. He's taking the charges, housing opposing ball handlers. Smart does all the stuff that won't show up in the box score.
"I play the game to win, and the individual stats will come with it, but for me, it's just about winning," Smart said during a recent taping of The Old Man & The Three podcast, hosted by JJ Redick. "Those individual people who count the stats, that just tells you about their knowledge of basketball."
Earlier this year, Smart wasn't afraid to call out Tatum and Brown when the team was underachieving for the second straight year and was hovering around the .500 mark through 50 games. Smart publicly called out the young duo for not passing the ball.
"Every team knows we're trying to go to Jayson and Jaylen," he said postgame, per CLNS Media. "Every team is programmed and studied to stop Jayson and Jaylen. I think everybody's scouting report is to make those guys pass the ball. They don't want to pass the ball."
Marcus Smart gets the ultimate compliment from Brian Scalabrine, who might have gotten carried away
Before Wednesday night's Eastern Conference showdown between the Celtics and Heat, Scalabrine and Jackson got together to talk about the game. At one point, defense became the hot topic, and the two made points about their team's best defensive player.
Smart and Adebayo are near the top of the list when it comes to Defensive Player of the Year this season.
"When you have a big man that can guard a one," Jackson said, referring to Adebayo. "A one can't guard a four or a five in a way that is as impactful."
"Smart can," Scalabrine interjected.
"OK, we'll see it tonight," Jackson said. "As impactful as Bam being able to come out here and stifle an entire offensive trigger is the same as somebody leaning their entire weight into some big body's back?"
"I'm going to have this conversation with you again," Scalabrine said. "I think Marcus Smart is the best defensive player I've ever seen, so I'll leave with that."
"Ever seen?" asked a wide-eyed Jackson.
"Ever seen," Scal confirmed. "He can guard all positions in any way, on ball and off ball."
Smart is a heck of a defender but Scalabrine went overboard
Smart is in the running for Defensive POY for a reason. He can guard multiple positions. He's tough as nails. Scalabrine is a basketball analyst and has watched more than his share of games. It's tough to imagine Smart being the best he's ever seen.
Smart has been in the NBA for eight seasons and has never won Defensive Player of the Year. He's been named to the All-Defensive Team twice. Utah's Rudy Gobert has been named DPOY three of the last four seasons. Scal has seen him play.
Ben Wallace made the Naismith Memorial Basketball Hall of Fame strictly on his defense. He was named the league's top defender in four of five seasons. Scalabrine has seen him.
Whether Smart is a better defensive player than Adebayo is debatable. Scalabrine lost points in the argument with his "best defensive player I've ever seen" comment. If he wanted to throw in "best defensive guard" into his argument, he might have a case.