Al Michaels Dines Like a King at Halftime of His Thursday Night Football Broadcasts
Al Michaels refuses to skip dinner even when he calls Thursday Night Football.
Before the 2022-23 NFL season, Kirk Herbstreit had never called a football game with Al Michaels. The former Ohio State quarterback previously dabbled in pro football by covering the NFL draft and calling Monday Night Football games for ESPN, but he had never experienced what it was like to share the booth with a living legend in the broadcasting world.
Well, Herbstreit got his first taste of the Al Michaels experience this year on Thursday Night Football, and when I say taste, I mean it quite literally.
It turns out Michaels uses the short, eight-minute break at halftime to dine like a king. Just don't offer him any vegetables, though. That might get ugly.
Kirk Herbstreit shared the booth with Al Michaels for Thursday Night Football in 2022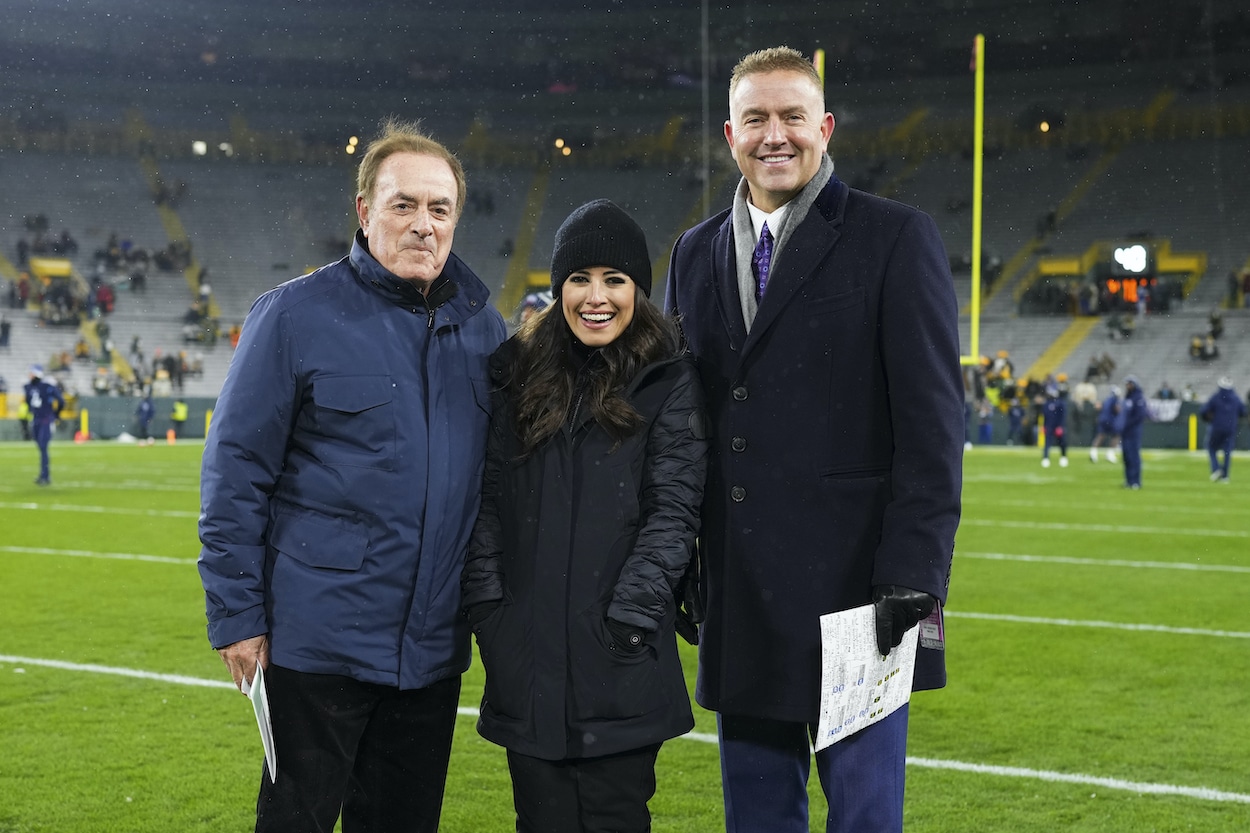 Herbstreit is known in the broadcasting world as ESPN's premier college football color commentator. He joined the Worldwide Leader in Sports in 1996, just three years after his playing career ended at Ohio State. Since then, he's become the lead analyst on College Gameday and the color commentator for ABC's primetime college football games on Saturdays.
This year, though, Herbstreit decided to branch out his coverage by joining Prime Video as the color commentator for Thursday Night Football alongside Michaels. The duo had never worked together before 2022, but Herbstreit and Michaels found a groove early in the NFL season.
There's a good reason for that.
Al Michaels dines like a king during Thursday Night Football broadcasts
It must've been intimidating for Herbstreit to share the booth with Michaels for the first time. Herbstreit is a Sports Emmy Award-winner himself, but Michaels is one of the greatest sports broadcasters to ever live. The 78-year-old has been in the business for as long as Herbstreit has been alive, and he has his own star on the Hollywood Walk of Fame.
Because of his legendary work as a broadcaster over the years, Michaels even gets a 5-star restaurant treatment during halftime of Thursday Night Football broadcasts. Herbstreit explained on a recent appearance on Barstool Sports' Pardon My Take podcast.
"I work on a Saturday night show that, when halftime comes, they might throw you a bag of Cheez-Its or maybe a sandwich from a local place downstairs, so that's what I'm used to," he said. "This dude [Al Michaels], we get to halftime, he's got like steak, shrimp, he doesn't touch the mashed potatoes. They've got real silverware, and they've got a plate. You only have eight minutes at halftime in the NFL, but as soon as halftime is over, headphones are off, back behind that screen, and they've got a table set. It's like fine dining for eight minutes. He's eating and talking, and yeah, it blew me away.
"The only thing missing is a candle. I'm gonna bring that next year."
There's only one rule for a Michaels halftime feast, though. No vegetables of any kind.
"If a vegetable gets near him, he'll put a fork through your hand."