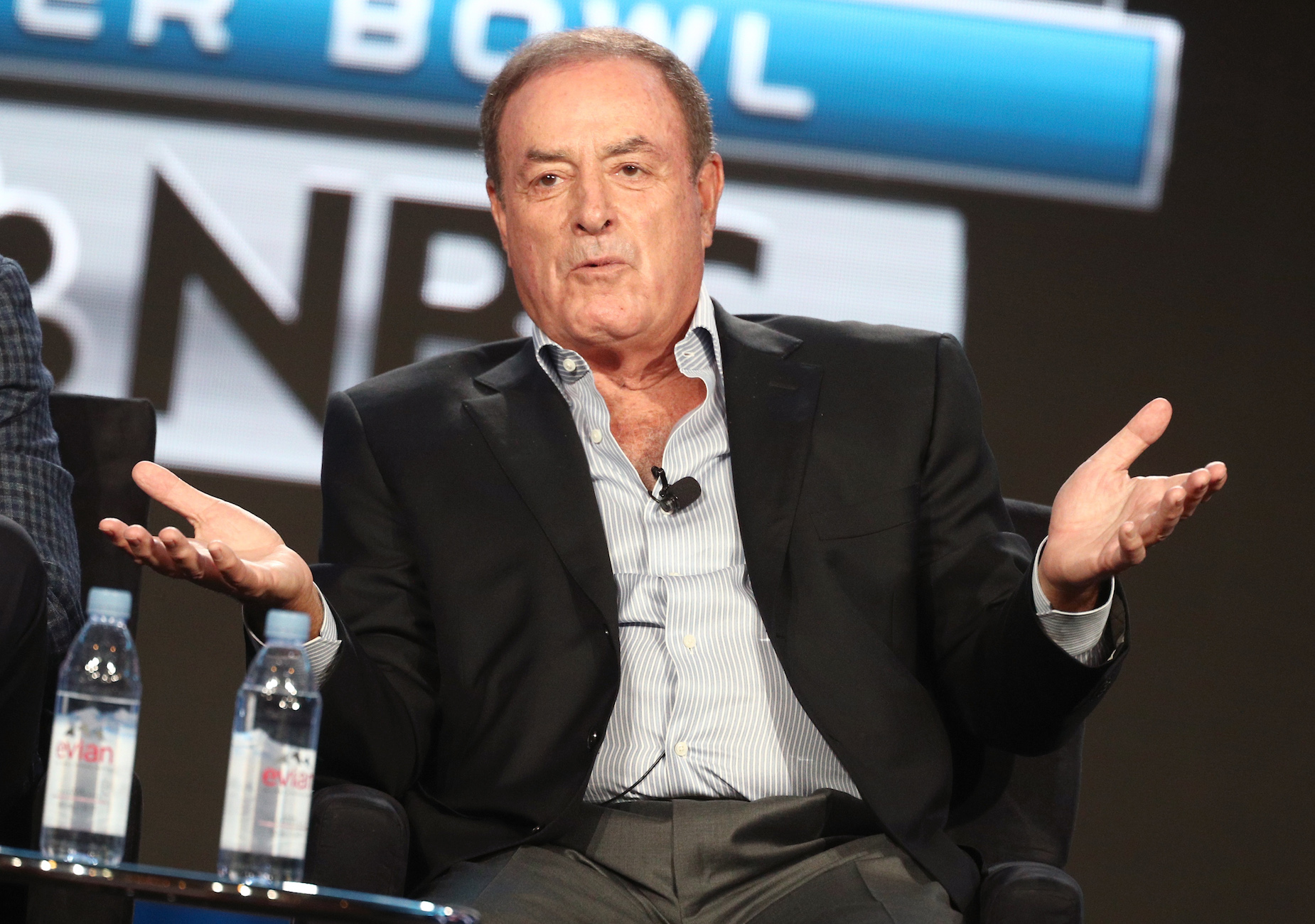 Al Michaels Is a Broadcast Veteran, but His Diet Is Defined By a Childlike 'Pathological Fear'
While NBC's Al Michaels is an elder statesman in the world of sports media, but he still has a specific childlike culinary preference.
While he isn't hitting the field on Sundays, it's safe to consider NBC's Al Michaels a grizzled NFL veteran. During his time as a member of the media, the broadcaster has seen and done just about everything imaginable. His diet, however, belies his seniority.
At 76 years old, Al Michaels is one of the elder statesmen in the pressroom. Despite that status, though, the veteran broadcaster is known to follow a specific childlike rule whenever he sits down for a meal.
Al Michaels is an elder statesman on the sports media scene
When you're talking about athletes, most of pro sports' movers and shakers are under 40-years old. Al Michaels, however, has spent more than 50 years in the broadcast booth.
Michaels cut his teeth at Arizona State, where, in addition to his studies, he wrote for the student newspaper and called games on the radio.  After graduation, he broke into the sports industry with the LA Lakers before moving to Hawaii. There, he landed a job at a local TV station, covering minor league baseball, high school sports, and college action.
In 1971, Michaels left Hawaii and headed to Ohio, where he started calling Cincinnati Reds games; before long, he was also covering the NFL. That experience set the stage for his move to ABC, where Michaels became a nationally-known name.
While he's since made the move from ABC to NBC and become the voice of Sunday Night Football booth, Al Michaels' resume extends far beyond the gridiron. Over the years, he's narrated everything from Olympic hockey to professional golf, making his mark on sports history along the way.
Eating a full dinner in the broadcast booth
During his time as a media member, Al Michaels has learned plenty of tricks of the trade. One of those, it seems, is the ability to enjoy his dinner while calling a game.
On an episode of Barstool Sports' Pardon My Take, Cris Collinsworth, who works alongside Michaels on Sunday Night Football, was asked if his partner really eats an entire meal during the broadcast. While he wasn't sure of the play-by-play man ever made it all through the courses, Collinsworth did confirm that the media veteran is putting down a good amount of food.
"He definitely has appetizers and a main course," Collinsworth explained with a laugh. "Have I ever seen him get all the way through dessert and after-dinner drinks? I don't think so."
So how does Michaels eat while working without missing a beat? " "He's the best," Collinsworth added. "He's a genius."
Don't expect Al Michaels to eat his vegetables, though
During Sunday Night Football, Al Michaels will enjoy a nice meal in the broadcast booth. The media veteran, however, still lives by one childhood rule: no vegetables allowed.
"Al Michaels has never eaten a vegetable," Drew Magary explained in a Defector profile of the broadcaster. "This has been reported before, but I'm here to tell you it's absolutely true. Growing up, Al refused to eat them and was never forced to because, even back then, being Al Michaels had its privileges. Al's mother, who was 18 when she gave birth to him, indulged her son by frying him up cheap cuts of steak and lamb chops instead. His wife of 54 years, Linda, tried to get him to eat vegetables early in their marriage, but told me she quickly ruled it a lost cause."
During their time together, Magary attempted to "find out how deep [Michaels'] pathological fear of vegetables goes." The broadcaster, it seems, will go to some pretty extreme lengths to avoid leafy greens.
If a burger comes with a leaf of lettuce, do you throw the lettuce into the woods?

"I have them re-plate it."

You do?

"I don't want to have the residue. Sometimes, the lettuce might leak a little bit."

Isn't that residue just water?

"I understand, but it's touched it."

Drew Magary's exchange with Al Michaels about vegetables
Is Al Michaels' habitual avoidance of vegetables childish? Or is he just a man who, in his 76 years on earth, has determined exactly what he does and does not want to eat? You can be the judge of that.