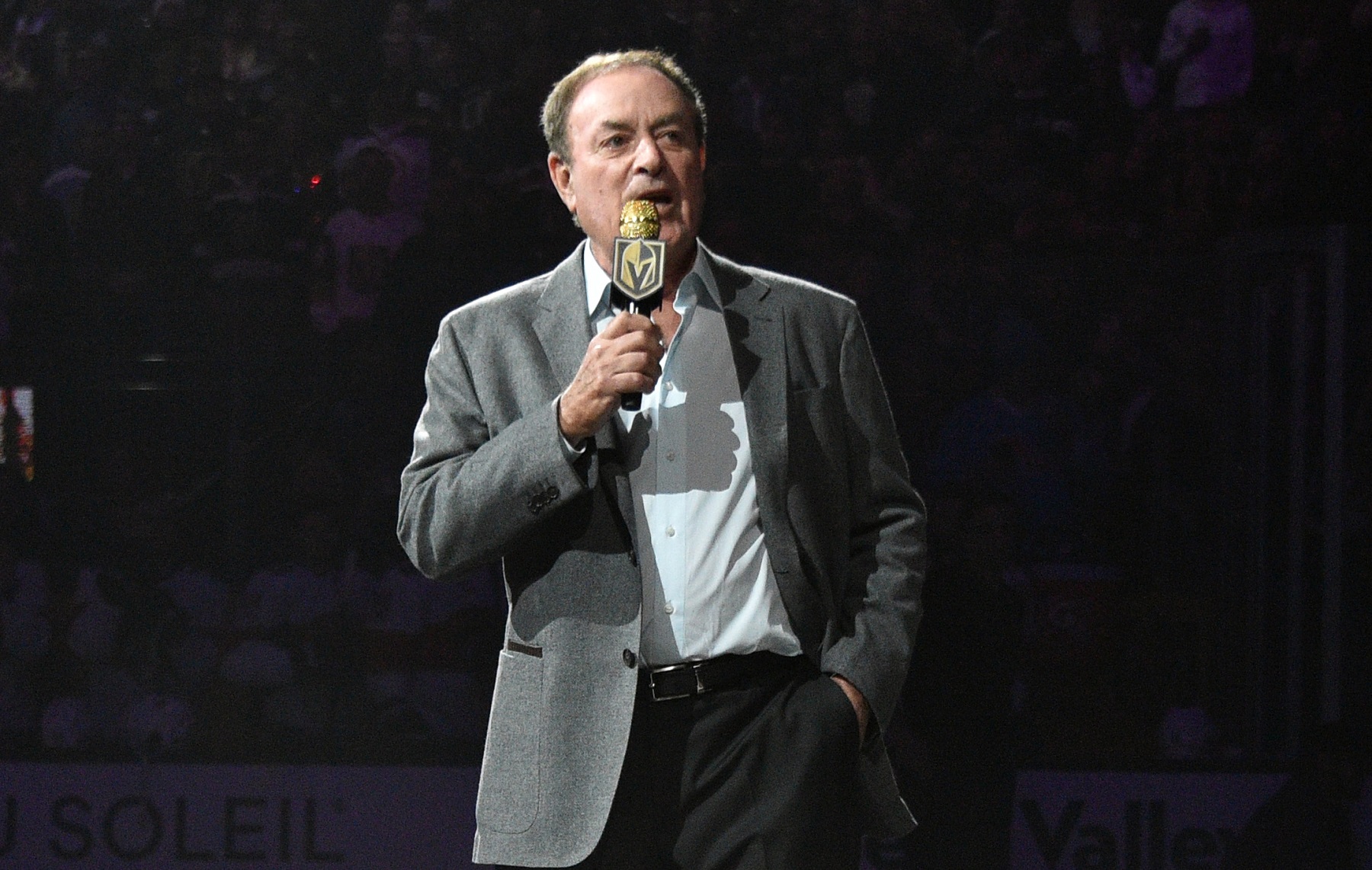 NBC's Trade for Al Michaels Included the Ryder Cup, Olympics, and a Rabbit
Everyone talks about the cartoon character involved in the deal, but NBC had to give Disney some valuable TV content to get Al Michaels released from his ABC contract.
Working even a single season of Monday Night Football or covering an iconic Olympics moment would be a career highlight for any sports broadcaster. Al Michaels has done all that and more in a distinguished career announcing football and other sports.
Michaels is so well-known by NFL fans and so good at his craft that NBC gave up some valuable assets to hire him in what amounted to a trade with the owner of ABC and ESPN.
COVID-19 concerns have sidelined NBC announcer Al Michaels
The NFL made a late-season decision to flex the Week 15 game between the Cleveland Browns and New York Giants to primetime on Sunday Night Football. Unfortunately for the network, NBC subsequently found itself calling an audible of its own.
NBC announced over the weekend that veteran play-by-play announcer Al Michaels, so memorable for his call of the hockey game between the United States and the Soviet Union at Lake Placid in 1980, has been pulled from the telecast due to what the announcement termed "COVID-19 safety protocols." In the announcement, Michaels, 76, said he has no symptoms and a normal temperature.
Without Michaels, who memorably became an impromptu news anchor when an earthquake interrupted Game 3 of the 1989 World Series in San Francisco, Mike Tirico's schedule suddenly changed. Tirico will skip his usual duties as the pregame studio host to replace Michaels alongside analyst Cris Collinsworth and sideline reporter Michele Tafoya on the Giants-Brown game.
Tirico was taken off his scheduled Saturday assignment handling the Green Bay Packers vs. the Carolina Panthers for the NFL Network in order to prepare for the higher-profile telecast, and NBC announced Liam McHugh would host Football Night in America.
Al Michaels' move from 'MNF' to NBC was a trade
Everyone's favorite story about Al Michaels' career change begins with ESPN losing the rights to televise NFL games on Sunday nights after 2005. Michaels had formed a popular Monday Night Football tandem with John Madden, whose contract was expiring, and he didn't relish the idea of moving to ESPN, which was taking over Monday NFL games.
Disney, the owner of ABC and ESPN, had too many announcers (Mike Tirico and Joe Theismann did the Sunday games) for too few games, but Michaels saved them from having to make a tough decision. With a year left on his contract after three decades at ABC, Michaels asked to be let go so that he could follow Madden to NBC, which had won the Sunday Night Football rights.
The now-famous story ended with NBC successfully negotiating a trade that involved handing Disney the rights to an animated character named Oswald the Lucky Rabbit.
Oswald was a black-and-white cartoon character created and drawn by Walt Disney in the 1920s and positioned as a feisty hero who would charm audiences in more than two dozen animated silent movies. The rights to the character belonged to NBC parent Universal in a deal made before the Great Depression.
Walt Disney rebounded from losing the rights to the rabbit by drawing a new, far more popular – and lucrative – character named Mickey Mouse. Still, he went to his grave in 1966 regretting having lost Oswald. Given the chance to return Oswald to the company founder's family four decades later, Disney executives successfully made the character part of the trade for Michaels.
NBC gave up some valuable other property
The tale of Al Michaels changing jobs in a trade involving Oswald the Lucky Rabbit understandably elicits smiles. However, the other terms of the deal between ABC/ESPN and NBC were serious. NBC was so eager to keep Michaels teamed with John Madden that it gave up some valuable rights.
According to The Associated Press, NBC gave ESPN additional access to highlights from the Olympics and other exclusive sports coverage through 2012. The Olympics footage alone constituted a coup for ESPN because of its potential value to SportsCenter and Outside The Lines.
NBC also threw in four rounds of golf, though it wasn't what that sounds like on the surface. Those four rounds were the Friday action at the next four Ryder Cup competitions. With the format change pitting the United States against all of Europe, the event had become much more competitive in the 1990s.
Other than the U.S. Open and The Masters Tournament, there probably isn't a golf event that attracts more interest in the United States, so that concession hit NBC in its bottom line.
Like Sportscasting on Facebook. Follow us on Twitter @sportscasting19.