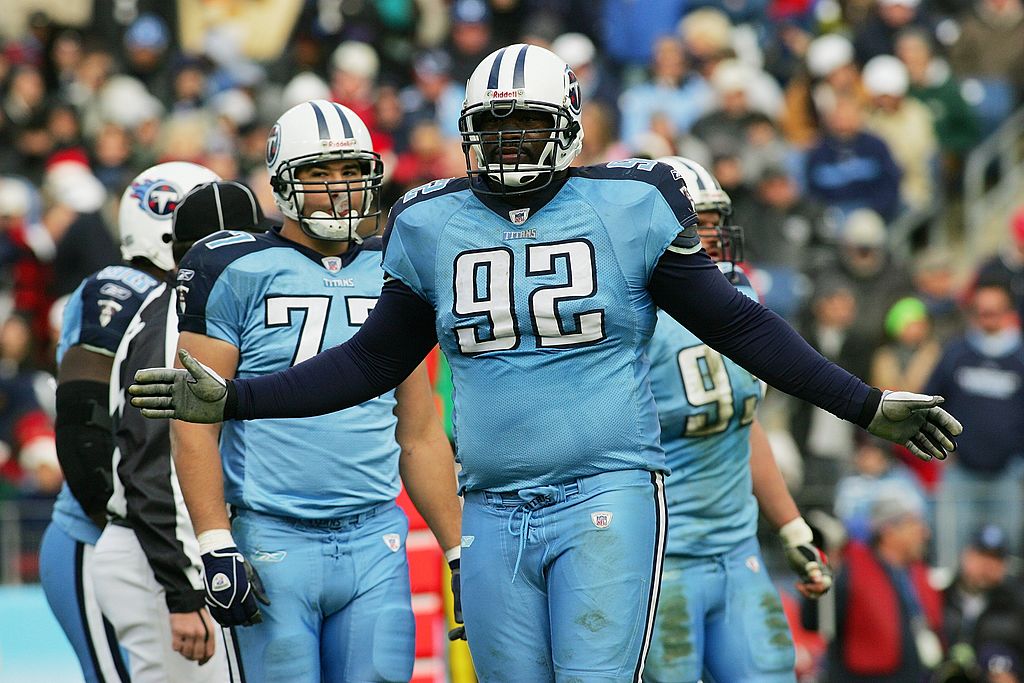 Albert Haynesworth Has Cheated Death Three Times, Remains Very Sick
Albert Haynesworth was one of the most feared defensive linemen in the NFL just 10 years ago. Today, with failing health, he's not sure if he will live to see tomorrow.
Mention the name Albert Haynesworth and most NFL fans immediately flashback to the 2006 season when the Tennessee Titans defensive lineman violently stomped on the head of Dallas Cowboys guard Andre Gurode. Today, Haynesworth doesn't think about that incident or anything related to the sport that paid him millions. Since he retired in 2011, Haynesworth has been too focused on trying to avoid death, which he's cheated three times so far. 
Albert Haynesworth's career and reputation
Albert Haynesworth knew he crossed the line on October 1, 2006 after he got ejected from the game and returned to the locker room where the incident replayed on the televisions over and over. It was a moment he regretted but knew he couldn't take back. 
He apologized publicly that day, expressing remorse, and personally apologized to Gurode the next day. He accepted the NFL's five-game suspension without appeal. Then, he proceeded to go out and become one of the game's most dominant defensive lineman.
Reflecting back, Haynesworth said that incident, as much as it damaged his reputation in the public eye, altered the way opposing offensive lineman viewed him. And it showed. He was named to the Pro Bowl and All-Pro first team in 2007 and 2008. The Sporting News named Haynesworth its Defensive Player of the Year in 2008. 
In February 2009, Haynesworth and the Washington Redskins agreed to a deal that paid him $100 million, with $41 million guaranteed over seven years. Unfortunately, during his time in Washington, he and head coach Mike Shanahan never saw eye-to-eye and his production dropped dramatically. In 2011, he moved on and split time between New England and Tampa Bay. Then, like that, he was out of football.  
Albert Haynesworth encounters post-career troubles
Since he left football, Haynesworth's life has been one struggle after another, many of his own doing. He's had more than his share of run-ins with the law. Besides speeding tickets, he had an assault charge that was dropped, a road rage incident in D.C. that was dismissed, a no-contest plea to a sexual assault charge for groping a waitress, which he denied, and a high-speed Ferrari crash that partially paralyzed another driver. 
There have been child-support claims by multiple women and a very public feud with an ex-girlfriend in which Haynesworth described as physically abusive and racist. To cap it all off, Haynesworth claimed that his financial adviser ripped him off and stole most of his NFL earnings. He sued the adviser in 2013 and won $390,000 in arbitration. 
Sadly, all those experiences pale in comparison to the multiple medical scares Haynesworth has endured in the last few years that have left him clinging to life on more than a couple of occasions. 
Haynesworth nearly dies multiple times
Albert Haynesworth's first encounter with death happened oddly enough on Halloween 2014 when he woke up in the middle of the night with a pounding headache. After consulting with his ex-wife and a friend who was a cardiologist, he stumbled his way into the ER the next morning. After undergoing a series of tests, it was discovered he had suffered two brain aneurysms. 
He had emergency surgery where doctors inserted coils inside his brain to stop the blood vessels from expanding. It failed. They added a stent. After 11 days in intensive care, Haynesworth went home.
A year ago, Haynesworth, who now weighs approximately 275 pounds down from his playing weight of 340, started coughing violently at 2 a.m. and could barely breathe. Feeling dizzy, once again, he drove himself to the hospital where doctors discovered his lungs had filled with so much fluid it blocked his airways. His kidneys were failing. 
Doctors immediately started him on regular dialysis therapy, which today he undergoes three times a week at a treatment center. Haynesworth's third and final near-death experience happened a couple of months later when he ended up back in the ICU after he took the wrong medication and complications at the hospital prolonged his stay.
Looking to the future and a kidney transplant 
Today, Albert Haynesworth lives in a Nashville apartment where his mother, Linda, helps take care of him. On good days, he will cook dinner for his girlfriend, or hang out with his four children, ages 4 to 18, doing a variety of activities like shuttling them to school or visiting a nearby lake. 
He admits he's not afraid of dying, but remains hopeful that he might one day receive a new kidney. Doctors have told him it could take three to six months, but the National Foundation for Transplants says a wait for a kidney transplant is closer to two years. 
Haynesworth, however, might be in luck with a friend who has passed multiple stages of donor tests. If it is a good match, he could receive a transplant this year. Until then, he waits. The man who was once full of life and one of the most feared defensive players in the NFL now views life from a very different perspective. He genuinely takes life one day at a time, understanding that each day just might be his last.