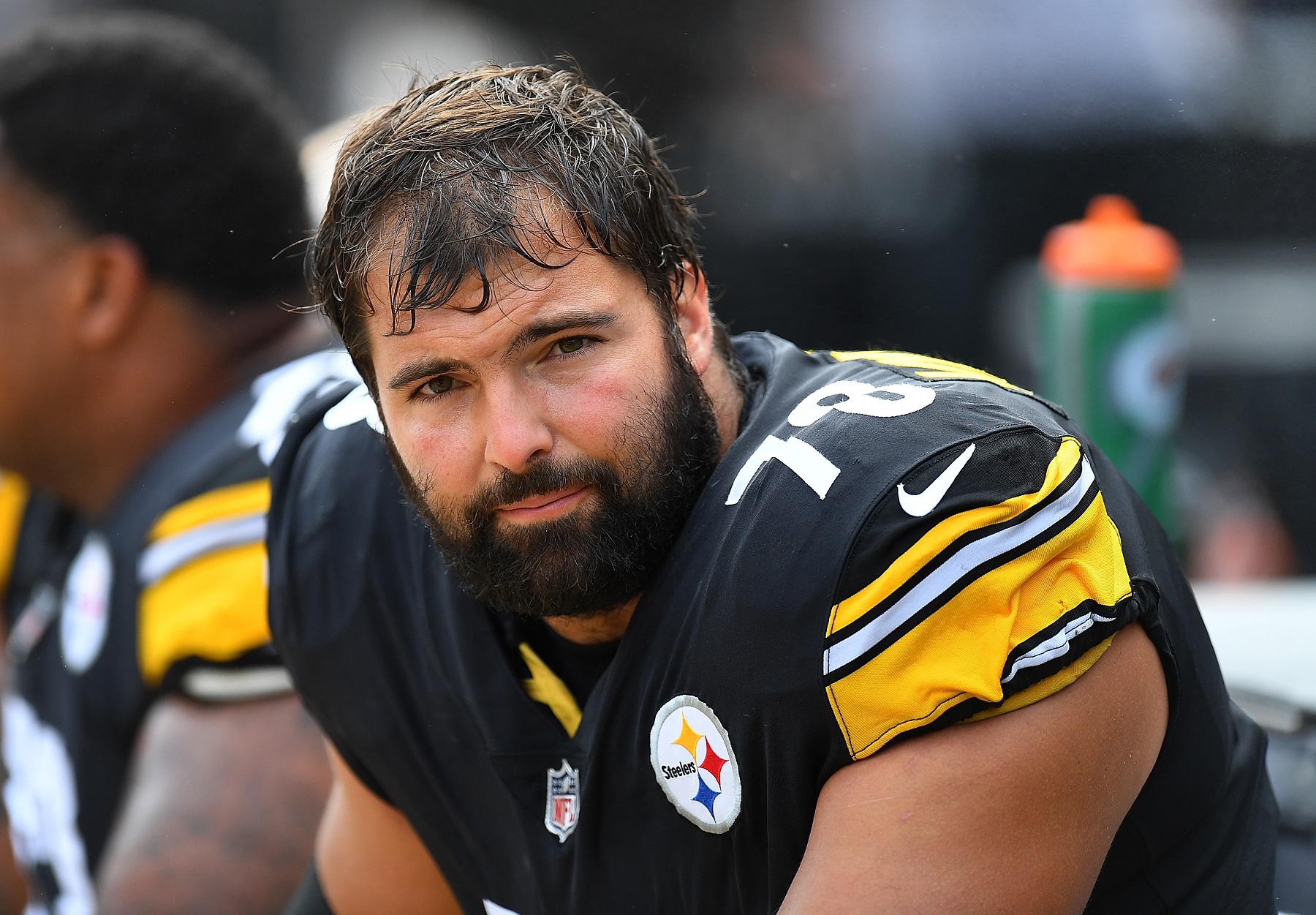 Alejandro Villanueva Had a Good Reason for Breaking Ranks With Steelers Teammates
Pittsburgh Steelers tackle Alejandro Villanueva honored war hero Alwyn Cashe during the 2020 debut of 'Monday Night Football.'
There isn't much to the front of the uniform of the Pittsburgh Steelers. Aside from the number, the jersey features only the round logo with the team nickname and yellow, red, and blue diamonds. In contrast, the uniform that tackle Alejandro Villanueva wore at his previous place of employment was decorated with the Army Service Ribbon, the Global War on Terrorism Service Medal, and the Bronze Star.
Villanueva's past military service became a topic of discussion following the first Monday Night Football telecast of the season as he chose to honor the memory of a fallen American hero.
Alejandro Villanueva holds the rank of U.S. Army captain
Seventh-year Pittsburgh Steelers tackle Alejandro Villanueva's background  is considerably different than that of most NFL players. Villanueva played his college football for the U.S. Military Academy, was commissioned as a second lieutenant in the infantry upon graduation in 2010, and went off to Ranger School at Fort Benning.
His unit of the 10th Mountain Division deployed to Afghanistan for a year, during which time Villanueva earned his Bronze Star for rescuing wounded soldiers while under fire. He subsequently deployed twice more to Afghanistan, this time as a platoon leader and company executive officer.
Following his discharge, he caught on with the Philadelphia Eagles as a free agent in May 2014. After the Eagles cut him in training camp, Villanueva signed with the Steelers just before the start of the 2014 season. He has not missed a game since moving into the starting lineup in 2015.
Alejandro Villanueva honored an American hero
Alejandro Villanueva's Pittsburgh Steelers teammates wore the name of Antwon Rose Jr. on the back of their helmets for the Monday Night Football opener against the New York Giants. With head coach Mike Tomlin's blessing, Villanueva went in a different direction and taped over Rose's name with that of Alwyn Cashe, a military hero killed in Afghanistan in 2005.
The 35-year-old Sgt. 1st Class died of injuries sustained while rescuing soldiers from a burning vehicle, KDKA-TV reported. He was posthumously awarded the Silver Star, and Cashe is now under consideration for the Medal of Honor.
Villanueva's decision to break from the rest of the team by recognizing the heroics of a fellow military man did not bother Tomlin.
"Yes, he did discuss that with me, and it's in line with everything we've said about participating in social justice this offseason," Tomlin said.  "As an organization, and myself as head coach of the organization, we're going to support our players in however they choose to participate and express themselves — or to not participate or not express themselves. As long as they do thoughtfully and with class."
Not the first time he broke ranks with Steelers teammates
As part of its commitment to addressing social justice concerns, the NFL is allowing players to make statements on warm-up T-shirts and on their helmets this season. Players can display the names of victims of police violence and systemic racism on their helmets, and the Pittsburgh Steelers other than Alejandro Villanueva opted to do just that.
It recalled an incident in 2017 in which Villanueva also broke ranks with Steelers players. Villanueva subsequently apologized to teammates after being the only Pittsburgh player remaining on the field for the anthem prior to a game in Chicago.
In a response to comments by President Donald Trump, the team had agreed everyone would stay in the locker room. Villanueva hadn't cleared the field in time after warm-ups and decided it would create more of a scene if he left during the anthem than if he stayed.
"Unfortunately, I threw (my teammates) under the bus, unintentionally," he said then.  "Every single time I see that picture of me standing by myself, I feel embarrassed."