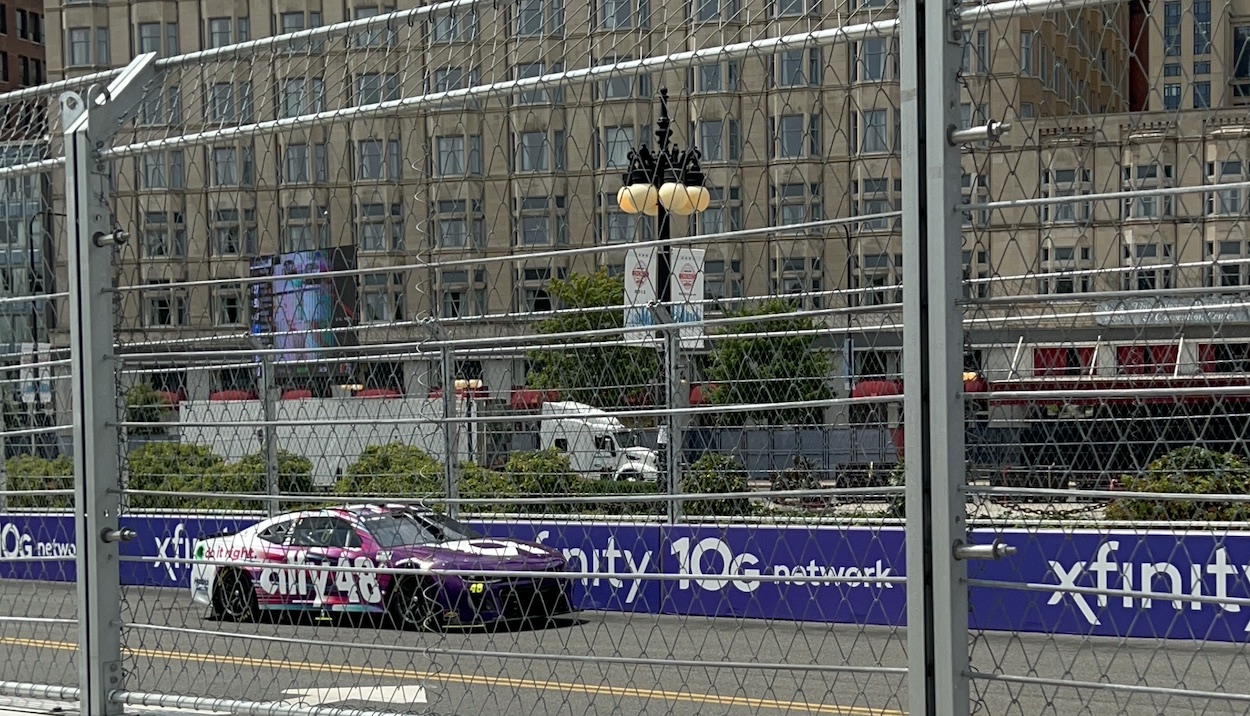 Alex Bowman Ironically Gets Dumped in Chicago by Denny Hamlin a Day After HMS Driver Admits to Still Feeling Bad for Wrecking JGR Driver at Martinsville in 2021
A day after Alex Bowman told reporters in Chicago that he is still bothered about wrecking Denny Hamlin at Martinsville in 2021, the Joe Gibbs Racing driver wrecked him and ended his day.
Alex Bowman finished dead last in NASCAR's first-ever street course race through the streets of downtown Chicago. His problems started when Denny Hamlin got into the rear of the No. 48 car and wrecked him late in Stage 2. 
It was a moment of irony because just 24 hours earlier the Hendrick Motorsports driver admitted how he was still bothered about wrecking the Joe Gibbs Racing driver several years ago at Martinsville for the win. 
Alex Bowman still feels bad for wrecking Denny Hamlin at Martinsville
Alex Bowman met with reporters in Chicago and talked about a variety of topics, including his excitement of NASCAR racing through the streets of a major metropolitan market. But it was his answer to a question on whether or not the sanctioning body should start penalizing drivers for aggressive driving that raised a few eyebrows.  
"No. They can't. It's what the sport's built on," Bowman said. "You see so many, honestly, intentional crashes used as highlight reels. How do you start penalizing people for it, in my opinion? Should it happen? No. That guy's got to live with that forever. 
"I'm the first to sit here and say I unintentionally crashed Denny at Martinsville, and it still bothers me that I crashed a guy for a win. That's not how I race. So when somebody does it on purpose, they got to live with that."
Flash back to 2021 at Martinsville
Bowman was referring to the 2021 race when he pursued a dominant Denny Hamlin late, and with seven laps remaining, the HMS driver drove too deep into the corner, got into the side of the No. 11, and sent it sliding up the track. Bowman went on to victory. Hamlin finished 24th.
The three-time Daytona 500 winner was understandably upset after the race and showed it when he drove his car and interrupted the No. 48 car's burnout celebration before it started. Hamlin eventually flipped a double-bird and drove away. 
"He's just a hack," the JGR driver said several minutes later on the NBC broadcast, with fans booing him in the background. "Just an absolute hack. He gets his ass kicked by his teammates every week. He's f****** terrible. He's just terrible. He sees one opportunity, he takes it. Obviously he's got the fast car of the week, and he runs 10th. He didn't want to race us there. We had a good, clean race. I moved up as high as I could on the racetrack to give him all the room I could, he still can't drive."
Hamlin wrecks Bowman in Chicago 
The pair have raced cleanly against each other for the most part since that incident a couple of years ago. However, on Sunday, and just a day after Bowman's remarks, Hamlin rode on the tail of the No. 48 car through the wet downtown streets of the Windy City.
Coming out of Turn 10 and heading to a hard right in Turn 11, the No. 11 car came in too hot, and drove into the rear of the HMS car, sending it across the track where it brushed the outside wall. The contact might have been minimal, but its overall impact to the car was much greater. 
Bowman's car began having immediate problems and three laps later smoke began billowing out from under the hood. His day was done. He finished 37th. Hamlin, who started on the pole, finished 11th.
And you can't help but wonder if Bowman is as bothered by what happened at Martinsville after what happened in Chicago.
To stay up to date on the latest happenings in NASCAR, including breaking stories you can't find anywhere else, follow Kyle on YouTube and Twitter.