Alex Rodriguez Has 1 Wish as Hall of Fame Decision Draws Near
There's nothing Alex Rodriguez can do now. His fate lies in the hands of others. The former New York Yankees, Seattle Mariners, and Texas Rangers star is in his first year of eligibility for the Baseball Hall of Fame, but he's facing an uphill battle. Rodriguez knows he's made his mistakes and realizes many voters will hold them against him. Rodriguez has one wish if he's not elected the first time around.
Alex Rodriguez isn't getting a whole lot of love from baseball writers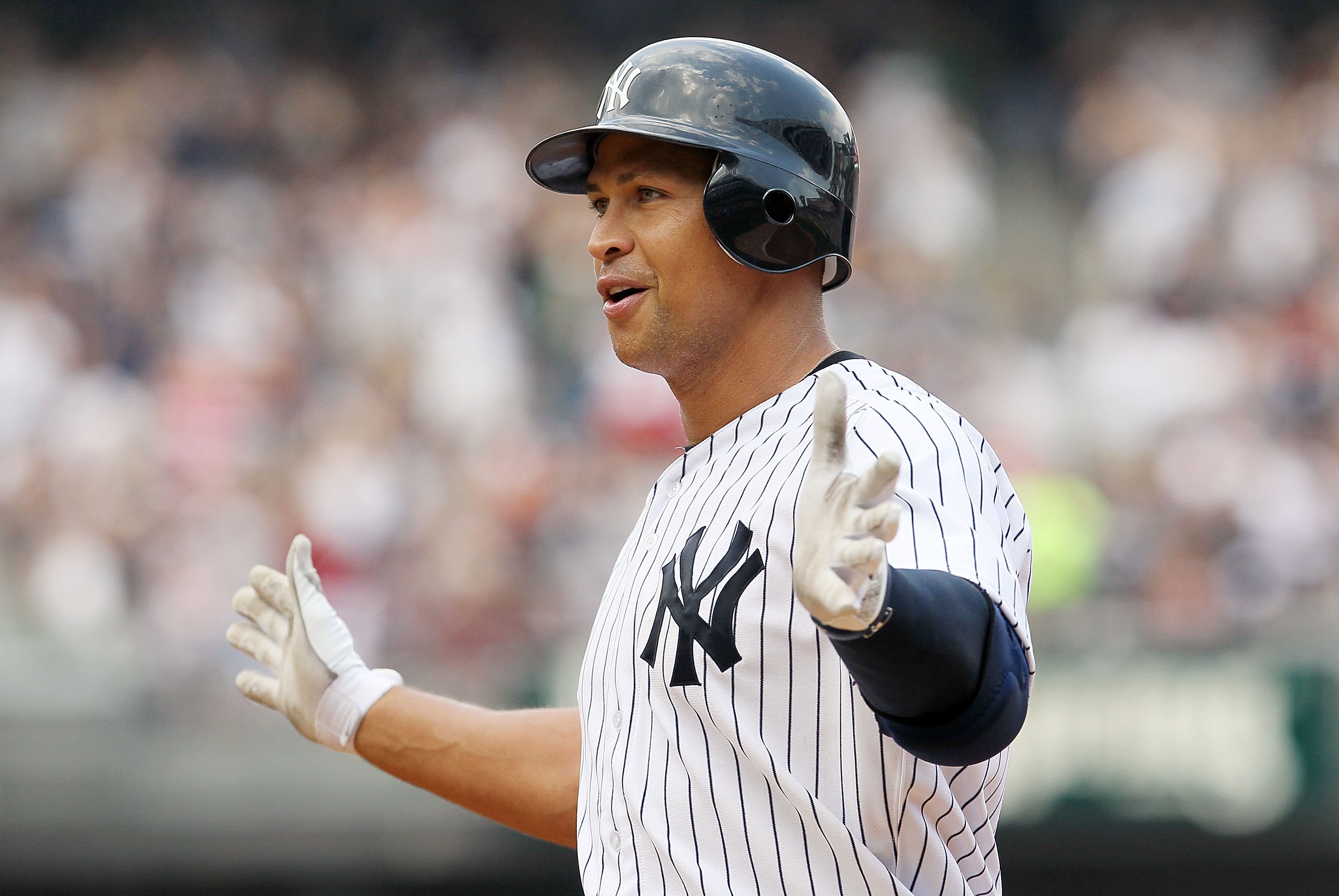 Rodriguez joins David Ortiz on the ballot for the first time after both put up Hall of Fame numbers in their career. Nobody denies Rodriguez was a talent who was Hall of Fame worthy. His numbers show he belongs, but how much help did he get in putting up those stats?
In 2003, Rodriguez tested positive for steroids. He then got bagged again, resulting in a 212-game suspension later reduced to 162 games. He missed the entire 2014 season. Rodriguez admitted he's made mistakes and knows the decision is well out of his control.
"Legacy is not for me to determine," Rodriguez said after playing the final game of his career in 2016, according to MLB.com. "I know that I'm someone who loves the game tremendously. I've made some tremendous mistakes, and I've also worked extremely hard in trying to come back and do things the right way."
Mike Vaccaro of The New York Post said he won't vote for A-Rod.
"We know, as a matter of record, that Alex Rodriguez confessed to using performance-enhancing drugs early in his career," Vaccaro wrote. "And we know — again, on the record — that Rodriguez either continued to use or re-engaged in their use after MLB instituted steroid legislation in 2003. It is why the box next to Rodriguez's name on my Hall of Fame ballot will remain unchecked."
Vaccar isn't alone. Bob Nightengale of USA TODAY also wrote that he won't be putting a checkmark next to Rodriguez's name.
Alex Rodriguez has one wish when it comes to the Hall of Fame
Baseball writers have until Dec. 31 to submit their ballots for the Hall of Fame. Those ballots went out on Nov. 22, and voting results will be announced live on MLB Network on Jan. 25, 2022. The induction ceremony will take place on July 24, 2022, in Cooperstown. If the voting process heads down the same path it has in recent years, Rodriguez will remain on the outside looking in.
Playing in the era of steroids hurts players attempting to reach the Hall. Knowingly taking them hurts them even more. Barry Bonds and Roger Clemens are on life support when it comes to earning a place in Cooperstown. They remain on the ballot after failing to register the required votes nine straight times. They've got one shot left.
Rodriguez is a 14-time All-Star and three-time MVP. None of that matters in the eyes of many voters. The lying and the cheating come first.
Rodriguez said he still holds out hope he'll get in.
"I certainly hope so, I do," A-Rod told News Talk 830 WCCO, per NJ.com. "But look, that's not my decision. I put my best foot forward and my worst foot forward."
He has one wish regarding his Hall of Fame status.
"Regardless of what comes out, I pray that one day my daughters and my mother get to see me walk into the Hall of Fame," he said.
If Rodriguez fails to get in this year, there will still be hope
Rodriguez is doubtful to get the Hall call his first year on the ballot. A player needs 75% of the votes but can remain on the ballot if he receives at least 5%. Clemens and Bonds received 37.6% and 36.2% of the votes, respectively, in the first year of eligibility. Last year, they miraculously hit 61.6 and 61.8 without throwing a pitch or taking a swing in nine years.
The same holds true for players not accused of using PEDs.
Jim Rice, the former Boston Red Sox slugger, went from 29.8% in his first year to 76.4 in his final year. Nothing changes, except the minds of the voters.
Vaccaro admits his mind could change. For now, however, Rodriguez doesn't get his vote even though he feels A-Rod would've gotten in without the steroids mess.
"In my heart, I really believe Alex Rodriguez was good enough naturally to make this a first-ballot cruise for him," Vacarro wrote. "But the heart does not carry the day here. The eyes, and the ears, know too much of what he did to knowingly skirt the laws of the sport. Across the next nine years, maybe I'll change my mind. It's my prerogative."