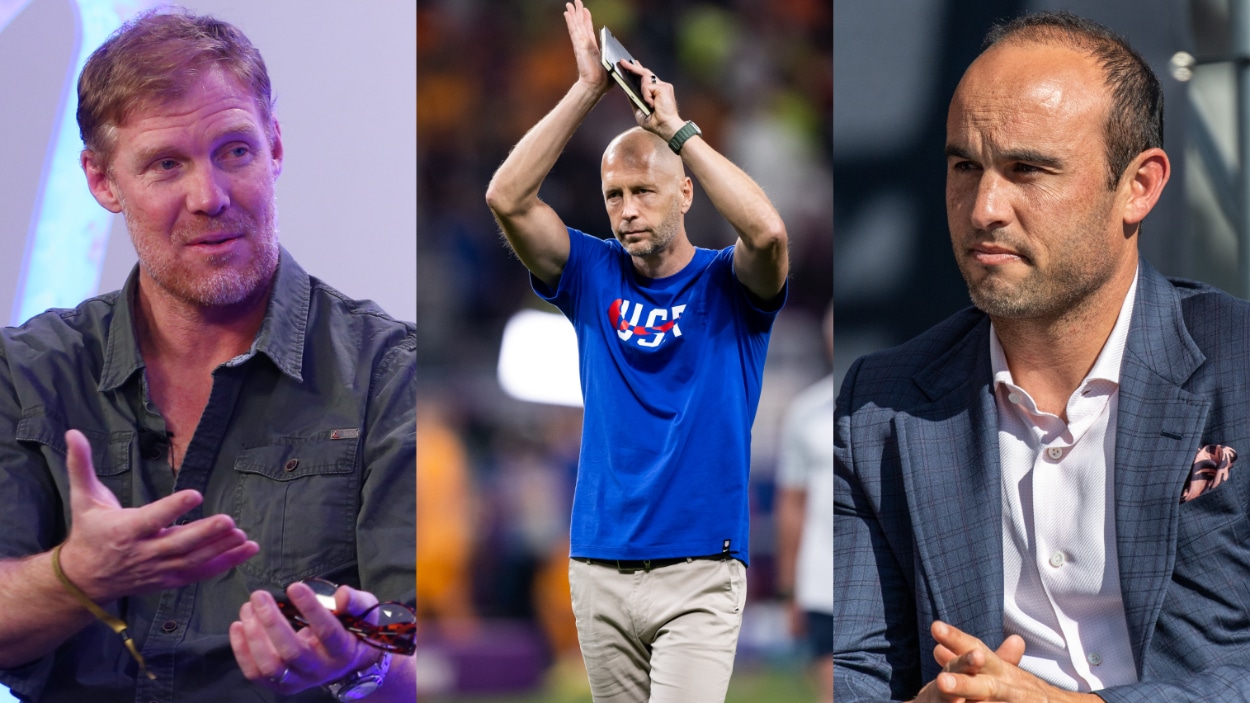 Alexi Lalas and Landon Donovan Disagree Over Fate of USMNT Coach Gregg Berhalter After Round of 16 Exit
Should USMNT manager Gregg Berhalter be the team's coach in the next World Cup? U.S. soccer legends Alexi Lalas and Landon Donovan disagree.
After the heartbreak of missing the World Cup in 2018, U.S. Soccer hired former USMNT player (44 caps from 1994-2006) Gregg Berhalter to run the national team. There were ups and downs along the way, but Berhalter got the team back to the world's biggest soccer tournament, and his team got out of the Group Stage with a stirring win over Iran to make the Round of 16. Overall, the four-year World Cup cycle under Berhalter was a success. Now the question becomes, should U.S. Soccer give the coach another cycle at the helm of the program, or is it time to move on to someone else? USMNT legends Alexi Lalas and Landon Donovan disagree on the best path forward in regard to Berhalter's fate.
Alexi Lalas believes the USMNT should move on from Gregg Berhalter 
Former USMNT defender Alexi Lalas, who starred in the 1994 World Cup, is known for his strong opinions and hot takes. However, after the USMNT's loss to the Netherlands to go out of the 2022 World Cup, Lalas shared a calm and measured take on the future of Gregg Berhalter.
Talking with another USMNT legend, Landon Donovan, Lalas shared that he believes Berhalter needs to go. It's not necessarily because of anything he did this tournament. Rather, Lalas' overall philosophy is that national team managers have finite shelf lives of the touchline with their countries.
"I don't believe that national team coaches should have multiple cycles," Lalas said. "I think it runs its course. I think it gets stale, even for very good national team coaches. And I do believe Gregg Berhalter deserves a tremendous amount of credit because this team right now is lightyears away from where it was when he took it over, over this last cycle."
Lalas also noted that four years ago, when Berhalter took over, many of the players on this team were teenagers, and now as young men, they need something different from their national team coach.
While Donovan said he generally agrees with this philosophy, he has a different opinion when it comes to Berhalter specifically.
Landon Donovan thinks the team should keep its coach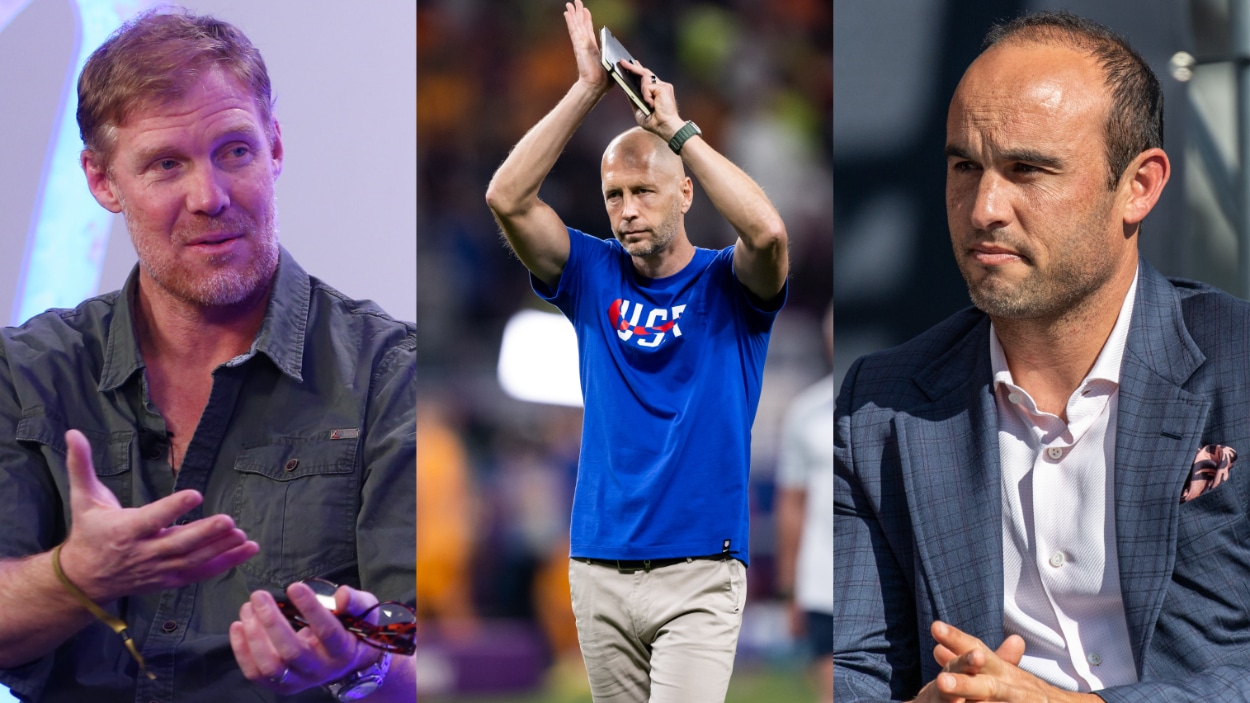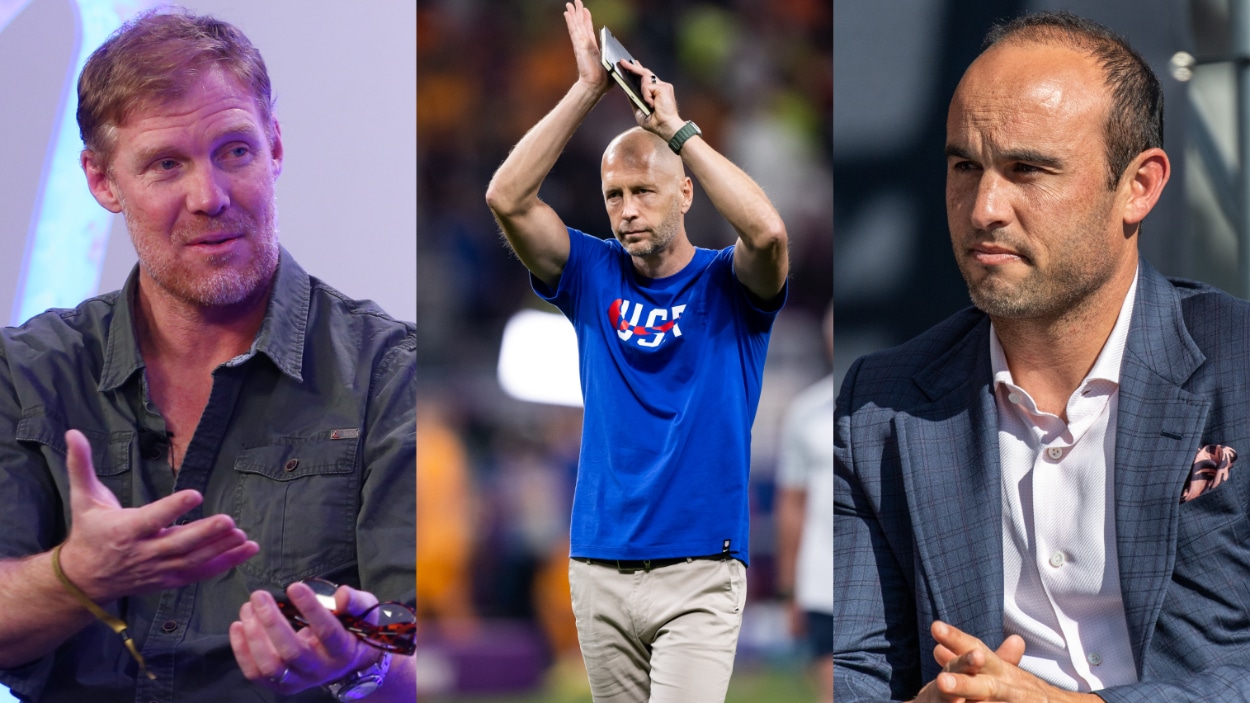 Landon Donovan knows better than most about national team coaches sticking around (or not) through multiple World Cup cycles. The American star played with the USMNT in the 2002, 2006, and 2010 World Cups. And in 2014, coach Jürgen Klinsmann controversially left him off the roster, leading to a Round of 16 exit vs. Belgium.
During these World Cup cycles, Donovan played for Bruce Arena from his debut in 2002 to 2006, Bob Bradley from 2007 to 2011, and Klinsmann in the qualifying process for 2014.
While he fundamentally agrees with Alexi Lalas' assessment of national team coaches, he says this situation is different.
"In this specific case, because we are so young — I think this team has grown a lot with Gregg, and the beauty of what Gregg does, what he did in Columbus, is over time, he built a team that had — and you started to see it in this tournament — a real identity in how they play, but then in how they act and believe and the camaraderie. You don't do that without the coach," Donovan explained.
The star forward summed up by saying, "They're starting to get there, and I think that continuity is important."
So, we get two interesting and well-thought-out viewpoints from Lalas and Donovan on Berhalter's future. The question is now, who's right?
Should the USMNT keep Gregg Berhalter?
Both Alexi Lalas and Landon Donovan make excellent points. Eight years is a long time for one voice with a national team. However, the USMNT specifically is young and may benefit from continuity.
So, who is right?
While Donovan makes some good points, Lalas is correct in his opinion. Berhalter has done an excellent job, all things considered, and he deserves praise and gratitude from U.S. soccer. However, his specialty, as Donovan points out, is building camaraderie and belief, and he's done an excellent job with that.
However, as Lalas points out, the bulk of the USMNT was 16-20 years old when Berhalter took over. That's what they needed, someone to teach them how to be national team pros. In the next cycle, the team will be 24-28 years old, and they will need more of a tactician in the 2026 World Cup.
When the next World Cup comes to North America, USMNT players will have played at Chelsea and Juventus and Arsenal and Barcelona, and, four years from now, probably several other huge-name clubs around Europe. They will have the belief in their abilities and know how to go about their business. They will need someone who won't get outcoached in a knockout game by the likes of Louis van Gaal, as Berhalter did vs. the Netherlands.
So, thank you, Gregg Berhalter. You did an incredible job and got the USMNT as far as it could go. However, it is now time to step aside and give Christian Pulisic and Tyler Adams and Weston McKennie the coach they need for 2026.