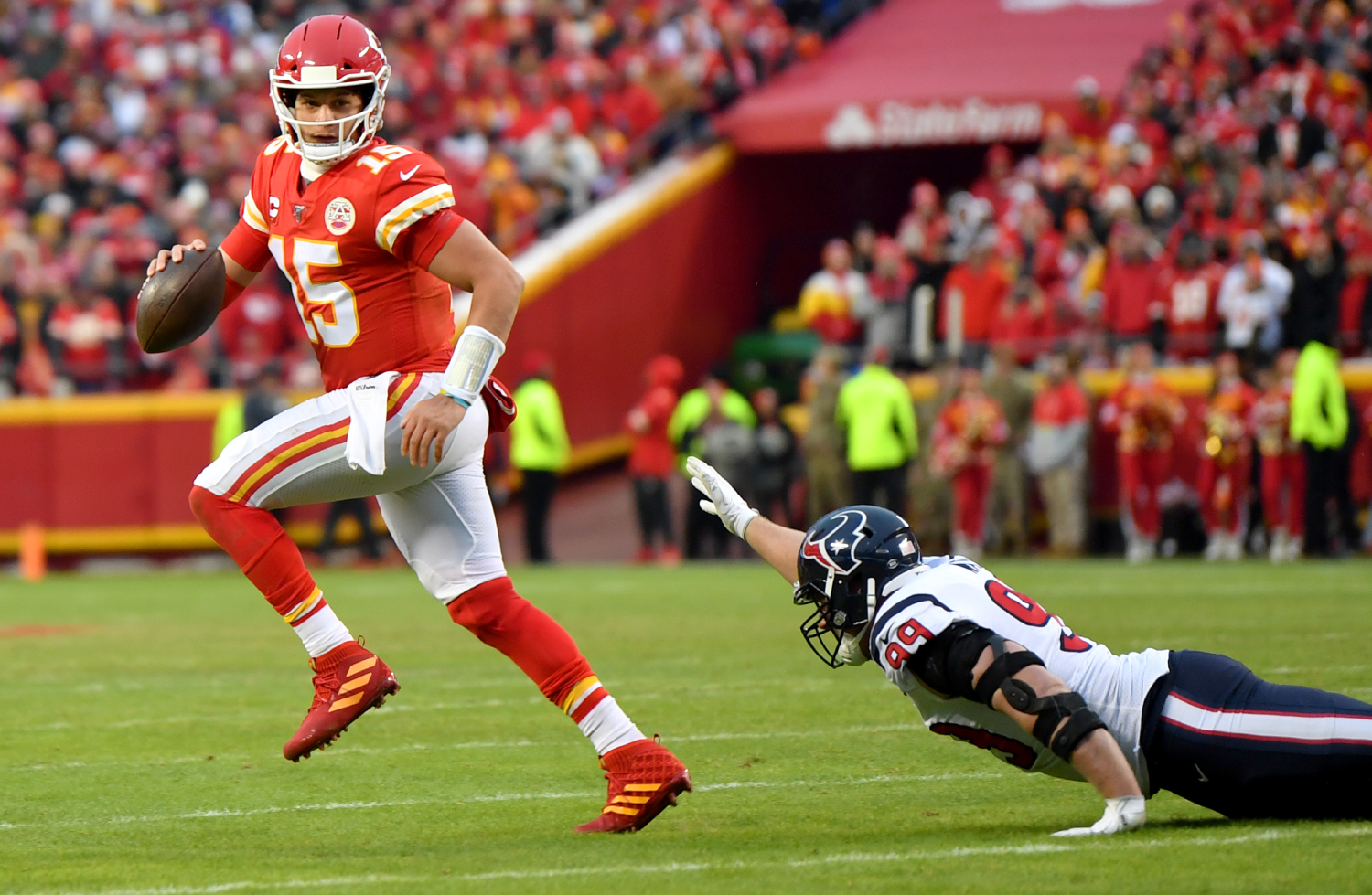 All This Patrick Mahomes Talk is Making Chicago Bears Fans Cringe
All this talk of Kansas City Chiefs quarterback Patrick Mahomes signing a record extension is making Chicago Bears fans cringe.
Patrick Mahomes is going nowhere. Mitchell Trubisky has taken his team nowhere. Mahomes just signed a 10-year extension with the Kansas City Chiefs that could be worth as much at a half-billion dollars. The Chicago Bears declined Trubisky's fifth-year option. The two quarterbacks could be on different paths in their young NFL careers and that's what's driving Chicago Bears fans crazy.
Patrick Mahomes has hit stardom level
Kansas City Chiefs quarterback Patrick Mahomes has played in just two full seasons and has already accomplished what many veterans haven't or won't do in their careers. Mahomes has been named the league's MVP and then he followed that up by guiding his team to the Super Bowl while winning Super Bowl MVP honors. He is just 24 years old.
Mahomes was just rewarded handsomely for his accomplishments. Earlier this week, The Chiefs extended Mahomes' contract for 10 more years in a deal worth $450 million. The contract could be worth up to $503 million of certain incentives are reached.
After playing the role of backup quarterback to Alex Smith in his rookie season, Mahomes became the full-time starter in 2018. During that 2018 season, Mahomes threw for better than 5,000 yards and tossed 50 touchdown passes as he was named the NFL's MVP. Last season, he threw 26 passes and racked up 4,031 yards through the air despite missing two games with a knee injury. He returned from the injury and led the Chiefs to a Super Bowl title.
Mitchell Trubisky struggling in Chicago
Mitchell Trubisky was thrown into the Chicago Bears fire in his rookie season. In 2017, the rookie out of North Carolina started 12 games and went 4-8. He threw seven touchdown passes and as many interceptions while completing 59.4 percent of his passes.
Trubisky bounced back with a strong sophomore season, going 11-3 in his 14 starts and leading the Bears to the playoffs. He was on the verge of a playoff win until kicker Cody Parkey's potential game-winning field goal hit the upright, then the cross var before falling short. Trubisky threw for a career-high 24 touchdown passes and 3,223 yards and made the Pro Bowl.
Last season, however, Trubisky struggled. In his 15 starts, the Bears went 8-7. He was nothing more than averages as he threw 17 touchdown passes against 10 interceptions. The Bears' lack of confidence in their quarterback was evident when they elected not to pick up his fifth-year option, making him a free agent after next year.
Bears fans cringe over what could have been
In the 2017 NFL draft, the Chicago Bears made a very questionable move. In hindsight, they made two questionable moves. But the first one was trading multiple draft picks to the San Francisco 49ers to move up one spot. The Bears were picking third overall but traded that No. 3 pick, along with their No. 67 and No. 111 picks and a third-rounder the following season, to switch places with the 49ers.
After trading all that draft capital, the Bears selected quarterback Mitchell Trubisky with the second overall pick. To be fair, most mock drafts in 2017 had Trubisky being the highest quarterback taken. Looking back, however, the Bears would have been much better off if they selected either Mahomes (No. 10) or DeShaun Watson (No. 12).
Mahomes' recent contract extension has triggered nightmares for Bears fans knowing they could have been the ones with Mahomes leading the way. If there's any good news for Bears fans it's they don't have to lock up one player for roughly $45 million a season and they can walk away from Trubisky at the end of the 2020 season.
All statistics courtesy of Pro Football Reference.