Alvin Kamara's College Career Was Almost Over Before It Started
As a top target for one of the best quarterbacks in the NFL, Alvin Kamara has made a name for himself four years into his NFL career. However, the fact that Kamara is even on the field is remarkable in its own right.
No one player has the perfect path to NFL glory, but Kamara's was incredibly tricky. Lucky for him, he landed on his feet and can now say that he made lemonade out of the lemons that were thrown toward him as he tried to reach that ultimate level. Let's revisit Karma's incredible path to the New Orleans Saints.
Alvin Kamara's strange college football path
Kamara had it all coming out of his storied career in Georgia's prep system. He was going to go to Nick Saban's legendary college football program and pave his way into becoming a top NFL pick.
However, as he was on his way to Roll Tide glory, life threw a couple of curveballs that, both through Kamara's own actions and some bad luck, too, sent him down a different road. 
According to The Undefeated, Kamara was ready to take the field for Saban when a knee injury took him out for the season. As Kamara started getting back to practice, however, Saban suspended him for reported behavior issues, and after Kamara was arrested for driving without a license, things weren't looking good.
Alabama released the star recruit, and instead of going to another major program, he attended Hutchinson Community College in Kansas. 
Turning things around took a lot of hard work
Alvin Kamara played at community college for one season before getting back to Division-I football and committing to Tennessee. While he wasn't the player who was once promised as a superstar, he showed glimpses of the hype that once preceded him. Many questioned why Kamara was not used more as Christian McCaffrey was tearing things up at Stanford across the country. 
To Kamara's credit, however, he took the smaller role in stride. 
"Just always thankful for the opportunities I got," he said (per The Undefeated).
"I want to get the ball as much as I can. Carries, catches … however they want to use me. But it's not just about me. I was part of a team. Coaches do what's best for the team. That's the way it should be."
Kamara ended up spending two years with Tennessee, amassing 683 receiving yards and nearly 1,300 rushing yards en-route to 23 touchdowns in the process. While he was not the ace that many once believed him to be at Tennessee, he was good enough to get the eyes of NFL scouts.
After seeing 66 other players take the podium, Kamara was selected 67th overall in the 2017 NFL Draft. Now, he's finally showing that he's every bit the player people wanted him to be. 
Alvin Kamara proves it on the big stage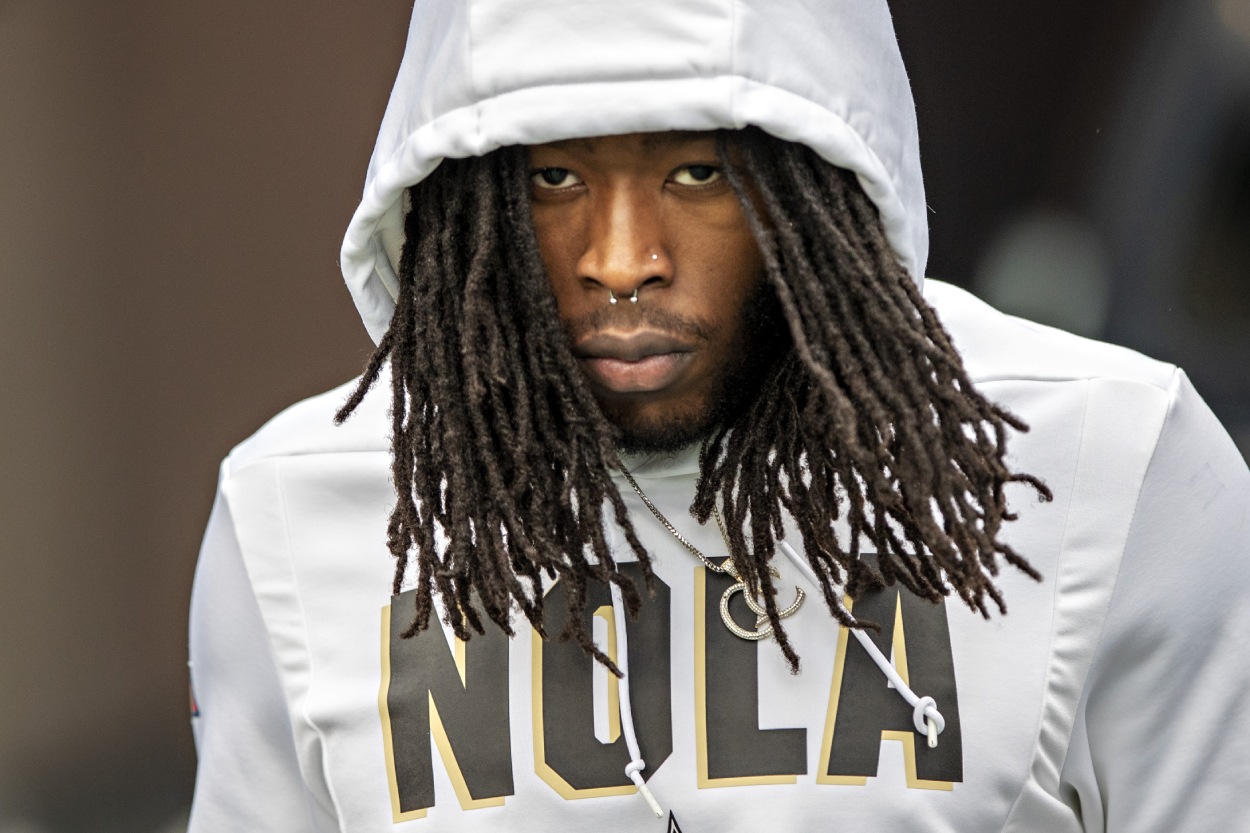 In his fourth year with the Saints, Kamara was a Pro Bowler in his first three seasons despite splitting time between the bench and the starting lineup.
This year, however, has been a significant step in the right direction. The Saints use Kamara's wide receiver abilities as a running back to make him the primary target for Drew Brees' passes. He's well on his way to having a career season and sees it as a testament to everything he's worked on since his early days. 
Now, we just have to wait and see what Alvin Kamara can do next. What he has proven, however, is that for every lapse in judgment that he's made, there's also a story of a man who sought redemption and continues to grow in front of everybody's eyes.
All stats courtesy of Pro Football Reference and Sports Reference