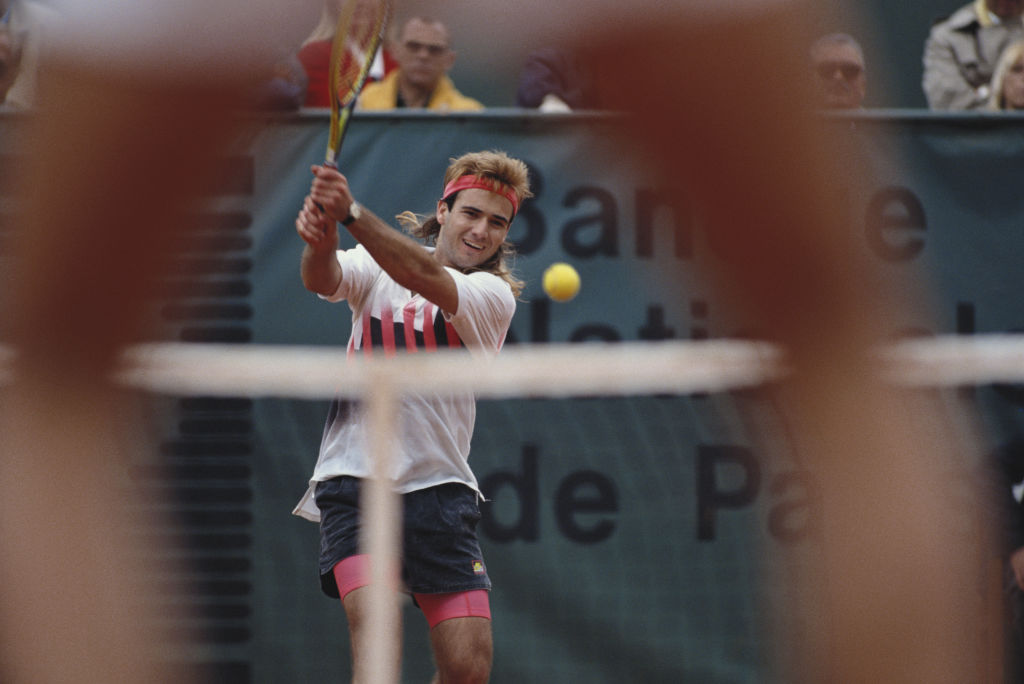 Andre Agassi Was Such a Good Tennis Player That He Achieved a 'Career Super Slam'
Andre Agassi is one of the best tennis players of all time. His dominance on the tennis court is the stuff of legends.
Since the turn of the century, men's tennis has been dominated by players born outside of America, including Roger Federer and Rafael Nadal. But there were a number of men's tennis stars from America in the late 20th century — Pete Sampras and Andre Agassi among them.
Agassi, in particular, managed to become a well-known name outside of the tennis world as he achieved somewhat of mainstream celebrity status. Part of that was because of his outgoing personality, but it also had to do with his considerable skills on the court. Agassi was so good, in fact, that he managed to achieve something that no other male tennis player has done to date.
The different "slams" in tennis
Most sports fans are familiar with a grand slam in tennis, which is when one player wins each of the four major tournaments — Australian Open, French Open, Wimbledon, and U.S. Open — in a single year. But there are other, less-known "slams" that players can achieve in the sport. They are:
Non-calendar year grand slam: Winning four consecutive grand slam events, but not in the same calendar year.
Super slam: Winning all four grand slam tournaments, the year-end championship — the ATP Finals for men or the WTA Finals for women — and an Olympic gold medal in a single year.
Golden slam: Winning the four grand slam tournaments and the Olympic gold medal in a calendar year.
Career grand slam: Winning each of the grand slam titles at least once in a player's career.
Boxed set slam: Winning all four grand slam events in singles, doubles, and mixed doubles competition.
Andre Agassi's career super slam
During his prime, Agassi was among the sport's best athletes. He won 60 career titles on the ATP Tour and has 10 grand slam victories to his name. He completed the career grand slam, winning the French Open and Wimbledon once each, the U.S. Open twice, and the Australian Open an incredible four times.
He didn't complete the grand slam in any year (calendar or non-calendar), but he did better than that. He won the ATP Finals in 1990 and Olympic gold in 1996; when combined with his career grand slam — as described above — gives him the career super slam.
That is a notable achievement because Agassi is the only man who has done that in singles competition, and he is only one of three people overall to get the career slam in singles events, as Steffi Graf and Serena Williams are the only women to do it to date.
How does Andre Agassi compare to other tennis stars?
Being able to say he's the only man who has ever achieved the career super slam in singles tournaments is a big deal for Agassi, but how does it stand up to other tennis greats? There are more impressive feats that tennis stars have accomplished.
The career super slam only involves winning five tournaments, but they happen to be the most important five in the sport. There are eight men who have won more than the eight grand slam titles Agassi has, with Roger Federer leading the way with 20, more than twice as many as Agassi.
Even Sampras, Agassi's contemporary, won 14 grand slam titles in his career. If you look at total ATP events won, Agassi is likewise overshadowed by a number of other legendary tennis players. Jimmy Connors is the all-time leader with 109 singles titles in the Open Era, and Federer is at 103.
Others who outrank Agassi in that category include John McEnroe with 77, and Sampras again as he won 64 titles on the tour. The question is if another man will join Agassi with a career super slam. The only male players with the career grand slam are Federer, Rafael Nadal, and Novak Djokovic, making them the candidates to next achieve that feat.
Djokovic and Federer have won the ATP Finals but lack the Olympic gold. Nadal, meanwhile, won singles gold in 2008 but has yet to win the ATP Finals.