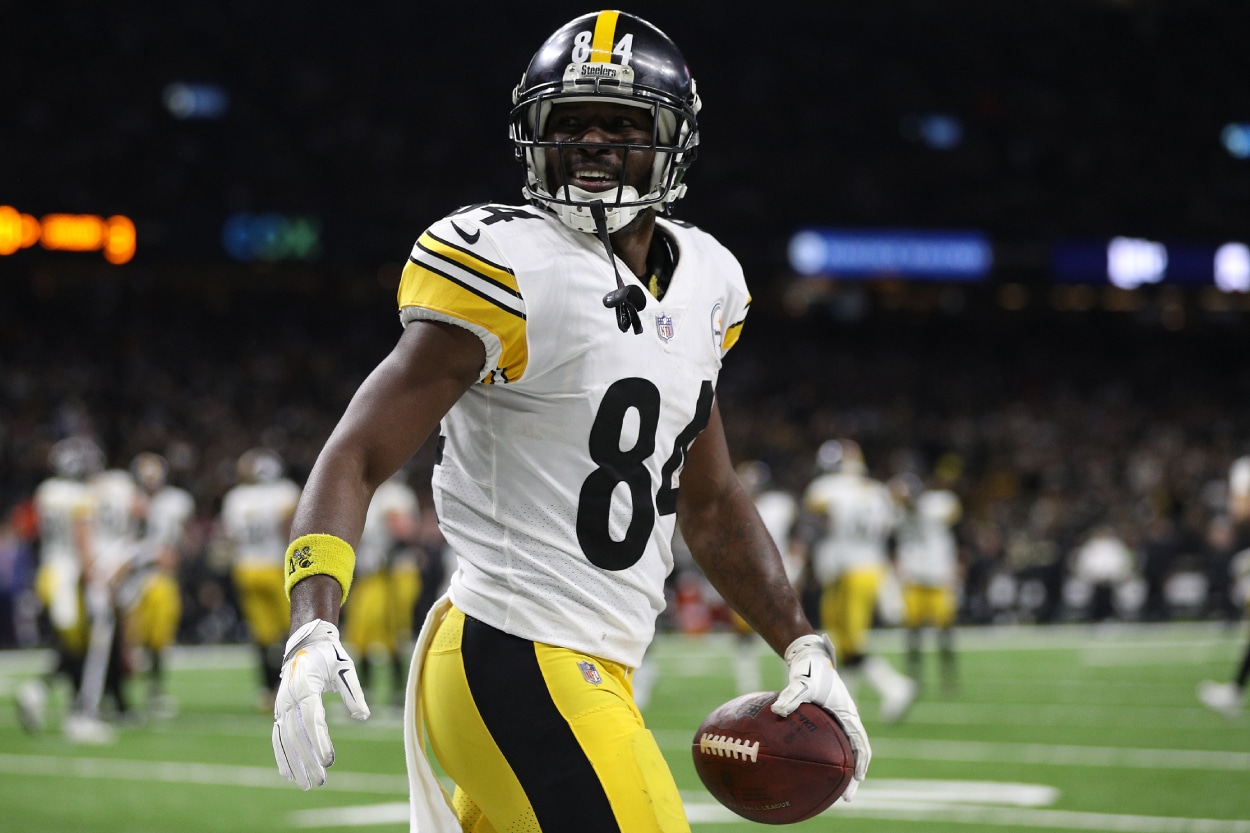 Antonio Brown and Mike Tyson Explain How They Had a Much Different Way of Handling Their Money
Former Pittsburgh Steelers wide receiver Antonio Brown was a recent guest on Mike Tyson's podcast.
Antonio Brown and Mike Tyson did plenty of damage in their respective sports. They also did some damage outside of their athletic worlds. The two polarizing former athletes recently got together on Tyson's Hotboxin' With Mike Tyson podcast and reflected on their days as dominant athletes. They also showed they were vastly different when it came to spending habits.
Antonio Brown and Mike Tyson were at the top of their profession
Mike Tyson is one of the most dominant boxers of his time. He was the youngest heavyweight champion and won the first 37 fights of his professional career. He won the first 10 of those fights via knockout. Twelve of those came in the first round. His first loss was a shocker. That came on Feb. 11, 1990, when James "Buster" Douglas knocked him out in the 10th round.
Tyson packed a powerful punch to the tune of a 41-1 mark before a rape charge led to a three-year prison sentence that interrupted his career. He didn't fight again until four years after he defeated Donovan "Razor" Ruddock on June 28, 1991. He came back and defeated Peter McNeeley to start a string of four straight wins.
After his four-year hiatus, Tyson was never the same boxer. After those four straight wins, he closed his career with 12 more fights. In that stretch, he went 5-5 with a pair of no-contests.
Like Tyson, Antonio Brown was the top dog in his profession at one point. The former wide receiver played 12 seasons in the NFL, nine with the Pittsburgh Steelers where he was All-Pro in four straight seasons. For six straight years, Brown racked up better than 1,280 yards. He led the NFL in receiving yards in 2014 and 2017. He had a career-high 1,834 yards in 2015.
Brown wore out his welcome in Pittsburgh, and then eventually wore out his welcome in the NFL. He had failed attempts with the Oakland Raiders and New England Patriots before hooking on with the Tampa Bay Buccaneers. He infamously walked off the field mid-game in 2021 when his Bucs faced the New York Jets. Brown never played again.
Brown and Tyson had a much different way of handling money
On the recent episode of Hotboxin' With Mike Tyson, Brown and Tyson talked about their days as top-notch athletes. Both made plenty of money in their careers. How they each dealt with all that wealth was a bit different from each other.
Brown said he was good with all the money he made in the NFL.
"I saved my money," he said. "My house is in a trust. I'm protected and made a lot of money playing football. I've done the right things for myself and protected myself."
That wasn't the case with Tyson, who jumped right into the conversation.
"When I was young, I didn't want to save my money," he said. "F*** no, buddy. Hell no."
"I heard you were spoiling a lot of women," Brown said.
Tyson was known for spending his fortune. He admitted to not caring where his money went during an episode on his podcast in 2020 with Jim Gray in the studio.
"I had a lot of fun," he said then. "I just did what I wanted to do and I had a lot of fun. When I was a kid I had a really good time. I was all over the world. I was with awesome people, wealthy people. It almost felt bad. It felt so good, it felt wrong. You know, you're wrong to have all this ecstasy, have all this sensation, have all this fun, and all this wealth. It just felt wrong. It was awesome."