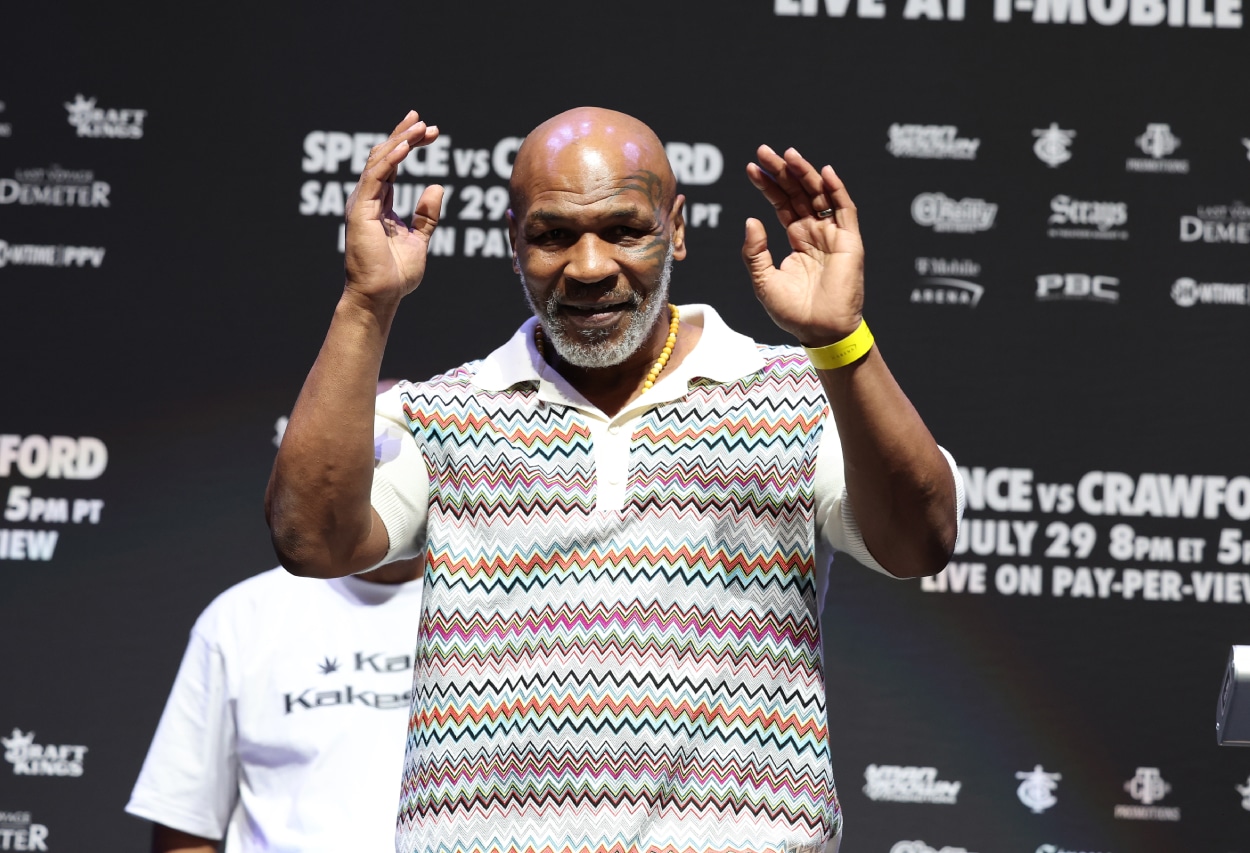 Dana White In Awe of How Mike Tyson Handles His Celebrity Status
Former heavyweight boxing champion Mike Tyson recently spoke about what it's like for him when he's out in public.
Dana White and Mike Tyson are two prominent sports figures, although White freely admits Tyson is on a much higher level. Recently, the two got together on the former boxer's Hotboxin' With Mike Tyson podcast to touch on a variety of topics.
Tyson recently returned from Europe, and White opened the conversation by asking how tough it was for the former heavyweight boxing champion to get out in public when he was there. White explained it was difficult for him when he went overseas, so he couldn't imagine what it was like being an "iconic f***ing human being" like Tyson.
Dana White said he couldn't imagine what it would be like being Mike Tyson in public
Dana White, the highly successful president of UFC, certainly knows what it's like to be famous. He told Tyson about a time when he went to Italy and was swarmed and immediately had to turn back around and get out of the public eye.
"One day, we went to this little f***ing place in Italy," White told Tyson. "I was on a boat. They got little boats that take you to the thing. When we pulled up and I got off the boat, I just got f***ing swarmed and surrounded.
"It was so bad that I had to get back on the boat and go back because we couldn't even f***ing walk. How the f*** do you go anywhere?
"Here's me (pointing down low) and you (pointing up high). You're like one of the most recognizable human beings on the planet."
Tyson explained what it was like to go out in public in Europe
White and Tyson said things are a little more hyped-up in Europe when it comes to meeting celebrities. White can't imagine what Tyson has to go through.
"You're one of the most famous, recognizable human beings on planet Earth," White said. "For some of these people in Europe to get the opportunity to meet you or take a picture with you, it has to be f***ing crazy, crazy, crazy."
"If they know I'm coming," Tyson responded, "and say I'm in England, which I can't go to right now, but if I'm in England, they would call their cousins from Africa and let them know. They look at sports figures totally different than the people over here. Sometimes it gets too crazy, and they're bowing and kissing your feet."
White said Tyson is on a different level, saying people "s*** their pants" when they see Tyson in public.
Tyson gave a little glimpse of what it was like for him in Europe.
"I got all them MMA fighters over there, the kickboxing champions, they're all my bodyguards," he said. "In Europe, it's different. All the fighters run the show.
"They won't let you eat because all the restaurants there are outdoors, and it's just like boom. My wife has to stay in the room. It's just too crazy."