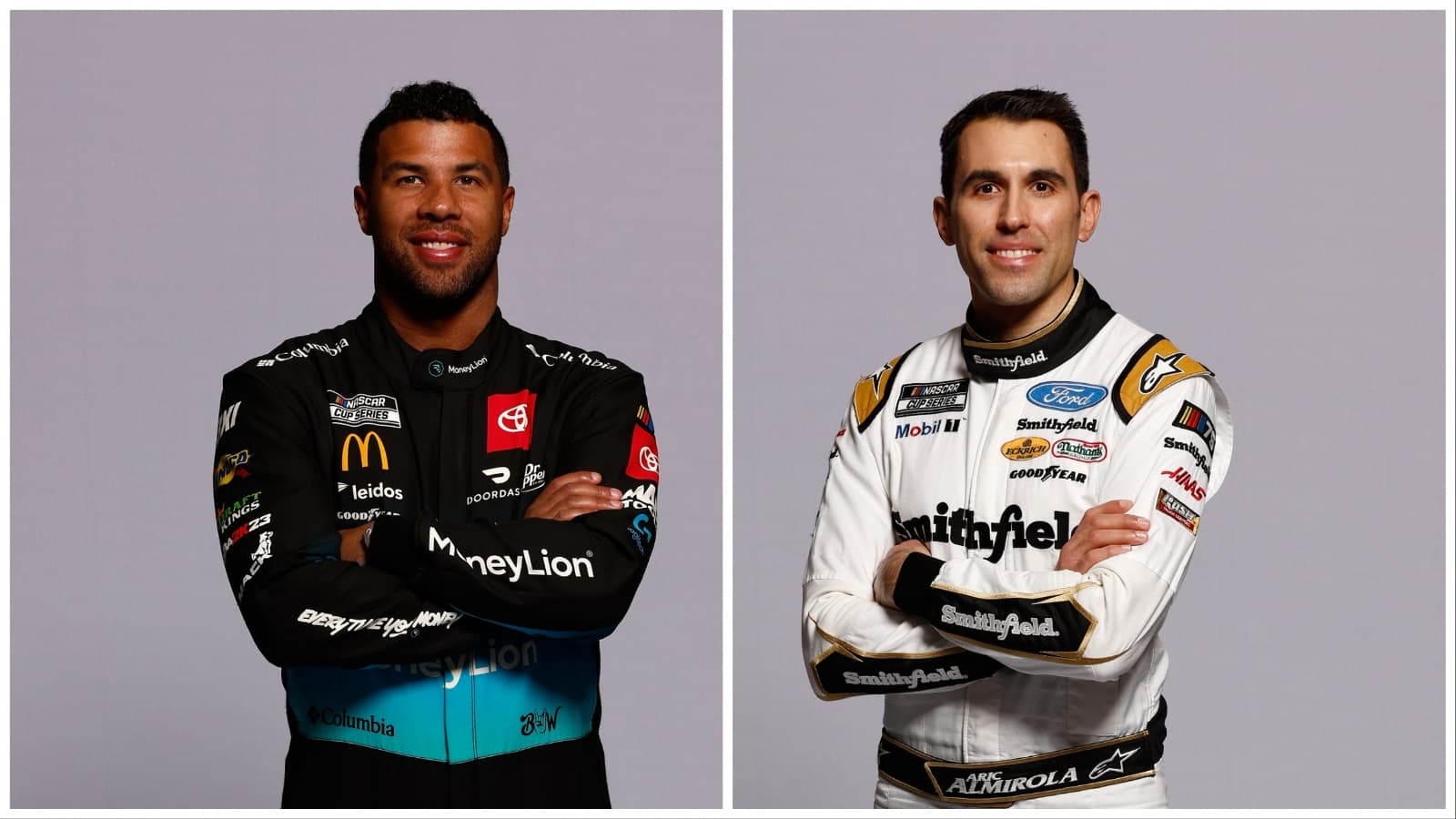 The Aric Almirola Dust-Up With Bubba Wallace May Have Its Roots in a Long-Ago Silly Season Move
The incident on Monday at Charlotte Motor Speedway may have its origins from when Aric Almirola was leaving Richard Petty Motorsports and Bubba Wallace was arriving.
The running joke says Aric Almirola came back to Stewart-Haas Racing for a pound of bacon. On Monday, he wanted to pound on Bubba Wallace.
Almirola, with a reputation as one of the more mild-mannered drivers in NASCAR, delivered a shove while he and the driver of the No. 23 Toyota were chirping at each other with the red flag out at the Coca-Cola 600.
Denny Hamlin vs. Chase Elliott matters more in the grand scheme of hard feelings at Charlotte Motor Speedway, but Almirola vs. Wallace certainly raised eyebrows as the Cup Series finally kicked off the second half of its regular season.
Aric Almirola shoved Bubba Wallace during a stoppage at Charlotte
Rain midway through the second stage of the Coca-Cola 600 caused NASCAR officials to throw a red flag. Though the Fox cameras missed it, there was a confrontation on pit road between Aric Almirola and Bubba Wallace, and the exchange was intense enough for a NASCAR security official to hover nearby.
When the exchange escalated and Almirola delivered a shove to Wallace, the employee stepped between the two. A fan in the grandstand recorded the incident and uploaded video to social media.
A snippet of Fox video from the race showed light contact between the No. 10 Ford and No. 23 Toyota in which Almirola appeared to crowd Wallace and force him to enter high into Turn 3 shortly before the rain delay. However, it wasn't clear if that was the start of the hard feelings or the culmination of a more extensive beef.
Aric Almirola: 'I got my point across'
There was plenty to digest in the aftermath of the Coca-Cola 600, beginning with the fact the race was delayed a day by rain and concluded with Ryan Blaney breaking a long dry spell. Add to that an incident between Chase Elliott and Denny Hamlin that's sure to require NASCAR's attention, and reporters were scurrying in every direction after the checkered flag.
For his part, Bubba Wallace didn't dish on what transpired, but Aric Almirola did speak with an on-track reporter after getting out of his car.
"Early in the race, I felt like I was giving Bubba a lot of room when we were racing around each other," he said. "And when he got by me, he shot me the bird, so I just went to go ask him why he shot me the bird. He started mouthing off and cussing at me, and I thought I wasn't gonna have that. … That's him. I know that."
Later, he added, "I got my point across."
This may go back to an old grievance from Bubba Wallace's RPM days
Given that there was nothing on the track between Aric Almirola and Bubba Wallace on Monday as egregious as the incident between Denny Hamlin and Chase Elliott, it's entirely possible the incident during the rain delay at the Coca-Cola 600 had its roots in hard feelings from years ago.
Almirola, who was set to retire at the end of last season but reversed course after sponsor Smithfield Foods re-upped with SHR, had multiple part-time Cup Series rides from 2007-10. He landed full-time at Richard Petty Motorsports and drove the iconic No. 43 car from 2012-17. In that time, he logged just one win and 30 top-10 finishes, and he moved to Stewart-Haas Racing the following spring in conjunction with a sponsorship switch by longtime backer Smithfield Foods.
Wallace, who had been driving Xfinity Series cars for Roush Fenway Racing, subbed in the No. 43 Ford for a month in 2017 while Almirola recovered from a back injury. RPM made him the full-time driver after Almirola's departure, and Wallace didn't do much – nine top-10 finishes – in three seasons before jumping to the new 23XI Racing team in 2021.
Racing reporter Daniel McFadin intimated in a tweet that the handoff at RPM between Almirola and Wallace may not have gone smoothly.
"No idea what this is about," McFadin wrote. "But, back at (I believe) the pre-season media tour the year after Bubba Wallace subbed for Almirola in the 43, Wallace mentioned a text message Aric sent him at the time that was less than friendly. He didn't go into details."
Is it possible something simmered for five-plus years and finally spilled over on Monday? Well, it's NASCAR, so anything's possible, we guess.
Got a question or observation about racing? Sportscasting's John Moriello does a mailbag column each Friday. Write to him at [email protected].