Aric Almirola Is in the Driver's Seat at Stewart-Haas Racing, Literally and Figuratively
Stewart-Haas Racing veteran Aric Almirola was in the lead three-quarters of the way through the Daytona 500, but his advantage at the negotiating table a week into the NASCAR Cup Series season is a whole lot more significant.
SHR is going to need Almirola next season more than he needs the team. He's the least-dirty fire suit in the ever-dwindling clothes hamper of candidates to drive in 2024.
Aric Almirola said he'd come back for two years but might leave after one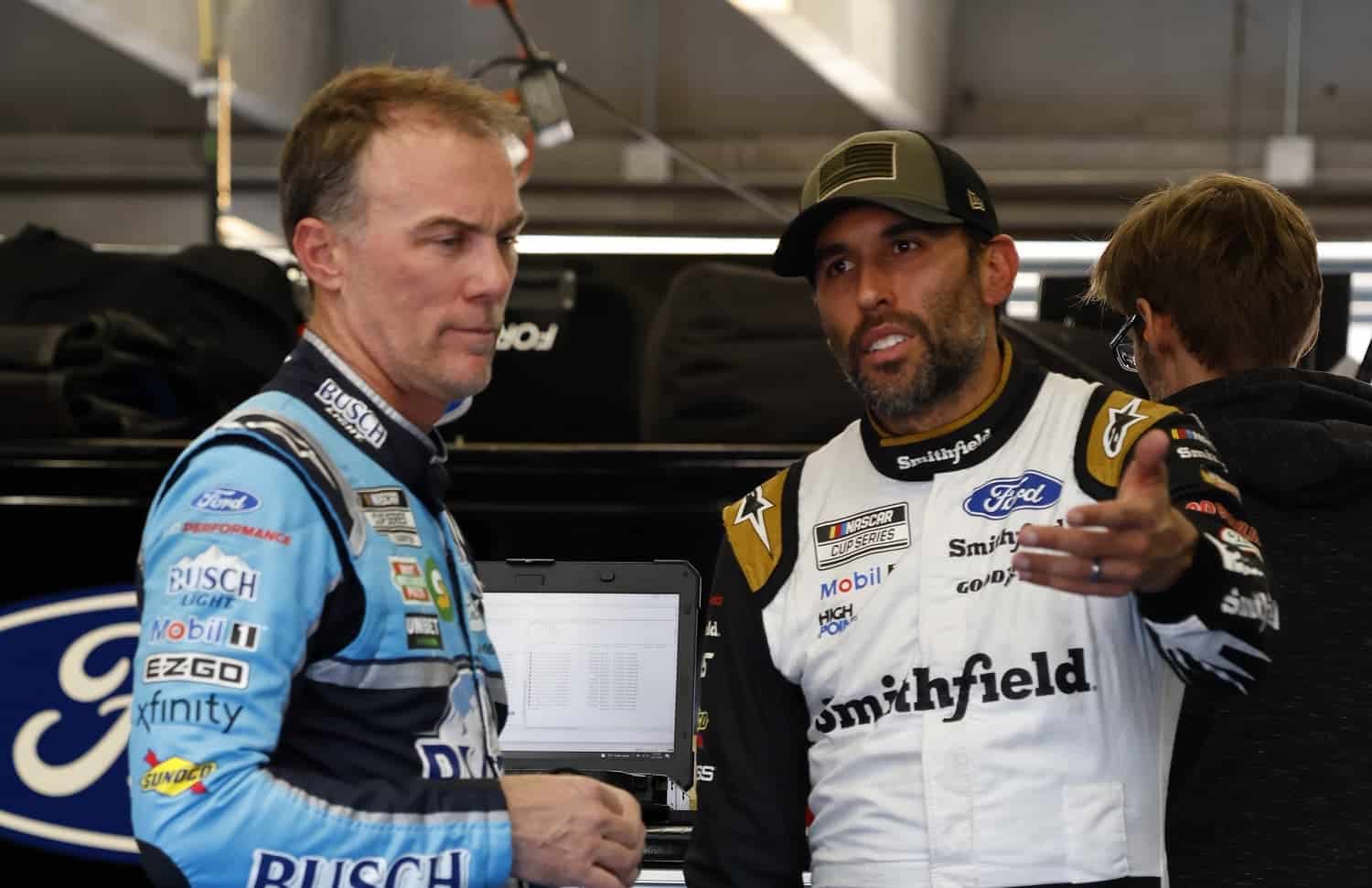 Aric Almirola surprised us by emerging from the holidays a year ago to announce 2022 would be his last full-time NASCAR season. Almirola, 37 at the time, said the long seasons were taking him away from his family too much.
The veteran driver didn't want to miss stuff important to his son, now 10, and daughter, 9. It's not an uncommon sentiment in the U.S. team sport with the longest season. While drivers fly to and from races and spend the early part of the week at home, even those days fill up quickly with meetings, time in the simulator, workouts, and sponsor obligations.
But Almirola soon became ambivalent about leaving, suggesting he was finding workarounds allowing for more time with his family, whether at home or bringing them on the road more often.
At the same time, Stewart-Haas Racing was working on an extension with Smithfield, a huge food products company and key team sponsor. SHR wanted to keep Smithfield. Smithfield wanted to keep Almirola. And, just like that, the announcement came down that the Tampa native has signed a "multi-year" contract extension.
"It was just a great opportunity for me to continue racing," he told the Tampa Bay Times, "and it was a family decision when I decided to retire, and it was very much so a family decision when I decided to go again."
Interestingly, it wasn't long before the speculation started that Almirola won't hang around – at least not in a full-time role – after the 2023 season.
Stewart-Haas Racing already has a hole to fill for 2024
For the second consecutive year, a Stewart-Haas Racing driver delivered the offseason's biggest retirement announcement. Kevin Harvick is stepping out of the No. 4 Ford after 2023 to join the Fox Sports broadcast booth. Unlike Aric Almirola last year, there will be no talking Harvick into coming back.
As matters stand, Chase Briscoe is the future of the team, and SHR has locked him into a new contract. Ryan Preece, driving full-time after the demotion of Cole Custer, will probably work out OK in the No. 41 car. But if Almirola leaves, SHR would have two seats to fill, barring the unlikely possibility it would sell one of its charters or even just lease it for a year.
Some suggest owners Tony Stewart and Gene Haas could bring Custer back from the Xfinity Series, where knowledgeable observers think he'll contend for the 2023 title. But Custer tore up the second-tier series in 2019 with seven wins only to consistently underperform during the next three seasons on the varsity.
There's arguably a better chance of SHR teammate Riley Herbst getting the promotion instead, and he's never won in 110 Xfinity starts. Neither driver seems like a great option to replace Harvick.
SHR's free-agent options are slim if it must also replace Aric Almirola
The 2023 NASCAR Silly Season kicked off with Kevin Harvick's announcement, followed this month by three significant contract extensions. Trackhouse Racing took Ross Chastain and Daniel Suarez off the market, and Hendrick Motorsports signed Alex Bowman through 2026.
Suddenly, the free-agent market should Stewart-Haas Racing have to replace both Kevin Harvick and Aric Almirola is thinner than the carving station prime rib at a chain restaurant. Theoretically, Denny Hamlin could become available in a sequel to the Kyle Busch saga at Joe Gibbs Racing. But JGR might have to replace Martin Truex Jr., the subject of retirement speculation, so the team should be reluctant to let Hamlin leave.
Beyond that, the list of options is weak. Michael McDowell, 38, is coming off his best season, but how much of that was his one-and-done crew chief? Besides, he's already 38.
Corey LaJoie's name has been thrown around, as has that of Harrison Burton. Neither option particularly excites. Justin Haley and Noah Gragson would be better choices, but Kaulig Racing and Legacy Motor Club, respectively, know that and won't let them leave without a fight. At this point, SHR is a marginal step up from those two-car teams.
SHR hasn't exactly sparkled in recent seasons and cannot let Almirola retire. Even with just three wins in 425 starts, he's too valuable with few good alternatives out there – and he knows it.
If SHR hasn't started negotiating a firm commitment from Almirola for 2024 and '25, it should do so now. He already holds leverage, and his position only grows stronger if he makes the playoff field this fall.
Got a question or observation about racing? Sportscasting's John Moriello does a mailbag column each Friday. Write to him at [email protected]