Complete 2023 NASCAR Cup Series Silly Season Tracker
There's no reason Tyler Reddick should show up on the 2023 Silly Season tracker, but he may be making an impact anyway. The action behind the scenes started much sooner this year than in 2022, and it may be owners' nod to Reddick and the way he shook up the NASCAR Cup Series last time around.
Feb. 16, 2023: Ross Chastain signs an extension with Trackhouse Racing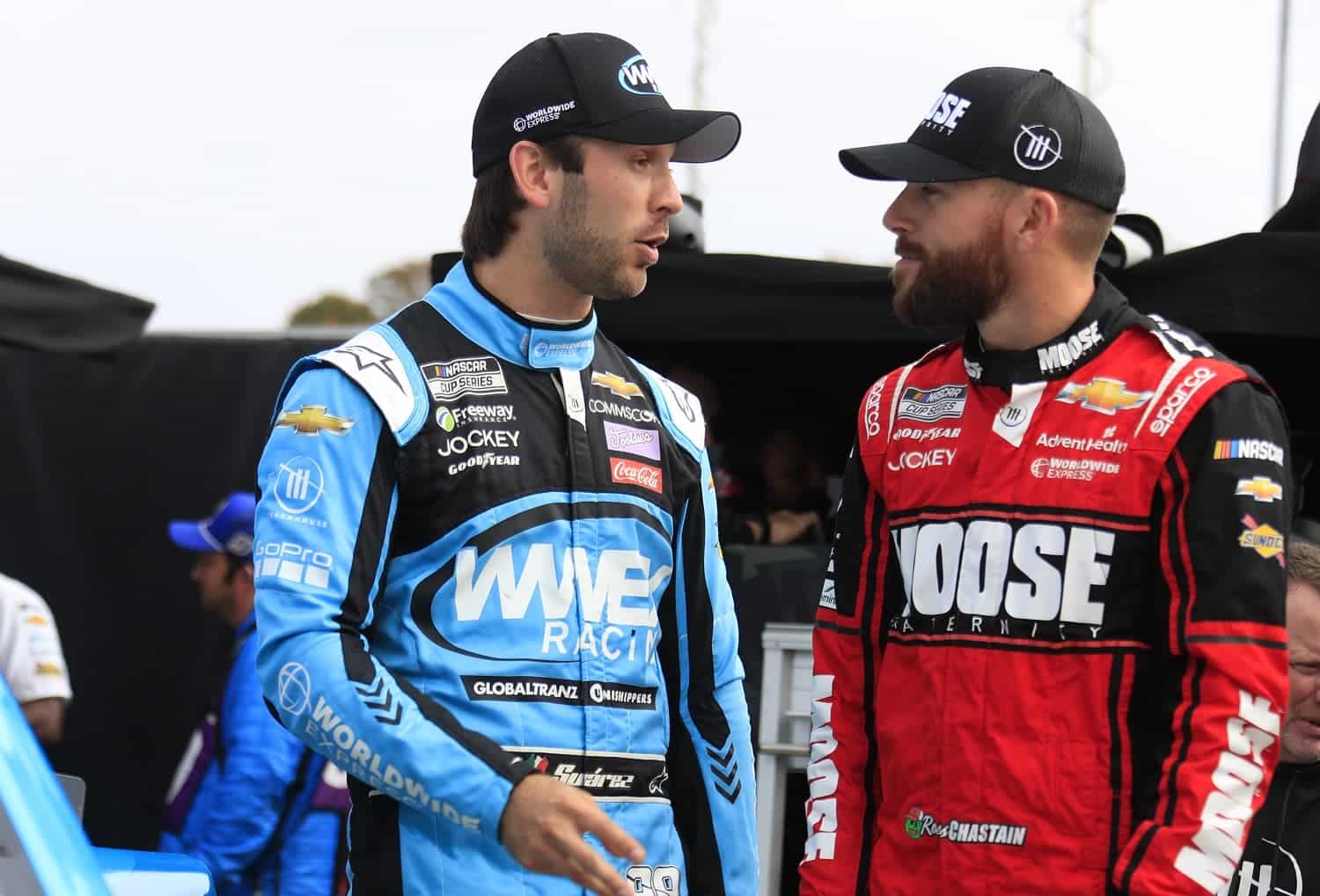 It was July of 2022 when Tyler Reddick and 23XI Racing made the stunning announcement the Richard Childress Racing driver would leave after the 2023 season. The way the situation eventually played out, Reddick made his switch in time for this season.
The Ross Chastain announcement during Daytona Speedweeks was the third driver contract extension of the week and fourth in a month, an indication that owners are taking no chance of being blindsided the way Childress was.
Chastain, 30, a Championship 4 driver in his first full season with Trackhouse Racing, would have been a desirable free agent at the end  of the year, but the new agreement keeps him in place through at least 2025.
"It's taken a lot of years, a lot of hard work and sacrifice, plus a lot of help from a lot of people, but I can safely say I have found a home at Trackhouse Racing," Chastain said.
What it means: The odds of Chastain leaving were remote, but Trackhouse owner Justin Marks shut down any speculation that Stewart-Haas Racing would make a play to put the driver into Kevin Harvick's car next season.
Feb. 15, 2023: Alex Bowman and Daniel Suarez are staying put to kick off Silly Season
It wasn't until June 24 of the 2022 Silly Season season that news broke of a driver contract extension. In that case, it was Martin Truex Jr. putting retirement speculation to rest by signing a one-year deal. Fast-forward to 2023, and Alex Bowman and Daniel Suarez triggered a wave of three announcements in two days, with none of the developments particularly surprising.
Bowman, with seven wins over the past four years, was the only one of the Hendrick Motorsports drivers without a long-term deal when last season wrapped up. But the team got Daytona Speedweeks rolling by announcing a three-year extension in conjunction with Ally Financial, the sponsor of the No. 48 Chevy, tacking five years onto its relationship with HMS.
Suarez was coming off his second season with Trackhouse Racing as well as his first Cup Series win when the team rewarded him with an extension of undisclosed length.
What it means: Bowman and Suarez were always candidates to stay put. With them locked in and Ross Chastain agreeing to his extension, the most prominent drivers potentially available for 2024 appear to be Martin Truex Jr. (retiring?), Denny Hamlin (heading for a Kyle Busch-style breakup at Joe Gibbs Racing?), and Michael McDowell.
Jan. 26, 2023: Chase Briscoe and Stewart-Haas Racing strike a new deal
Stewart-Haas Racing revealed it had signed driver Chase Briscoe, 28, to a longterm extension to continue piloting the No. 14 Ford. Terms were not disclosed, but the arrangement likely carries Briscoe through 2026 and is an important piece of the puzzle for SHR since Kevin Harvick is retiring and Aric Almirola might also be contemplating retirement again.
SHR promoted Briscoe, a third-generation racer, to the Cup Series in 2021. After a trying rookie year, the Indiana native won last spring at Phoenix Raceway in his 40th career start, making him NASCAR's 200th Cup Series winner ever.
Jan. 11, 2023: Kevin Harvick will retire after the season
A year ago, it was Aric Almirola giving notice right after the holidays that he would retire from Stewart-Haas Racing after the season. It turned out that Almirola didn't really mean it, but Kevin Harvick is serious about it in leading off the 2023 Silly Season.
The future Hall of Famer, 47, will give up the No. 4 Ford after a final season. He has 60 wins in all, the last 37 with SHR, and one Cup Series championship. He will forever be remembered as the driver Richard Childress called upon to replace Dale Earnhardt following The Intimidator's death at the end of the 2001 Daytona 500.
"The significance and the importance of keeping that car on the race track and winning that race early at Atlanta – knowing now what it meant to the sport, and just that moment in general of being able to carry on, was so important," Harvick said.
Got a question or observation about racing? Sportscasting's John Moriello does a mailbag column each Friday. Write to him at [email protected]