Who'll Win More, Daniel Suarez or Alex Bowman?
Daniel Suarez and Alex Bowman already won this week without even strapping into their Chevys. Their respective teams announced contract extensions on Wednesday, hours ahead of qualifying for the NASCAR Cup Series Daytona 500.
Those deals provide job security allowing Suarez and Bowman to go about their business without worrying that their next offseason will be consumed by filling out change of address labels.
Alex Bowman comes out the winner in the battle of dueling contracts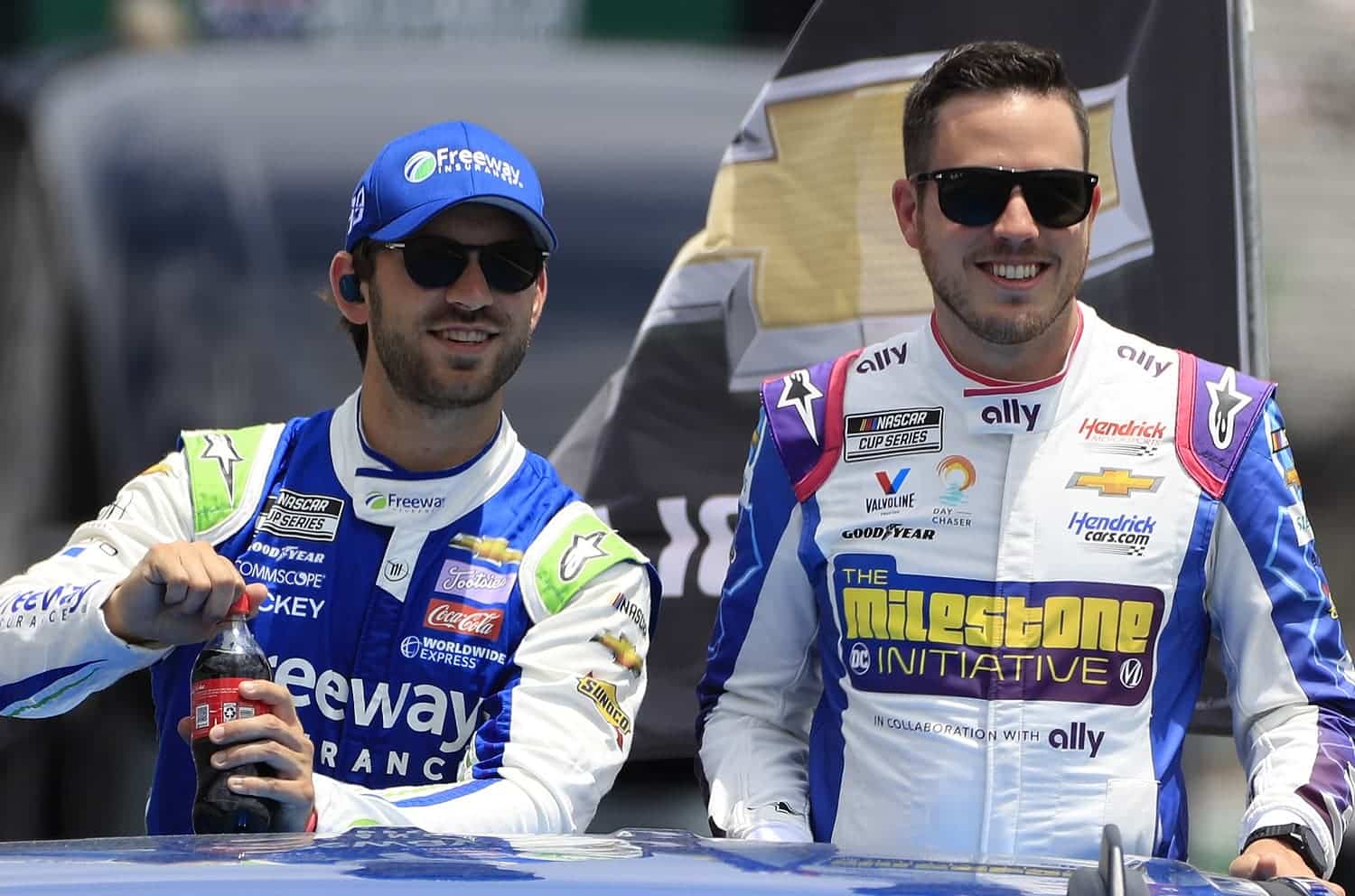 Daniel Suarez previously signed a contract extension last summer in the midst of his most successful NASCAR Cup Series season to date, but that only carried him through the end of this season. Trackhouse Racing greeted fans on Wednesday morning by announcing another contract extension for the 31-year-old driver.
Trackhouse did not offer details of the new deal, but it obviously carries Suarez through 2024 and almost certainly also covers at least 2025.
Bowman's three-year extension with Hendrick Motorsports carries him through 2026, but that was only part of the announcement. In conjunction with the update on Bowman, HMS revealed Ally Financial has extended its sponsorship of the No. 48 Chevy through 2028.
To some degree, that implies the ride belongs to him through 2028. Ally loves Bowman and his knack for not making headlines for "bad" behavior, and the company is undoubtedly expecting him to perform these next few seasons in a way that assures he remains with Hendrick.
In that respect, Bowman, 29, had a better Wednesday than Suarez, even though it was a good day for both.
Alex Bowman has outperformed Daniel Suarez thus far
Driver comparisons are fun but complicated, particularly when they don't compete for the same NASCAR Cup Series team. Skill matters, but equipment can mean everything. In the case of Daniel Suarez vs. Alex Bowman, the advantage up to now probably goes to Bowman on all counts.
Suarez, the 2016 Xfinity Series champion, arrived in the Cup Series in 2017 with Joe Gibbs Racing. He moved to Stewart-Haas Racing in 2019, then Gaunt Brothers Racing in 2020, and became Trackhouse Racing's original driver in 2021.
Suarez was winless with 21 top-10 finishes in 72 JGR starts at a time when teammates Kyle Busch, Denny Hamlin, Matt Kenseth, and Erik Jones were combining for 17 trips to Victory Lane. Kevin Harvick's four wins were the only SHR victories the following year, and no one ever won during Gaunt Brothers' stay in the Cup Series from 2017-21.
Alex Bowman came up with a season apiece at BK Racing and Tommy Baldwin Racing, largely non-entities, beginning in 2014. He filled in for Dale Earnhardt Jr. at Hendrick Motorsports part-time in 2016 and returned to the top-tier series in 2018 full-time. Bowman is responsible for seven of the 42 HMS victories since then.
Who'll win more, Daniel Suarez or Alex Bowman?
Again, the difference in equipment must always be considered. Hendrick Motorsports is the winningest team in NASCAR Cup Series history, and expectations are high enough that "only" 11 wins last year came as a disappointment to some HMS fans.
Trackhouse Racing made a strong case as NASCAR's best two-car team in 2022, the first season of the Next Gen car, with Ross Chastain winning twice. Daniel Suarez also scored his first career win by taking the checkered at Sonoma.
Coming off a four-win season in 2021, Bowman triumphed once last season before missing five playoff races following a concussion.
Suarez and Bowman have been going head-to-head since the 2018 Daytona 500, and Bowman has posted the better finish in 111 of 174 starts, per the Racing Reference comparison tool. He leads in wins (7-1) and top-10 results (66-35), too.
An educated guess says Bowman can win multiple races in 2023, while Suarez may have to squeeze into the playoffs on points. Suarez barely beat him head-to-head (17-14) last year, and Bowman managed more top-10 finishes in five fewer races.
Two potential difference-makers:
Though data is shared among teams, Hendrick Motorsports has likely picked up useful intel while developing the Garage 56 car that will run at Le Mans.
Greg Ives has stepped down as the crew chief, leaving Bowman paired with Blake Harris. He comes aboard after an outstanding season atop the pit box for Michael McDowell's team.
Got a question or observation about racing? Sportscasting's John Moriello does a mailbag column each Friday. Write to him at [email protected]