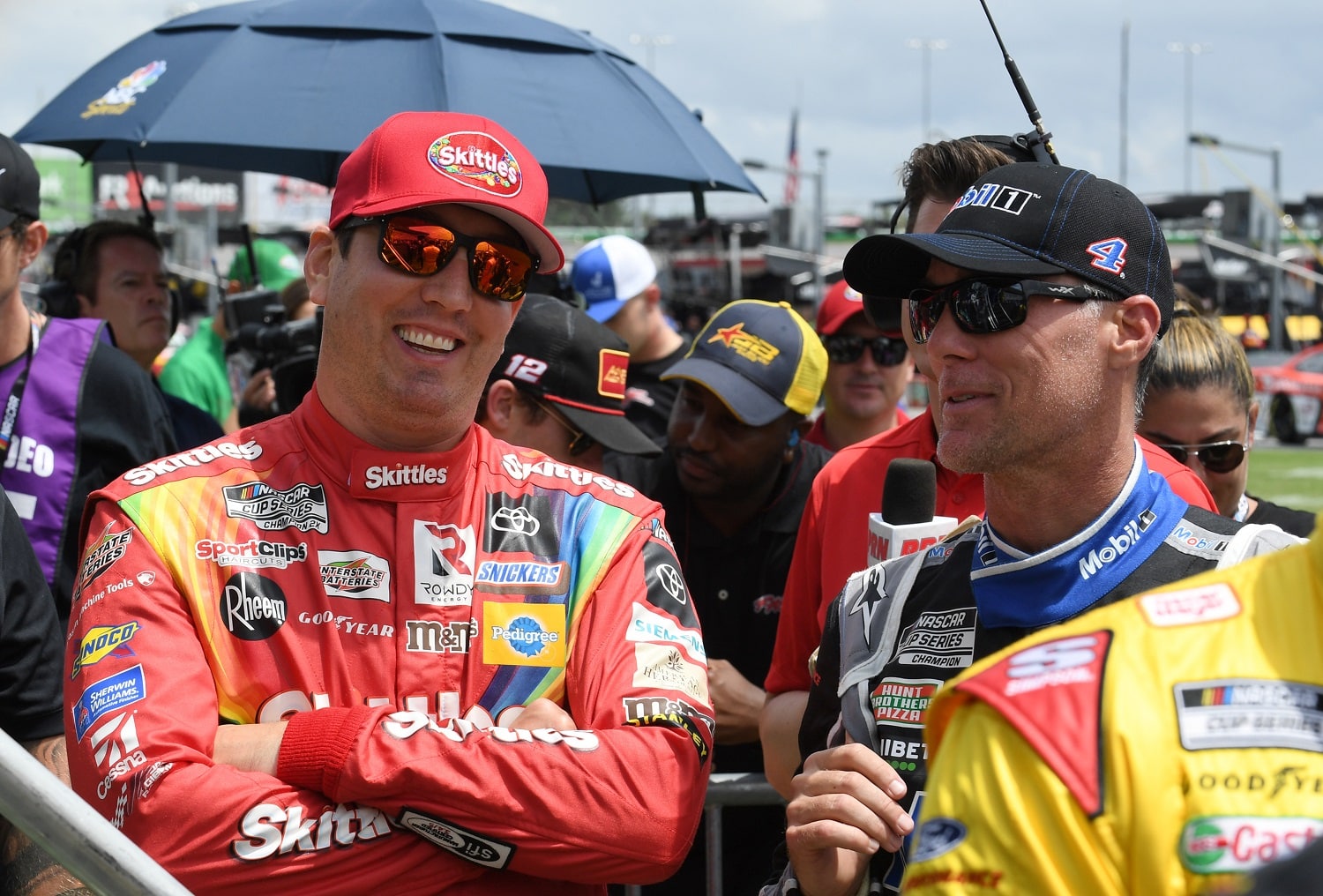 Kevin Harvick Is Pitching a Surprising Candidate to Replace Aric Almirola at Stewart-Haas Racing
Kevin Harvick says he'd be OK with Stewart-Haas Racing adding Kyle Busch despite the drivers' past differences.
Aric Almirola kicked off Silly Season six weeks before the Daytona 500 by announcing he will retire from the NASCAR Cup Series at the end of the season. That was too soon to reach any conclusions about a replacement, though his Stewart-Haas Racing team had designated Ryan Preece as a reserve driver for the season a few days earlier.
It's close to seven months later now, and the pace of driver decisions has picked up, highlighted by Tyler Reddick's startling revelation that he will jump to 23XI Racing in 2014.
One unanswered question stands above all the rest for now, and Kevin Harvick has a proposal for addressing it.
Kevin Harvick says Kyle Busch would be a good Stewart-Haas Racing acquisition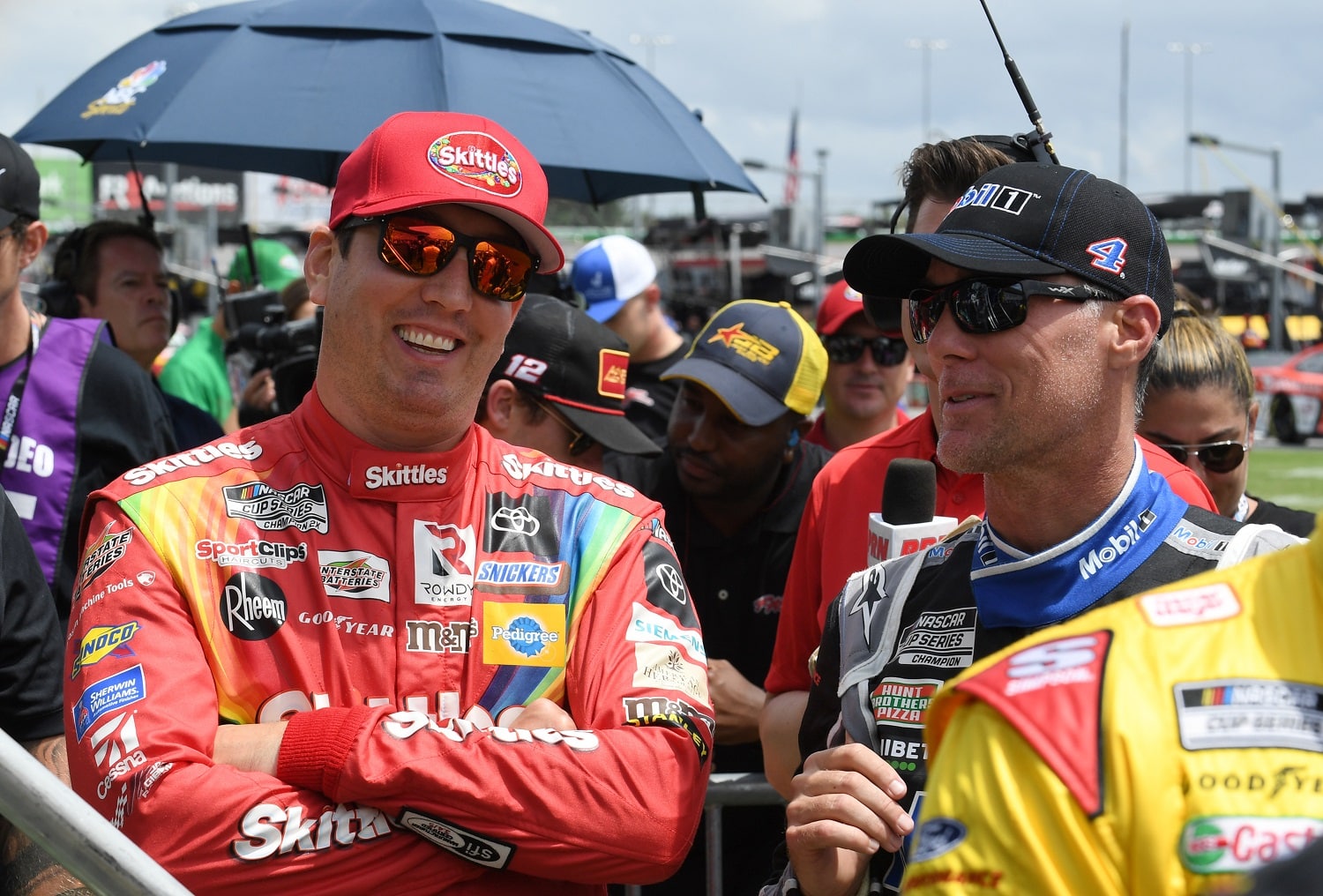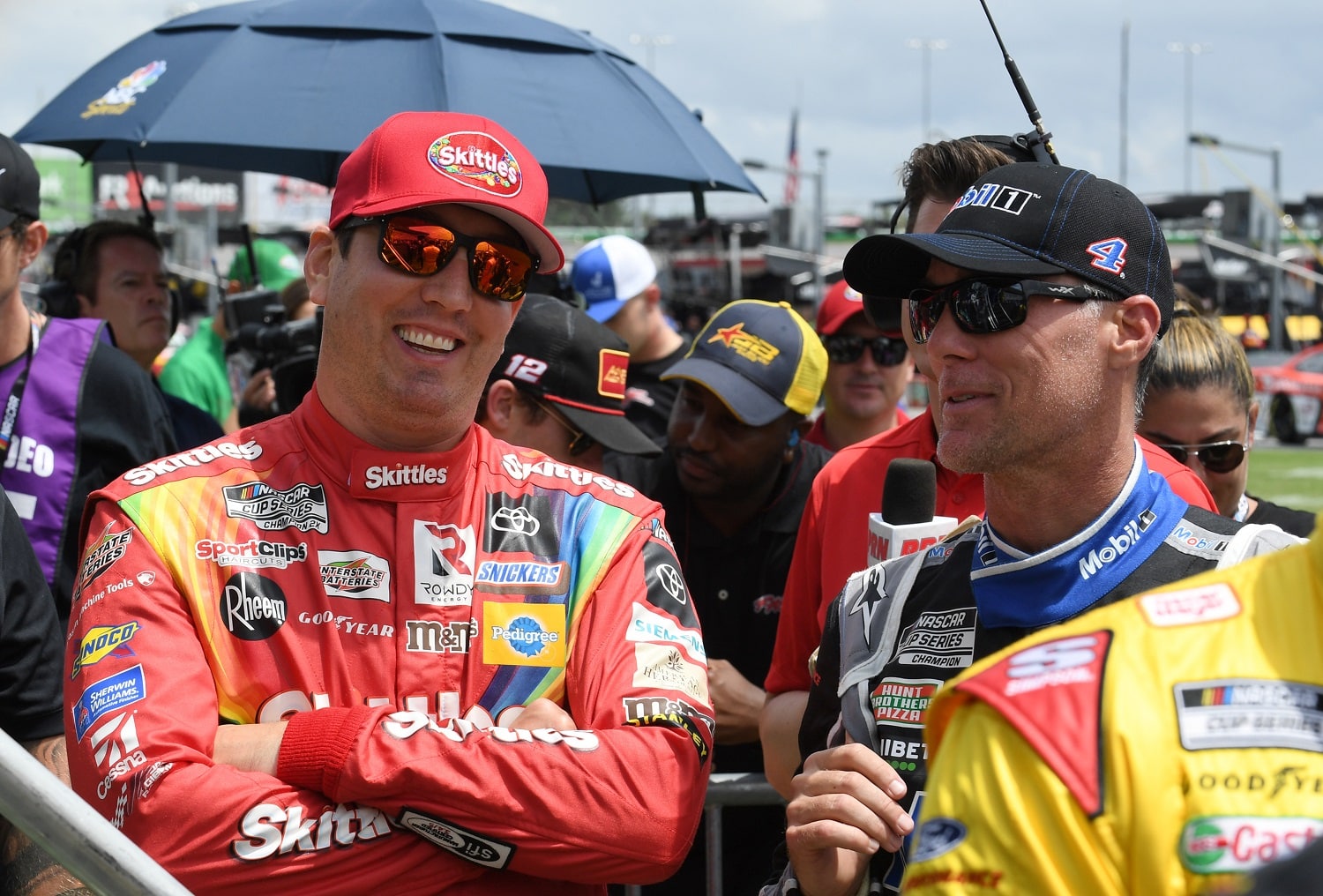 The Kyle Busch drama has been playing out all season. Besides being in his contract year at Joe Gibbs Racing, the two-time NASCAR Cup Series champion is losing his longtime key sponsor after the season. More than five months into the schedule, his status remains unresolved.
Enter Kevin Harvick with an unexpected observation and pitch: He says he is "100 percent open" to driving on the same team as Busch.
"There's no way Kyle Busch doesn't have a lot of options," Harvick said on Saturday, according to NBC Sports. "I know there's a lot of things that go on around Kyle. But in the end Kyle is still one of the best that's ever come through this garage."
Harvick's line of reasoning is that adding a fast driver to the stable will make everyone around him faster as the others step up their game.
"There's a lot of teams that can say that they've never had one of those types of drivers. He literally could rebuild an organization if somebody took a chance that hasn't had one of those types of drivers."

Kevin Harvick
Harvick is 46 but seems open to at least a couple more seasons of racing. Aric Almirola, who is 38, said before the season he is retiring but might be open to returning. Chase Briscoe, 27, is the team's only winner this season and has shown improvement after a rough 2021 season. Cole Custer, 24, has struggled and could be on his way out, so there could be a seat open even if Almirola returns.
Adding Kyle Busch at SHR would be no simple matter
Even assuming Stewart-Haas Racing could line up the sponsors to pay Kyle Busch what he's seeking, there are other considerations. The first is Busch's age. Though still a top performer in the NASCAR Cup Series, he is 37 and perhaps not far from retirement. SHR would have to weigh the potential drawback of losing two veteran drivers to retirement in a short span.
More significantly, Busch and Kevin Harvick have what is politely referred to as "a history" going back to 2010. Harvick wrecked Busch that season, and the two traded hits throughout 2011 until NASCAR fined both $25,000 and put them on probation.
Two seasons ago, Harvick put up some of his own money to boost the prize after Camping World CEO Marcus Lemonis offered a bonus to any full-time Cup Series driver who would drop down to the truck series to beat Busch in a race.
"I get along great with Kyle," Harvick said. "We're going to race each other and be mad with each other, but I have a good relationship with Kyle."
For his part, Busch said before Sunday's race at Indianapolis Motor Speedway that there are no residual hard feelings that would keep him and Harvick from teaming up.
"We've certainly had our differences over the years, that's for sure," he said in an NBC interview. "But obviously, over time, guys grow up. People grow up. I've grown up. He's grown up. Our kids are grown up, right? So, a lot has happened. over the years, but he and I respect each other, respect each other's talent."
Like Sportscasting on Facebook. Follow us on Twitter @sportscasting19 and subscribe to our YouTube channel.
Got a question or observation about racing? Sportscasting's John Moriello does a mailbag column each Friday. Write to him at [email protected]