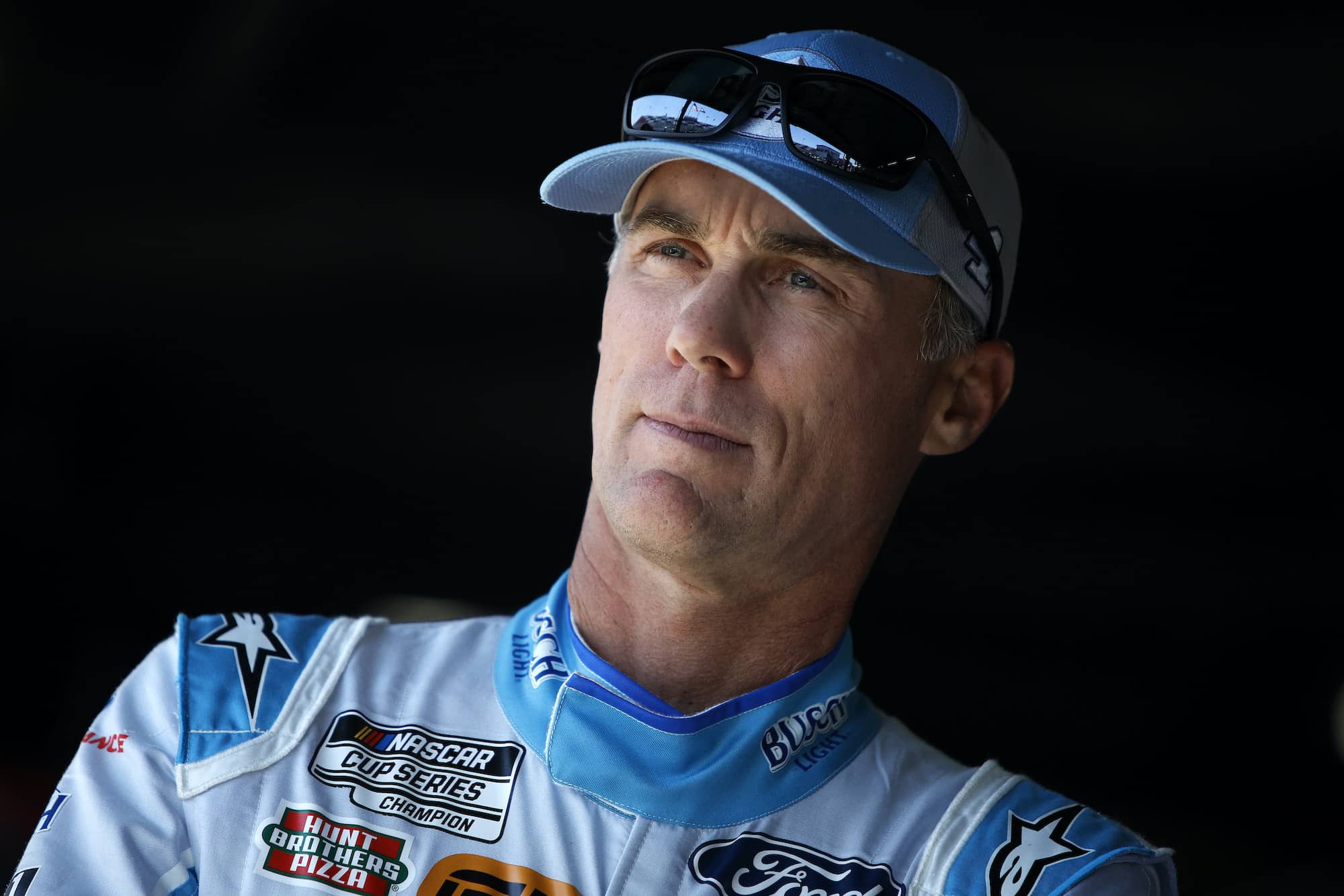 Kevin Harvick Provides Surprising Answers When Addressing Move by Stewart-Haas Racing This Week That Eliminates His Main Excuse for Lack of Wins in 2022
Kevin Harvick provided some surprising answers this week when addressing the replacement of several pit crew members from the No. 4 team.
Kevin Harvick hasn't won in 58 NASCAR Cup Series races, going back to the 2020 season and the second race at Bristol. This year, the Next Gen car has presented a whole new set of challenges for all drivers, including Harvick. Despite those hurdles, the 2014 champion has found himself in contention on several occasions but failed to make it to Victory Lane for various reasons.
Pit stops have dogged the No. 4 Stewart-Haas Racing car throughout the year, including a disastrous stop at Sonoma that ended any hopes of victory. This week SHR made a change and brought over two members from Chase Briscoe's playoff-bound crew to try and correct the problem. Harvick was asked before the race at Nashville what he thought about the changes and provided a couple of interesting answers.  
Kevin Harvick unhappy with pit crew in 2022
Through 16 races this season, Kevin Harvick has four top-five finishes. That doesn't sound like a bad statistic, but it doesn't reveal the whole picture and how it could have been considerably better. At Charlotte during the Coca-Cola 600, the 46-year-old finished third, but the pit crew's mistakes proved costly.
"We went to the back five times for bad pit stops," Harvick said after the race. "After I hit the wall I got a lot tighter and then every time we'd make it up, we'd just fall on our face on pit road and go to the back again."
Fast forward a few weeks later to Sonoma. Different style track. Same problem. A bad pit stop late doomed the No. 4 car.   
"I swear to God, we look like the biggest f****** bunch of wankers every single week on pit road," he said over the team radio when it happened. "We had a chance to win and we just blew it." 
He shared that same frustration in his postrace interview.
"Our Gear Wrench Ford Mustang was good all weekend, but we just have a catastrophic failure at least once, maybe twice a weekend," the frustrated driver told Fox's Vince Welch. "We can't figure that out. But we got back as far as we could. Guess it is what it is." 
Harvick provides surprising answers when addressing pit crew changes 
This week, SHR announced that there would be some changes to Harvick's pit crew, specifically, two members of Chase Briscoe's team coming in as replacements. This weekend before the race at Nashville, the veteran driver visited with reporters when Fox's Bob Pockrass asked about his involvement in the changes.  
"I read it just like you guys. I read it in a press release. It's about normal," Harvick admitted. "My involvement. Not by choice."
When asked if he felt the changes were necessary, Harvick again provided an answer suggesting he was out of the loop.
"Somebody did," Harvick said.  
Tony Stewart voiced frustrations at Sonoma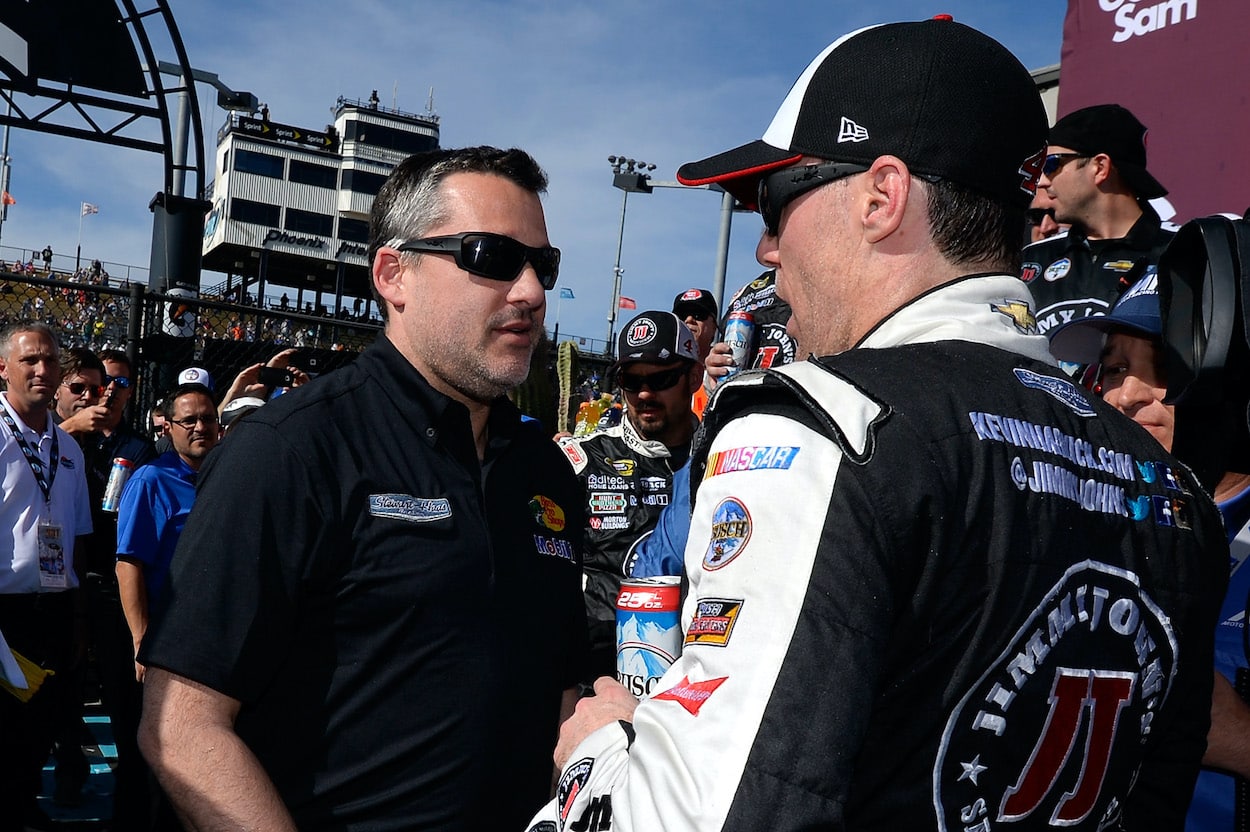 Harvick having zero involvement in that decision sounds a bit odd considering his veteran experience. You'd think he'd at least be made aware of the changes before learning about them in a press release.
However, if there was somebody else involved it was more than likely Tony Stewart. The team owner also happened to be working the Fox broadcast from Sonoma and couldn't hide his frustrations late in the race when Harvick's pit crew had a 20-plus second pit stop.  
"Aaah," Stewart expressed. 
"For Rodney Childers' crew, they had to jack it back up," Mike Joy explained. "And that was costly."
"Probably that was the final pit stop, which would be the money stop," Larry McReynolds noted. 
"Or the lack of money stop in this scenario," Stewart added, as Harvick finally began driving down pit road. "That hurts."
Stewart and Harvick were justifiably unhappy with the pit crew's performance.
Now with the problem addressed, it's up to the driver to convert one of those top finishes into a victory and make it into the postseason. If it doesn't happen, he'll have no one to blame but himself.
Like Sportscasting on Facebook. Follow us on Twitter @sportscasting19 and subscribe to our YouTube channel.