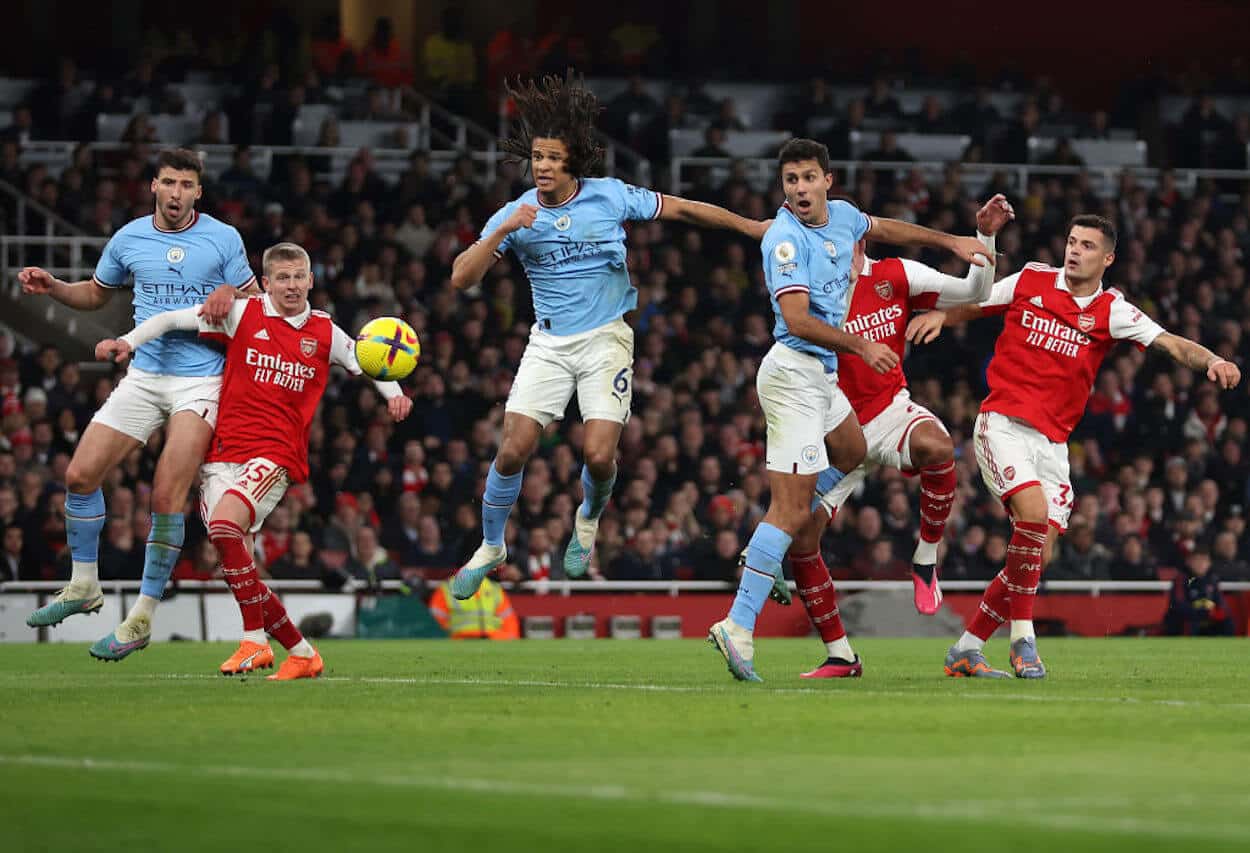 Arsenal-Manchester City: How Does Wednesday's Match Affect Both Clubs' Title Odds?
When the first-place team plays against the second-place team, it's always an event. The Arsenal-Manchester City match, however, is even bigger.
While there are plenty of sporting cliches about how a single game during the season doesn't determine the championship, sometimes you need to throw out the rule book. Consider, for example, what's arguably the Premier League's marquee soccer match of the season: Arsenal-Manchester City. On Wednesday, April 26, the Gunners will travel north to Manchester. Those two clubs have been the top two in the table all season long, and this one is essentially for all the marbles.
Arsenal have struggled of late, at least as much as they have all season, drawing three straight matches. City, on the other hand, have been rolling. Pep Guardiola's men have dominated the home stretch in previous seasons and seem set to do that again.
With that all in mind, let's look at what each result will mean for the title race. You never want to say never, but a loss will pretty much end Arsenal's dreams of a Premier League title.
The Arsenal-Manchester City match features two teams with similar records but vastly different narratives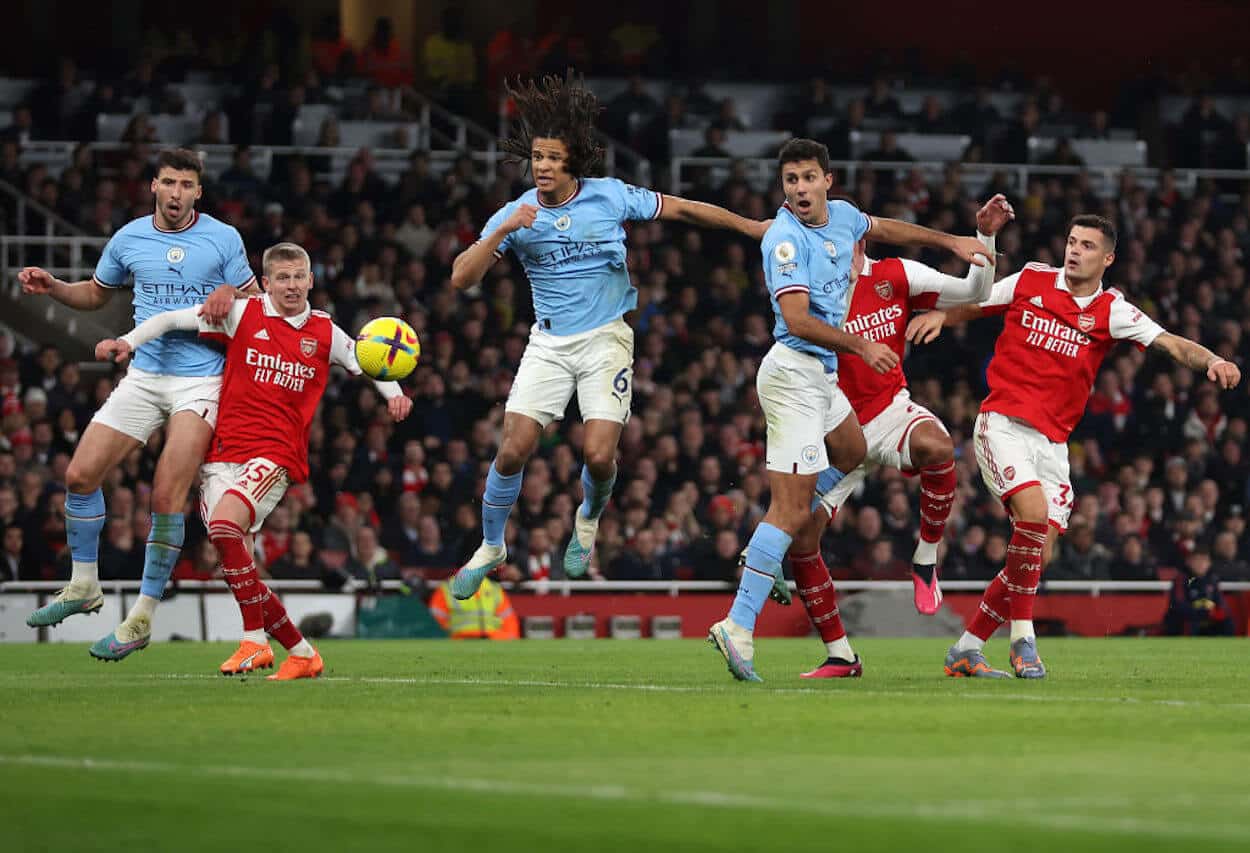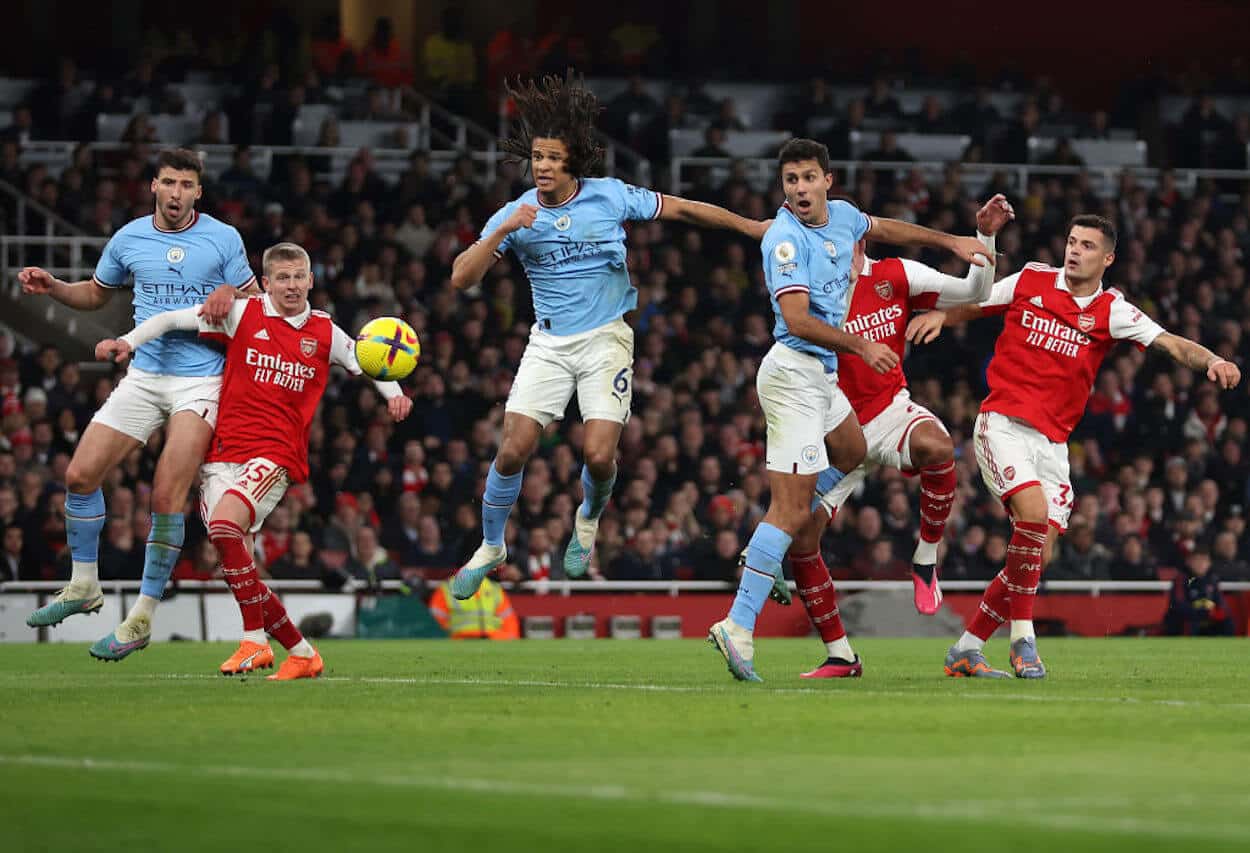 When the first-place team is facing the second-place team, you know you're going to be in for a treat. Wednesday's Arsenal-Manchester City showdown, however, looks to be the climax to a rather dramatic story.
In one corner, we have City, who are a modern juggernaut, at least in domestic terms. Thanks to an incredible amount of spending, the club has a world-class squad and arguably the greatest active manager at the helm. That's led to four Premier League titles since 2017-18 alone; the only year in that stretch that Pep Guardiola and company didn't win the league, they finished in second.
And, this year, Manchester City look just as strong as ever. While some players moved on — we'll get to two of those shortly — the club added Erling Haaland. The Norwegian might not be the most natural fit for Pep's system, but his incredible goal-scoring ability speaks for itself. Goals, after all, win games.
That all combines to make City the favorites for the title, right? Well, they've been largely confined to second place this season behind Arsenal.
And while the Gunners have had some great moments in their history, no one expected this performance. Mikel Arteta had the club trending in the right direction, finishing the 2021-22 campaign in fifth place, but fighting for the league title this season wasn't in anyone's plans.
Arsenal are largely led by a talented young core — Bukayo Saka and Gabriel Martinelli make things happen in attack, but the likes of William Saliba, Ben White, and Aaron Ramsdale are also key players — that's been supplemented by some key veterans. Two of those, Oleksandr Zinchenko and Gabriel Jesus, arrived from Manchester City in the summer and have played a key role in both helping the squad improve and getting everyone to believe that success is possible.
In recent weeks, though, things have started to slip. Whether you want to chalk it up to pressure, the loss of Saliba to injury, or some combination of the two, Arsenal drew three straight matches against Liverpool, West Ham, and Southampton.
That sets the stage for Wednesday's Arsenal-Manchester City match. The former club still sits in first place, but their lead has shrunk to four points with two extra games played. That's a precarious position, especially when you're being chased down by the footballing equivalent of the Terminator.
The Arsenal-Manchester City showdown will essentially determine the Premier League title
In the lead-up to Wednesday's big game, much of the narrative has been positioning it as a title decider. While commercials tend to overhype things on many occasions — no one wants to tune in for a match that doesn't matter after all — the Arsenal-Manchester City meeting does bring some rather high stakes.
Based on Cannon Stats' models, Arsenal probably need to take all three points to have any chance of winning the league. A victory on Wednesday will give the Gunners a 70% chance of lifting the big trophy when things are said and done. A draw gives City a 65% chance of retaining the title, while an Arsenal loss would mean there's an 86% chance of another parade in Manchester.
While there's always room to disagree with these sorts of models — they're based on assessments of attack and defense and assumptions on where points will be gained and dropped — the table largely confirms those odds. If Arsenal win, they'll be eight points ahead with two extra games played, meaning they're back to controlling their own destiny. A draw lets City control their own fate, and a loss would mean Mikel Arteta's men have to make up four points in five matches (assuming their title rivals win out).
Is it possible that we'll see some unexpected results down the stretch run? Of course, but having the title in your hands is always better than hoping for some external help.
When new soccer fans hear that domestic leagues don't have a postseason, it's easy for them to assume there's not much drama to be found. The Arsenal-Manchester City showdown, however, proves that isn't the case.