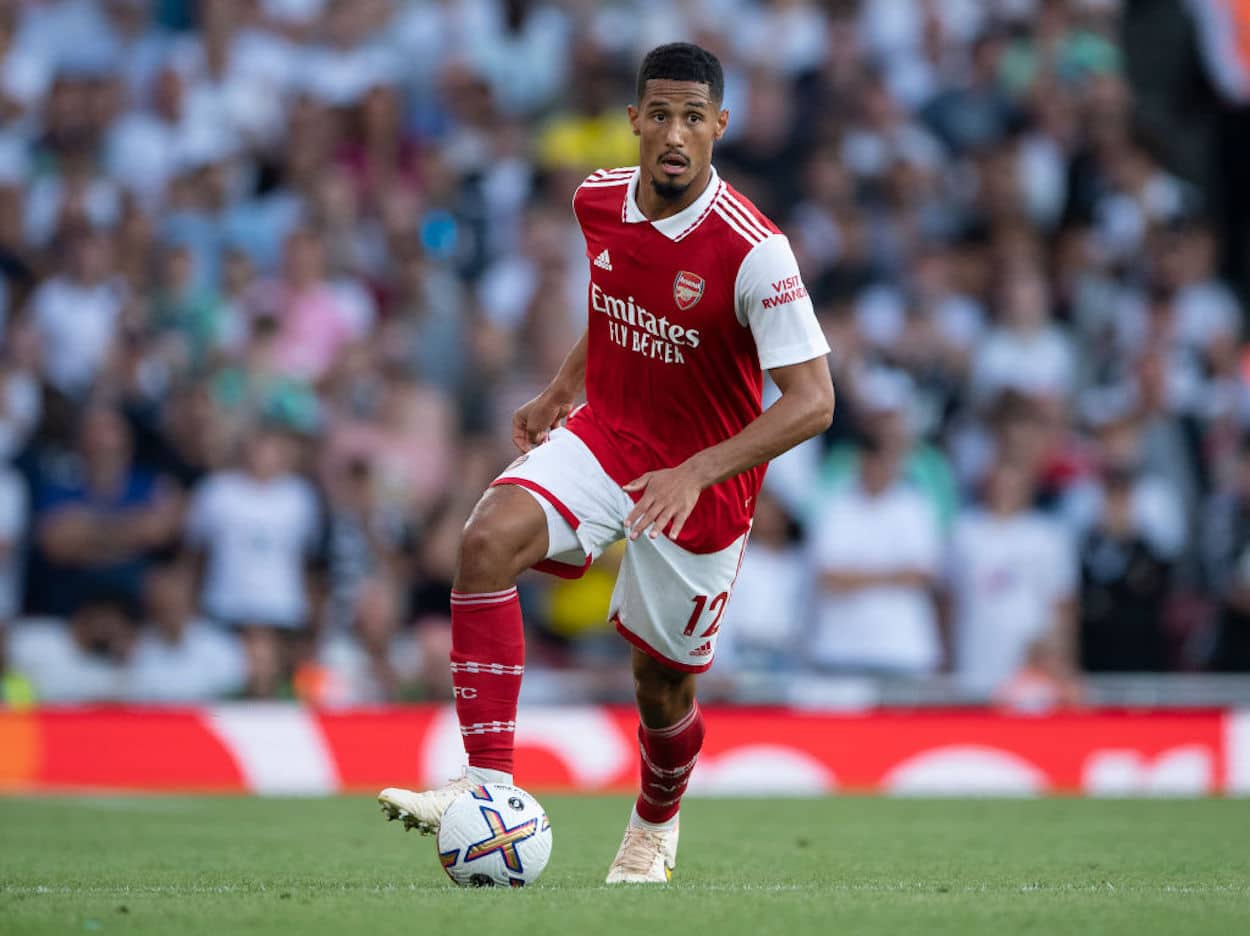 Arsenal News: William Saliba Is 'Not In a Rush' When It Comes to a Potential Contract Extension, Says Insider David Ornstein
While William Saliba has been a bright spot to Arsenal's 2022-23 campaign, it might take a while for him to agree to a new deal.
Arsenal have started the 2022-23 Premier League season well, and William Saliba has been at the center of it. While it took the young Frenchman some time to step into the Gunners' starting lineup, he immediately proved why he's one of the biggest prospects in soccer. The defender looks physically imposing, comfortable on the ball, and generally unflappable, even when things don't go his way.
Based on that reality, Arsenal are keen to ink Saliba to a contract extension. His deal will expire at the end of the 2023-24 season, and with his star continuing to rise, he'll be attracting interest from Europe's best clubs. The Gunners will have to make a decision sooner rather than later; if Edu Gaspar and company can't hammer out a new contract, they'll have to see the defender.
While everyone in North London will hope to keep Saliba in red and white, things don't seem to be a foregone conclusion. According to The Athletic's David Ornstein, the young star wants to see how things play out before jumping to any conclusions.
William Saliba is reportedly taking his time when it comes to a potential Arsenal extension
Depending on your preferred source of rumors, William Saliba is either closing in on a new Arsenal contract or can't wait to leave North London once and for all. As with most things, though, reality seems to be somewhere between the two extremes.
Ahead of the North London Derby, David Ornstein appeared on FIVE insider. While there was plenty of conversation about players on both sides of the clash, Saliba and his contract situation did manage to pull some focus away from the match.
"It takes two to tango," Ornstein explained when asked if the Gunners' brass were going to extend the defender's deal. "And so, whether or not Arsenal want to tie Saliba down to a new deal, Saliba has got to want it as well. And this is a boy who came into Arsenal in 2019 and went straight back on loan to Saint-Etienne. Then he went on loan to Nice. Then he went on loan to Marseille. And I'm sure he would have felt that he was ready to play or to at least get the opportunity to play in preseason friendlies. I think there was maybe one at MK Dons when he got a run-out, but he didn't have much more than training sessions."
While there's room to debate the wisdom of those repeated loans — you could argue that they allowed the defender space to grow as a player and make mistakes or contend that they were wasted time that only served to make him doubt his future at Arsenal — it seems they could be playing a role in the current reality. If Saliba is going to commit his future to the Gunners, he could want to ensure the club is equally committed to him.
"I think the will will be there for Arsenal to give him a new deal," the Athletic insider continued. "Why wouldn't there be? But I don't think he will be in a rush to come to the negotiating table so soon after he wasn't part of the plans. We were being told that he's part of the future of Arsenal, in their mind, but he wasn't part of the immediate plans. So you don't just click your fingers and say, 'Now we're playing you. Come on, let's strike a deal.' He's said to be wanted, and I'm sure he's admired, by some of the biggest clubs in world football. When you read speculation around him, there are so many suitors for William Saliba. The situation, as I understand, is that he's not in a rush to come and sit down. He's focusing on his football. What does he need to rush for?"
Before wrapping up, Ornstein added one additional nugget. In his estimation, Saliba's camp will be making sure that the defender is actually part of Arsenal's plans.
They will definitely try to tie him down, but I don't think it's going to be imminent. And it's going to be a very important negotiation because he and his representatives will want assurances that what we're saying so far this season is what we're going to be seeing in the future. And not [that] what we've seen in the past is going to come back once he signs a new contract."

David Ornstein speaking on FIVE insider
While that, especially the "I don't think it's going to be imminent," might not sound optimistic, there could be a silver lining for Arsenal. Let's push things a little further.
William Saliba is good enough that making him a foundational piece shouldn't be a problem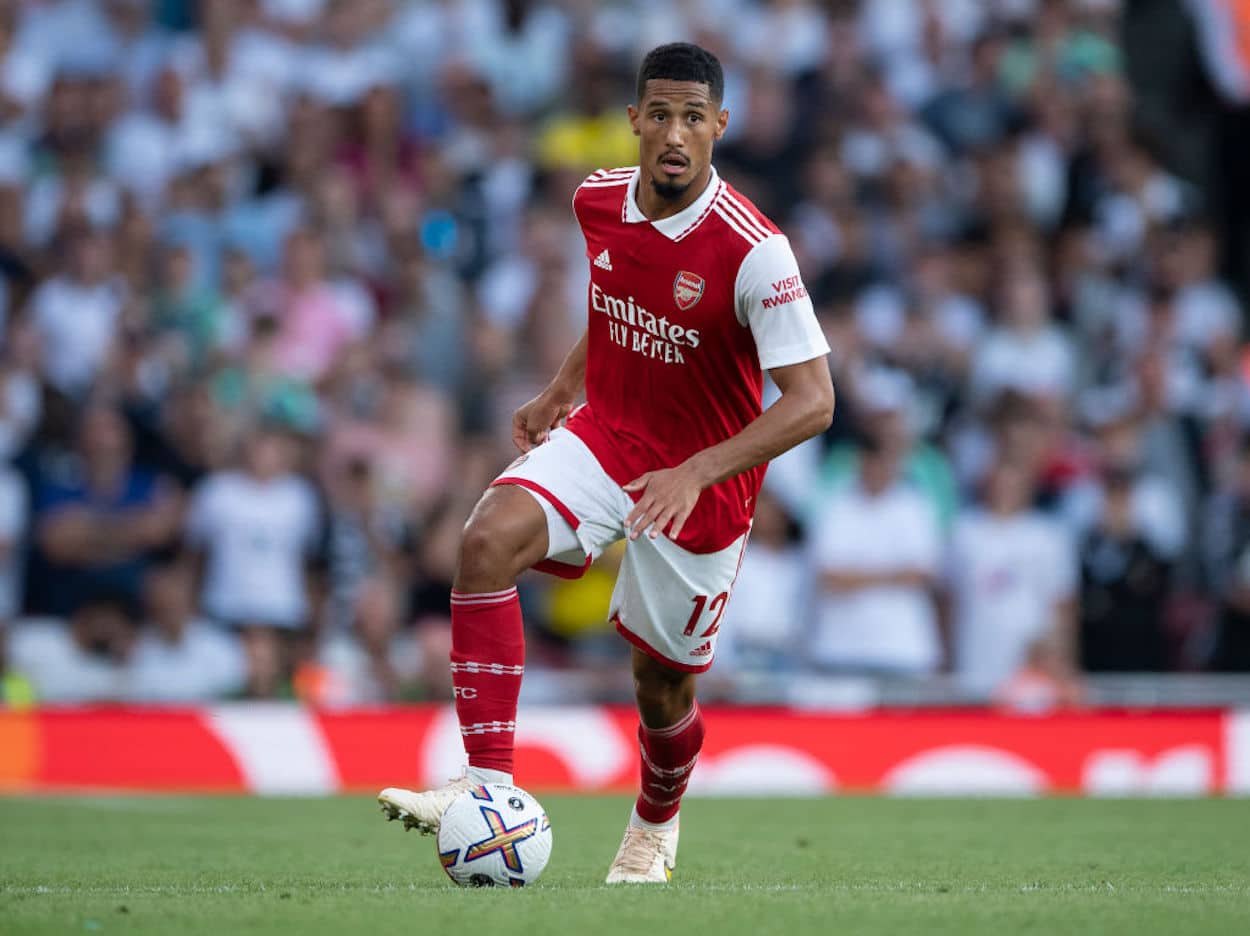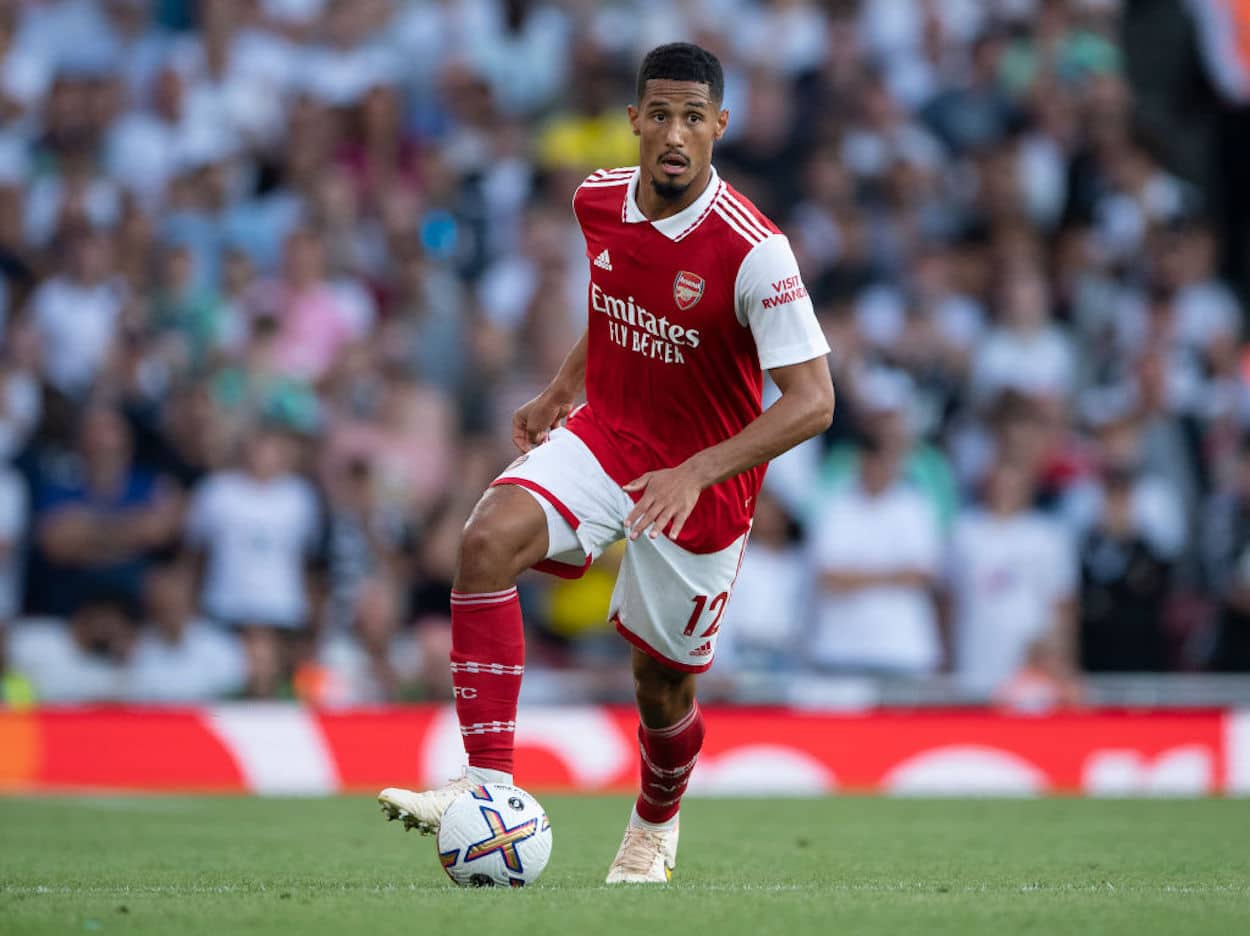 When you hear that he could be leaving Arsenal for one of Europe's elite clubs, it's easy to view William Saliba's talent as something of a burden. If he were a worse player, that logic goes, it would be easier to keep him in North London. Not only is that thinking counterproductive — a team needs to have talented players, not ones that are at an acceptable level and unable to push on — but Saliba's star power could help the Gunners give him exactly what he needs.
If we take Ornstein at his word, Saliba and his camp will want some assurances that he's a key part of Arsenal's present. While there's room to negotiate the exact implications of that — Does it mean starting a specific number of matches? Knowing that the club won't bring in another right-sided centerback? — it seems safe to assume that Edu and Mikel Arteta can agree to virtually anything within reason. If we consider his time in France in addition to his hot start in England, Saliba seems more than capable of starting Arsenal's Premier League matches, barring any potential injuries or rotation. Most manager won't need their arm twisted in order to start an incredibly talented player.
It's also worth noting that, during his time in North London, Arteta has shown himself to be a loyal manager. If you buy into his non-negotiables, the Spaniard is going to give you every chance to play. While we can't know how every single interaction behind the scenes plays out, the manager's team selections suggest that he has a high degree of faith in Saliba. Unless something happens to sever that trust, it's unlikely that Arteta will pull the defender out of the starting 11 for a significant period of time.
Will that be enough to convince the Frenchman to pledge his future to the Gunners? Maybe not, but beyond offering significant playing time and a substantial raise, there's only so much that Arteta and Edu can do.
Whether Ornstein's update leaves you feeling optimistic or pessimistic, though, every Arsenal supporter will be in the same boat. At this point, all anyone in North London can do is wait.
Like Sportscasting on Facebook. Follow us on Twitter @sportscasting19 and subscribe to our YouTube channel.