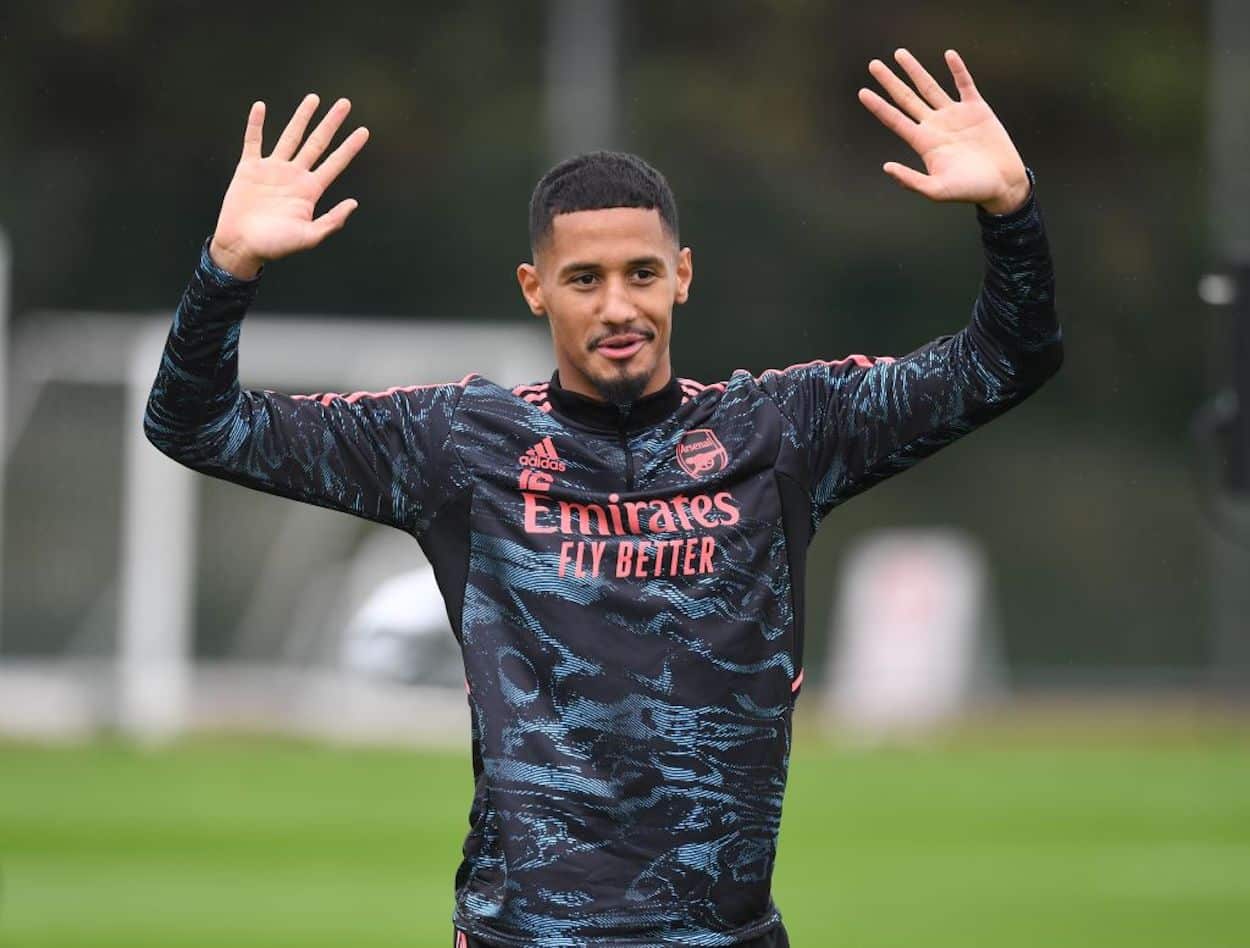 Arsenal Rumors: The William Saliba Contract Situation May Be Much Different Than We Thought
Arsenal will want to extend William Saliba's contract, but a new report suggests that the club's situation is less dire than it seemed.
Under most circumstances, talk of soccer contracts goes silent outside of the transfer windows. William Saliba, however, is proving to be so talented that he's changing the rules. After shining with Marseilles last season, the young defender has slotted into Arsenal's starting 11 without missing a beat. He looks so good that the Gunners brass reportedly want to get working on a contract extension ASAP.
While the early reports haven't really moved the needle — Saliba has suggested that he's happy in London and that preliminary talks had begun, but it didn't look like any deals were imminent — a new piece of reporting changes everything. According to Simon Collings, Arsenal hold the option to automatically extend the young Frenchman's contract by a single season.
Arsenal reportedly added options to three contracts, including William Saliba's
After Arsenal's fine start to the season, the club's personnel goals have been pretty clear. Edu Gaspar and Mikel Arteta want three promising talents, Bukayo Saka, Gabriel Martinelli, and William Saliba, to sign contract extensions ASAP.
Thus far, the prevailing narrative has been that those deals were necessary since all three contracts expired at the end of the 2023-24 season. That would mean that the 2023 summer transfer window would be crucial, as Arsenal would be faced with the choice of selling their young stars or taking the risk of losing them as free agents.
Now, it seems like things are a bit less time sensitive.
In his Evening Standard story, Simon Collings quoted Mikel Arteta as saying that the club was "working on it" and wanted to "reward" the players who had been shining. Beyond that, though, there was an incredibly important nugget.
"The trio's current deals all expire in 2024, but the three players all have options that could be activated to extend them further," Collings wrote. "Saka and Saliba's current contracts have one-year options, while Martinelli's has a two-year option."
Especially on the Saliba front, that club option could be massive for Arsenal
It goes without saying that having those options (assuming that Collings' reporting is accurate and they do exist) is a massive boost for Arsenal across the board. The biggest boost comes on the Saliba front.
Based on everything we've heard, Bukayo Saka and Gabriel Martinelli seem like safer bets to sign new deals. The French defender, however, is in a different situation. Based on his multiple loan spells, it's possible that he feels hard done by the Gunners. Things are also complicated by his star status; should he look to leave Arsenal, especially after a strong World Cup, he'll have his pick of the continent's top clubs.
If the North London club holds an option to extend, that saps some of Saliba's leverage. While he's still an exciting prospect who would have plenty of suitors, he's no longer a year away from signing a pre-contract deal. Arsenal aren't groveling at his feet, begging him to stay; they're offering him a sizable raise and plenty of security.
From the supporters' perspective, the (presumed) presence of those options is another positive sign of the club's growth. In the past, Arsenal have mismanaged contracts and allowed plenty of talent to leave the Emirates for pennies on the dollar. Building team options into contracts suggests some growth on that front; the extra leverage will hopefully make extensions easier, but, if nothing else, it will make it easier to sell from a position of strength.
At this point, it remains to be seen how things will play out with William Saliba. Having a one-year option built into his contract, however, would be a game changer for Edu, Arteta, and the nerves of supporters everywhere.
Like Sportscasting on Facebook. Follow us on Twitter @sportscasting19 and subscribe to our YouTube channel.