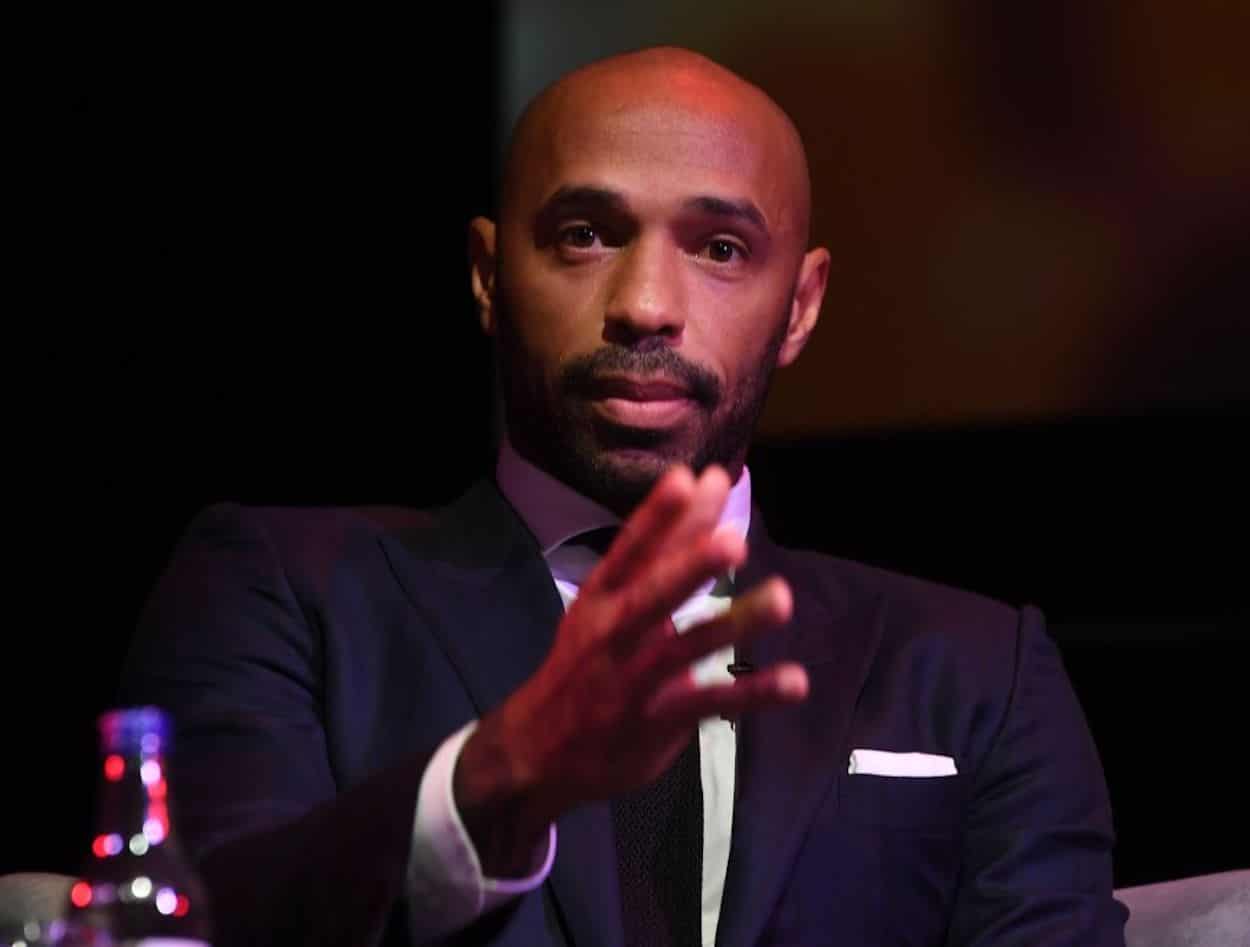 Arsenal Legend Thierry Henry Believes the Gunners 'Are Back to Compete'
Thierry Henry has been critical of Arsenal in the past, but he clearly likes what he's been seeing from the current Gunners.
Even if they aren't Arsenal supporters, soccer fans everywhere will remember Thierry Henry. The Frenchman was a lethal attacker and, above all else, had high standards. Even in retirement, he isn't one to pull his punches. In 2020, for example, a story emerged that he couldn't bear to watch an Arsenal match after seeing Granit Xhaka was wearing the captain's armband.
These days, though, Henry is singing a different tune about his former club.
During Tuesday's Champions League coverage, the former forward was asked about the North London Derby and Arsenal's current trajectory. In Henry's mind, the Gunners are on the right track and "back to compete."
Thierry Henry liked what he saw during Saturday's North London Derby
On Saturday, the television director made sure that we knew Thierry Henry was at the Emirates to watch Arsenal face off with Tottenham. Even though the first half of the match didn't go 100% according to plan, the legendary striker still came away from the stadium feeling pretty good.
"I'm not surprised with the result because whenever they come to us, I don't know why, but they don't usually perform," Henry during CBS' Champions League coverage. "One win in 29 visits. So it usually happens. But what I like with the Arsenal team, right now it's a different team. If you talk about something that is important, it's a different team. Gabriel Jesus is really changing, not only him. We talked before, [William] Saliba at the back allows them to play in a back four. So Mikel [Arteta] goes into what Pep [Guardiola] does with City, [Okelsandr] Zinchenko. [Granit] Xhaka is playing well better. That's what I was more impressed with than the result because that's what happens all the time."
On the back of that praise, Henry was asked if Arsenal were back. While he tempered things a little bit, the Frenchman does seem to be confident in his old club.
"It's, what, nine games in the league," he wondered [Arsenal have played eight domestic matches so far]. "Back to compete, I would say. What's nice to see is a team that can compete. … Competing for me, I've always said, and this is not because it's Arsenal or any different team. When you pass Boxing Day and Christmas, it's going to be different [this year] because you have the World Cup, and it's a different year. Once you pass January and you're still up there competing for the title, then you're a title contender."
Even if Arsenal aren't ready to genuinely win titles, the fact that they're in the conversation speaks for itself
At this point, comments about Arsenal have to be loaded with caveats. They look good, at least as of now. They seem like they can compete for a title rather than being title contenders. Arsene Wenger also made similar comments saying that his old club had a good chance to be in the hunt rather than having a good chance to win the league.
For Arsenal supporters, those may sound like backhanded compliments, suggesting the Gunners are still a bit underserving of sitting at the metaphorical adult's table. When we consider the club's recent history, though, things take on a much rosier tone.
While no one wants to revisit some of the worst moments in recent Arsenal history, think back to what's unfolded over the past few years.
Arsene Wenger's mere presence at the club became a divisive issue, splitting the fan base in two.
Unai Emery came within touching distance of a return to the Champions League but choked it away. The standard of football suffered — remember conceding 30+ shots to Watford? — and the Spaniard ultimately lost the dressing room.
Freddie Ljungberg took over as interim manager and headed into the technical area without a real coaching staff.
Mikel Arteta came in and began a slow and painful process of turning over the roster. Mesut Ozil's fate divided the supporters again, and Arsenal finished in 8th place for two consecutive seasons. The Gunners did the unthinkable: spent a season without any European football.
Through that lens, even being mentioned in as anything near a title contender is incredible progress. While there's still plenty of time for the Gunners to slip down the table this season — as long-time supporters can tell you, the club never does things the easy way — the signs of progress are there. There's plenty of talent and (some) depth, a defined style of play, and a growing connection between the first-team squad and the supporters.
At the risk of preemptively providing an excuse, only one team can win the Premier League title each season; if that's your only measure of success, 19 teams are going to fail.
Arsenal are playing well. They're earning plenty of praise, with some of it coming from legends like Arsene Wenger and Thierry Henry. While that's not worth a trophy in and of itself, it's still worth flagging.
The Gunners are, in at least some capacity, back.
Like Sportscasting on Facebook. Follow us on Twitter @sportscasting19 and subscribe to our YouTube channel.