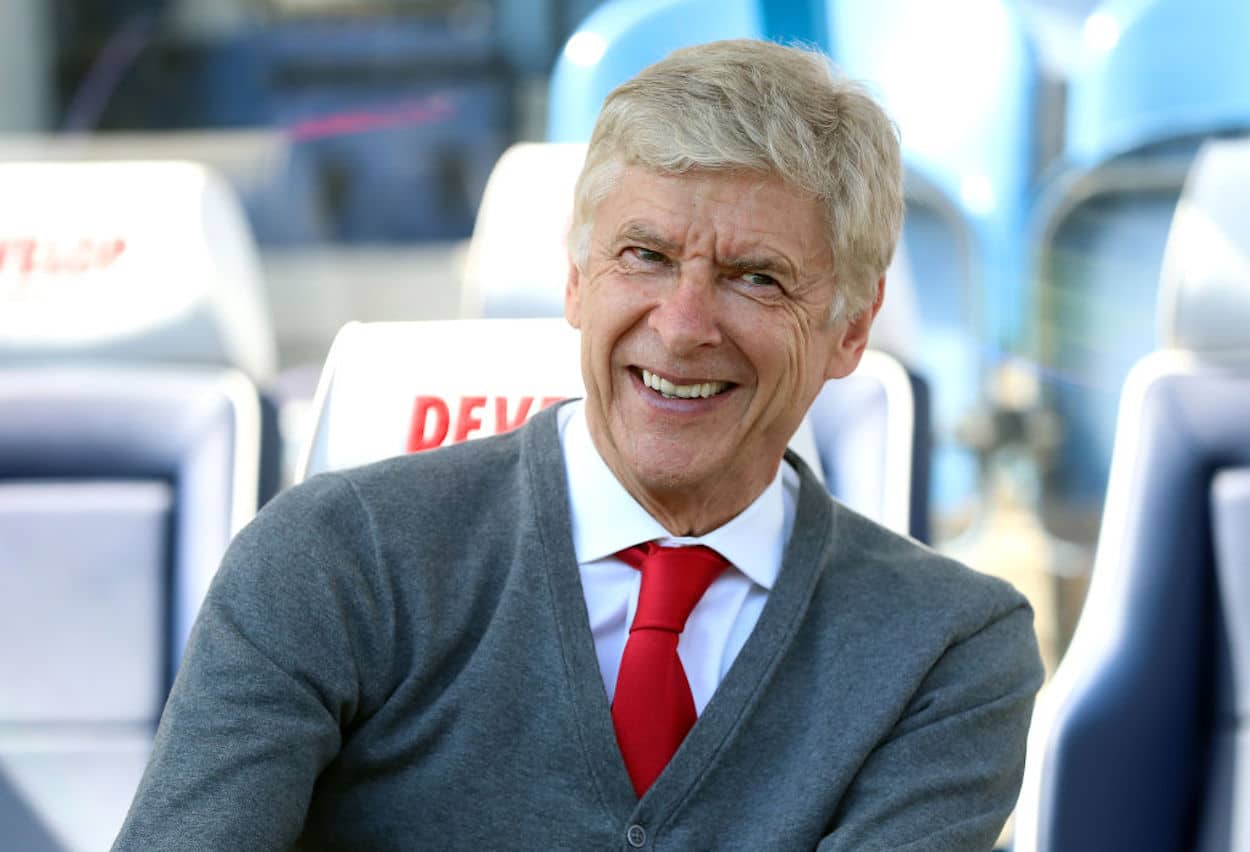 Arsene Wenger Believes That Arsenal 'Have a Good Chance' to Challenge for the Premier League Title This Season
While it's been a while since Arsenal truly competed for a Premier League title, Arsene Wenger thinks his old club has a golden opportunity this season.
While he's worked elsewhere in the world of soccer, it's impossible to think of Arsene Wenger without connecting him to Arsenal. The Frenchman spent the bulk of his career in North London, revolutionizing the club and making Premier League history. Things may have ended on a sour note, but the legendary manager is still keeping tabs on the Gunners.
And, if anything, he likes what he sees.
In fact, Wenger is willing to take things even further than most supporters. During an interview with Football Daily, he went on the record as saying that Arsenal already "have a good chance" at fighting for the Premier League title.
Arsene Wenger is optimistic about Arsenal's Premier League chances
During his time at the helm of Arsenal, Arsene Wenger wasn't shy about making a bold statement. He, after all, publicly mused about going an entire season without a single defeat the year before his Invincibles did just that. Even though he's left North London behind, it appears that the manager is still willing to stick his neck out for the Gunners.
"I would say they have a good chance this season," the Frenchman said when asked about Arsenal's timeline for challenging for the Premier League title. "Because I don't see any super-dominating team. I believe that it's a good opportunity this season to do it. And, of course, it's a little bit a special season as well, because you have the World Cup in the middle. You don't know how much that will affect the performances of either the players or of the teams. But, above all, I believe it's a good opportunity there."
While the Gunners have looked good through the opening forays of the current campaign, chasing a Premier League title is certainly a step up from their recent history. So is Wenger just looking at his old love through red-tinted glasses? Or is he onto something?
Let's break it down.
The case for Arsenal competing for a Premier League title
The biggest factor working in the Gunners' favor is that, at least as far as we can tell, they look pretty good. While there's room for all sorts of caveats about strength of schedule, Arsenal have barely missed a beat through the first seven matches. They're sitting atop the table with six wins and one defeat and, perhaps more tellingly given the club's recent history, have scored the third-most and conceded the joint third-fewest goals in the league.
Mikel Arteta has done a good job of solidifying the team's defensive structure, and the additions of William Saliba and Oleksandr Zinchenko only further that aim. While some gaps can still emerge in the midfield — we'll talk more about that later — the Gunners do seem pretty comfortable when the opposition has the ball.
The club's attack has also been helped by the addition of Gabriel Jesus and some structural changes elsewhere on the pitch. Arsenal have been playing with something of a 2-3-5 in possession, which creates more space and allows additional bodies to pour into the box. While it's still early days, those changes seem to be yielding dividends.
Beyond the on-pitch improvement, the current realities that Wenger noted could help. Thinking back to Leicester's improbably run to the title, the Foxes were helped by the fact that virtually all of the traditional powers stumbled at the same time. Given that clubs like Manchester United, Liverpool, and Chelsea have struggled to find their footing thus far, Arsenal could seize the opportunity.
Things could also be magnified by the in-season World Cup. Should someone like a Harry Kane or a Kevin De Bruyne return from Qatar carrying a nagging injury, the top of the table could be wide open.
Arsenal's depth, however, could come back to bite them as the schedule ramps up
Keeping our attention on the unusual 2022-23 schedule, that reality could also be a major obstacle for the Gunners. While sporting wisdom would indicate that you can't really litigate for a surprising injury, Arsenal seems remarkably unprepared to cope with a key absence, especially in two important areas of the pitch.
The first of those is the midfield, which we already saw when both Thomas Partey and Momahed Elneny were out at the same time. Albert Sambi Lokonga has potential, but he can't anchor the team like the Ghanaian. Similarly, Granit Xhaka can sit as the deepest midfielder, but he lacks the speed and athleticism to truly mop up any messes. Sliding him into that role would also keep him from playing as a freer 8, where he's recently thrived.
Similarly, Arsenal doesn't have the greatest wealth of wide attackers. While there are options — Emile Smith Rowe, Fabio Vieira, Marquinhos, and even Gabriel Jesus could play on the wings — none of those options are ideal. Smith Rowe, for example, hasn't proven capable of staying fit. Marquinhos and Vieira are young, and moving Jesus to the wing means starting Eddie Nketiah at striker.
In both cases, Arsenal could survive for a match or two. Should there be a serious injury, whether it comes during the World Cup or afterward, the Gunners will be left fielding less-than-ideal options for a heavy slate of games that will also include European engagements.
Think back to last season's homestretch, when Arteta's men seemed to have fourth place in their collective grasp. Youth, inexperience, and an overall lack of talent, however, ultimatly caused the club to come up short. An inopportune injury could send Arsenal back to that same situation.
On a similar note, there's also an incredible amount of quality in the league. Manchester City, despite sitting one point behind Arsenal, still look like a force to be reckoned with; even if they don't play a perfect game, Erling Haaland's goals will paper over plenty of cracks.
Tottenham, for all of their history of being "Spursy," have some elite offensive threats and a world-class coach. Liverpool can't be counted out after seven league matches, plus a couple of European engagements. Chelsea now have Graham Potter at the helm, and Manchester United, for all their issues, have looked more solid since the close of the transfer window.
Even if they aren't super dominant, to use Wenger's words, having that many teams (theoretically) in the same pack shrinks the margin for error.
When push comes to shove, your assessment of Wenger's words will probably come down to how you define competing for the title. If that means the Gunners will be in and around the top four down the final stretches of the season, that's certainly possible. If you're expecting them to come within a few points of the big trophy, though, the margins will probably be a little too fine this year.
Like Sportscasting on Facebook. Follow us on Twitter @sportscasting19 and subscribe to our YouTube channel.