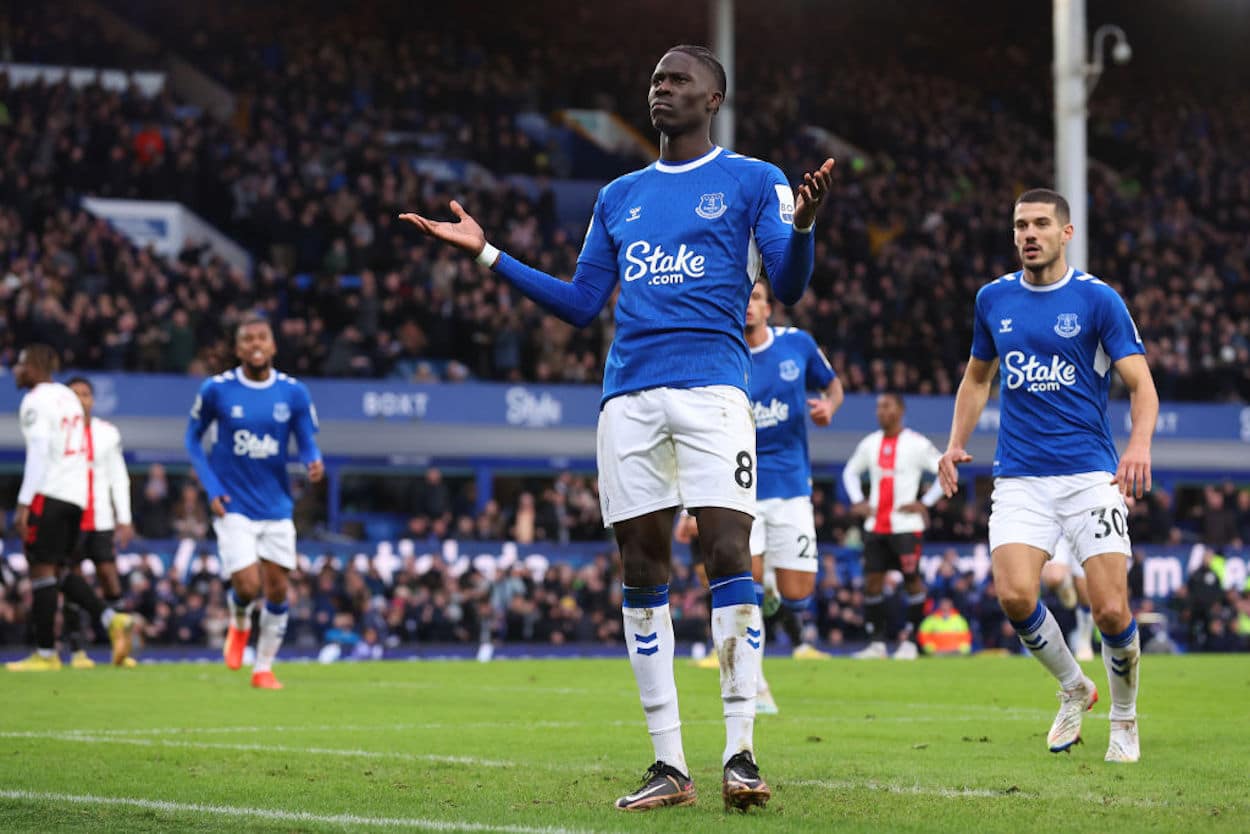 Arsenal Transfers: Assessing Amadou Onana as a Potential Thomas Partey Replacement
Due to his unique skillset, Thomas Partey has been an irreplaceable player in Arsenal's starting 11. Could an Amadou Onana transfer finally give him a break?
Within the space of soccer's January transfer window, Arsenal's business plan seems to have evolved. At first, Mykhailo Mudryk appeared to be the Gunners' main target. He headed to Chelsea, though, leaving the North London club with a boatload of money to use in other ways.
First, the club landed Leandro Trossard, a win-now addition. Jakub Kiwior, a Polish defender capable of providing some extra depth, arrived shortly after. And while we're only working with rumors, it seems like a midfielder could also be on the menu.
While Declan Rice is a dream target, he'll be tough to pry away from West Ham, as the Hammers are trying to avoid relegation. With that in mind, Everton's Amadou Onana has emerged as a potential alternate. Let's consider the young Belgian and assess his fit in North London.
Circumstances have conspired to make Amadou Onana (potentially) available, and Arsenal seem interested
As any sports fan can tell you, having good luck can make all the difference. In the case of a potential Amadou Onana transfer, Everton's misfortune could be Arsenal's gain.
In the summer, the Toffees purchased Onana to bolster their midfield. Midway through the campaign, though, things have fallen flat. The club is languishing at the bottom of the Premier League and fired manager Frank Lampard.
While Onana has shown potential during his first campaign in England, that reality could affect his future. When a new manager arrives, they'll theoretically want their own players. If someone like Sean Dyche takes over and tries to turn Everton into a sturdy defensive squad capable of grinding out results, will he want to rely on a 21-year-old in the center of the park?
Beyond that, the Merseyside club isn't in the greatest financial shape. As noted by The Athletic, Everton has lost £371 million across the past three campaigns. If there are fears of relegation, which would only make things worse, perhaps it's worth cashing in on the most sellable assets now. That would be especially true if the brass has some idea that Onana wants to leave or suspect a new manager wouldn't prefer him.
In that context, Sky Sports' Ben Grounds reported that the midfielder hadn't reported for training on January 24. Anthony Gordon, who's also been linked to a move away from Goodison Park, wasn't present. Arsenal and Chelsea have both been linked to Onana, but, at this point there's no indication of who, if anyone, has the edge.
Comparing Amadou Onana to Thomas Partey
The biggest reason why Arsenal would need a new midfielder is to provide depth behind Thomas Partey. The Ghanaian is a key part of Mikel Arteta's system and, thanks to his unique skill set, is essentially irreplaceable. If he's out of the lineup, other sacrifices have to be made to compensate.
Would Onana mitigate that? Let's consider the data using FBref's percentile rankings, which compares him and Partey to other midfielders.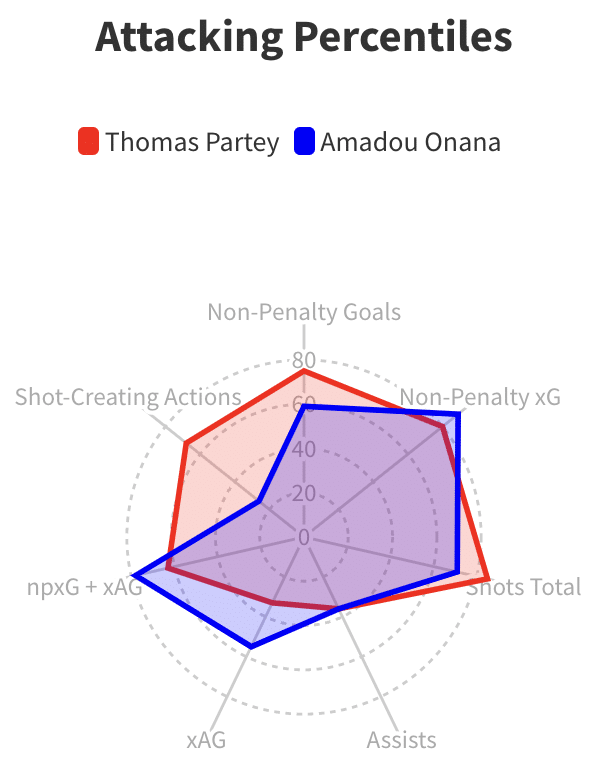 First, the attacking numbers. These are theoretically the least important part of Partey's game, but it's still worth comparing. The Arsenal man looks better in terms of shot-creating actions, goals, and total shots, while Onana gets the edge in non-penalty expected goals, expected assists, and non-penalty expected goals+expected assists. Those differences are probably at least partially tied to differing usages, with the young Belgian playing more of a box-to-box role.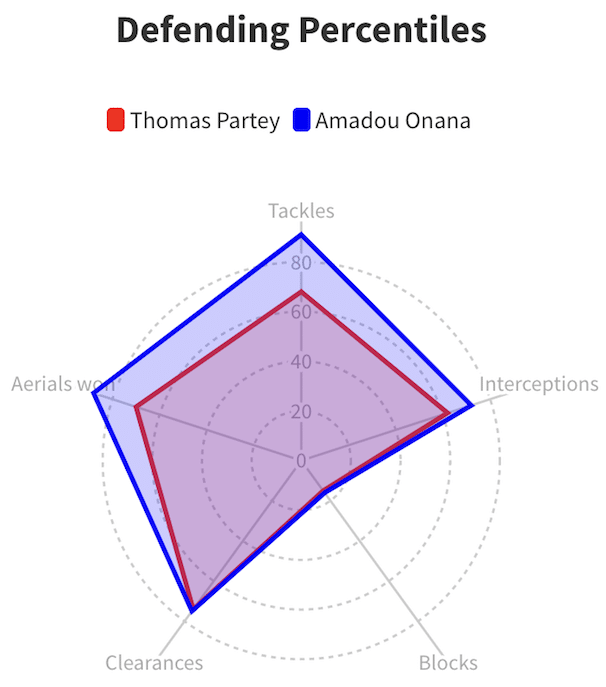 Moving to the defensive side of things, the similarities are apparent. Both players do the same things well, although Partey performs at a higher level. At this point, you're probably thinking that Onana is the perfect protege, right?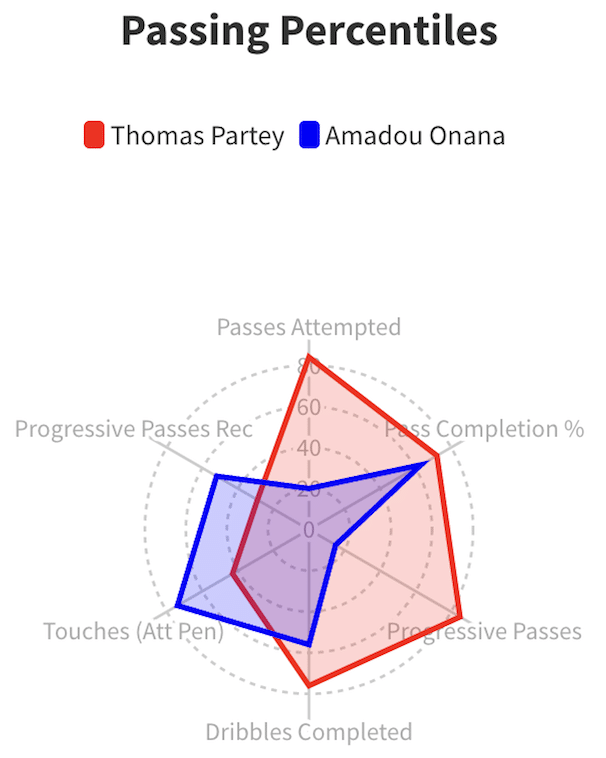 The passing radar, however, tells a different story. While Onana's numbers aren't bad — if anything, his ability to pile up touches in the opposing penalty area is impressive — this visualization highlights Partey's key role in Arsenal's system. He essentially sits as a single pivot and handles much of the Gunners' ball progression. Whether he's dribbling, completing an easier pass, or pinging a more progressive ball down the flank, the Ghanaian breaks the press and gets Arsenal's attack firing.
Onana, at this point in time, simply can't do that. While you could argue that systems matter — Everton aren't good, so there's going to be less opportunity to flex forward-thinking muscles — the 21-year-old's numbers seem to push beyond that caveat. When your progressive passing numbers are worse than the famously conservative Mohamed Elneny, it's clearly not a strength of your game.
Amadou Onana isn't perfect, but he could still fit the profile of some previous Arsenal transfers
So, as we've established, Amadou Onana's passing could be a legitimate problem should Arsenal be interested in his services. With that being said, though, there's still a way he could fit in at the Emirates.
Under Mikel Arteta and Edu, the Gunners have purchased younger players with potential. While many of those were thrust into the starting lineup, the current squad is capable enough to allow some others to develop. Take the arrival of Jakub Kiwior, for example. The Pole's passing range is certainly intriguing, but he's not coming to London to immediately anchor the defense.
Given Thomas Partey's importance to the team, it's safe to assume Onana would be purchased in a similar capacity. He'd provide a depth option and learn the ropes in easier matches with the expectation that he'd eventually take over.
Even with that potential path into the squad, though, there are still some potential red flags. First, Arsenal's brass needs to believe that Onana's passing can improve with time and experience. If that never becomes part of his game, he won't fit into Arteta's system. Beyond that, there's the issue of price. Everton paid in the neighborhood of €36 million for the midfielder, and, according to The Guardian, there's a sell-on clause in his contract. That means the Toffees will expect a pretty penny if they're willing to sell him mid-season. It's fair to wonder if that price is 1) worth it for a backup player and 2) will prevent Arsenal from making a larger move for someone like Rice in the summer.
At this point, though, all we can do is wait to see how the rest of January plays out.