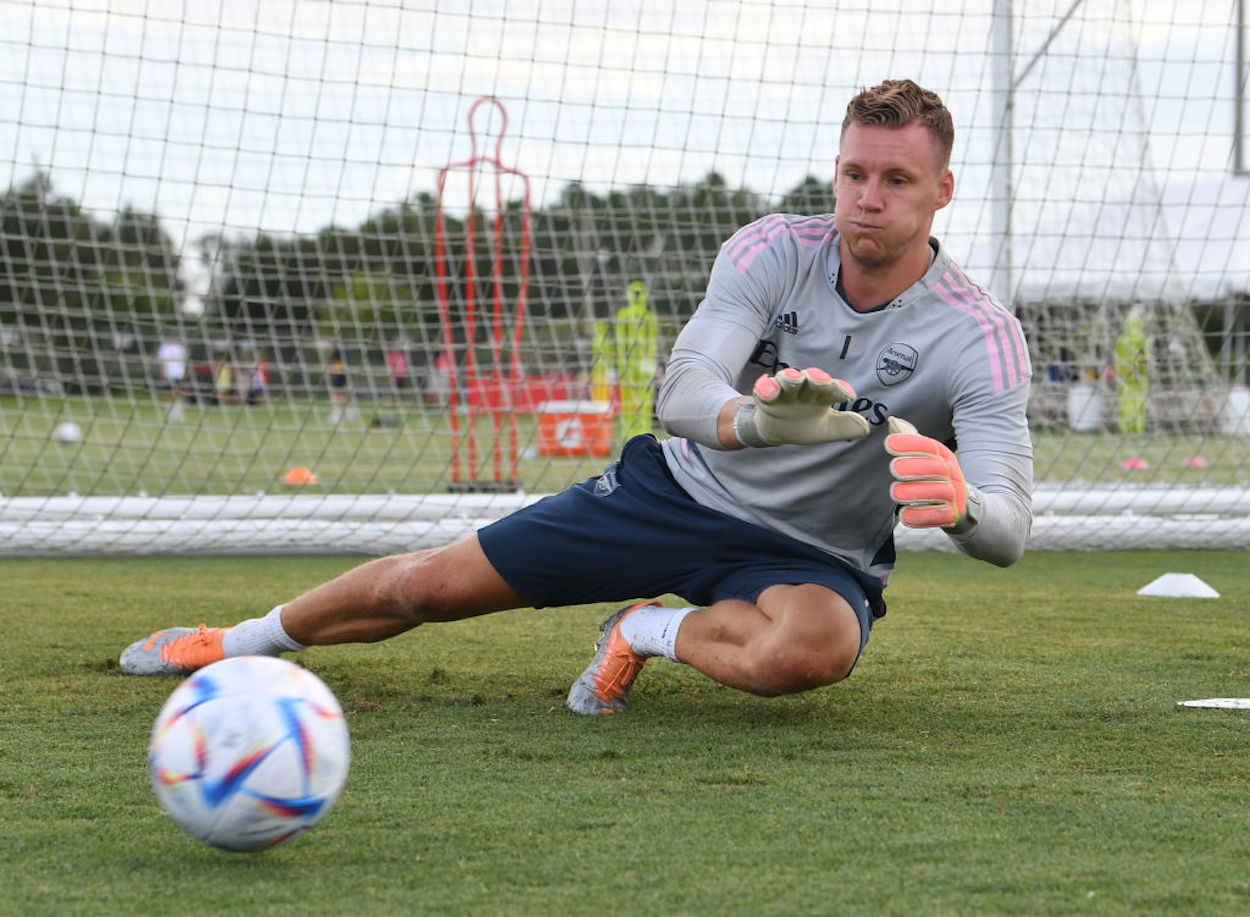 Arsenal Transfer News: Bernd Leno's Departure Raises Old Fears About the Gunners' Ability to Sell
Arsenal needed to move Bernd Leno to streamline their roster, but his paltry transfer fee still raised plenty of eyebrows.
While the 2022 World Cup has pushed the start of the Premier League forward, the transfer window is in full swing. For Arsenal, that means the focus is on outgoings; no soccer team, regardless of their European commitments, can go into a campaign with a 30-player roster. The Gunners took a step in the right direction on Tuesday, as Bernd Leno officially moved across London and joined Fulham.
Although the deal was necessary — Aaron Ramsdale replaced Leno as the top choice, and Matt Turner was brought in to be the back-up — some eyebrows were raised as David Ornstein reported the finer details of the deal. Even if everything breaks perfectly, Arsenal will only pocket £8 million.
That reality has, in turn, raised some old concerns about the club's ability to sell. While turning a profit is important, Rome won't be built in a day. The team needs to improve before transfer fees follow suit.
Arsenal sold Bernd Leno, but the club won't see much money in return
While his heroics were invaluable during the Unai Emery era, Bernd Leno's ball-playing ability simply doesn't match what Mikel Arteta expects of a goalkeeper. That reality, combined with the emergence of Aaron Ramsdale, put the writing on the wall for the German.
After losing the starting job last year, it was obvious that Leno would have to move on; no goalie in his prime, especially one hoping for a place on a World Cup roster, will be content with sitting on the bench for most of the campaign. Reports suggested that he wanted to stay in London, and, on Tuesday, August 2, he got his wish.
On a personal level, Arsenal supporters won't hold anything against Leno. He did his job, behaved professionally, and asked to move on after the team no longer needed him. His transfer fee, however, did inspire some more negative emotions.
As reported by David Orenstein of The Athletic, Arsenal will only receive a base £3 million fee for Leno. Another £1 million will be added if he appears in a certain number of Premier League games. There are also two separate £2 million fees that will be paid if Fulham avoid relegation this year and next year, respectively.
While the appearances shouldn't be a problem — barring an injury, Leno should start just about every game — the final two fees seem significantly less likely. Avoiding relegation is tough for any club, as Fulham knows from previous experience. Scott Willis' early predictions, for example, aren't too kind to the Cottagers. They're in better shape than Bournemouth and Nottingham Forrest but still sit in 18th place with a 33% chance of heading back down to the Championship.
A £4 million transfer fee isn't ideal, but it speaks to where Arsenal are at the moment
While the Leno fee might be somewhat understandable — he's a goalkeeper in the final year of his contract, and there was only one club that really fit his criteria — it's still going to sting Arsenal supporters. When you consider the club's struggles to sell players and juxtapose that against Liverpool's ability to turn bit-part players into sizable transfer fees, it's easy to feel like it's deja vu all over again.
Those emotions are valid, and I'm not here to devalue them. While the Gunners do need to get better at selling, their recent outgoings speak to the reality of where the club currently sits within the big picture.
Let's consider the players who Arsenal have moved or tried to move in recent years. For every Alex Oxlade-Chamberlain or Joe Willock, there have been plenty of Shkodran Mustafis and Lucas Torrieras. Even someone like Leno, who is a capable player, albeit one who doesn't fit the current version of the club, isn't someone who is being pried away from North London. Arsenal need to move him, and everyone knows it.
Although multiple factors go into selling players, the largest piece of the puzzle is having other teams actually want the player. Right now, Arsenal's depth simply doesn't allow for that reality. The names that would actually attract attention — think Bukayo Saka, Gabriel Martinelli, or Gabriel — are internally viewed as untouchable.
To be fair, the club's depth is improving. Fabio Vieira has come to London without a starting role; the return of William Saliba, combined with the purchase of Oleksandr Zinchenko, gives the Gunners five capable defenders for four starting spots. Emile Smith-Rowe, if healthy, will presumably rotate with Martinelli on the left wing, although it's possible that he can play more centrally. While none of those names should leave Arsenal anytime soon, the squad is filling out.
At the risk of furthering the comparisons between Arsenal and Manchester City, the latter club is able to sell because of their squad. Moving Zinchenko, for example, isn't too scary when you have Joao Cancelo slotting in at left-back. Similarly, you can sell Gabriel Jesus when Erling Haaland and Julian Alvarez are coming to town. It goes without saying that Arsenal are nowhere near that level, making it harder to sell players for sizable fees.
So, in isolation, is selling Leno for a transfer fee that will end up being somewhere between £3 and £8 less than ideal? Yes, but it's also understandable. During Mikel Arteta's reign, everything has been part of a gradual improvement process. Selling players, like it or not, will have to be a part of that growth.
Like Sportscasting on Facebook. Follow us on Twitter @sportscasting19 and subscribe to our YouTube channel.