Arsenal Transfers: The Moises Caicedo Saga Is As Much About Fear As It Is About Soccer
With soccer's January transfer window inching toward its conclusion, Arsenal remain busy. The Gunners have already added a forward and a defender, and it seems like a midfield addition is still on the metaphorical menu. Since West Ham are unlikely to let Declan Rice leave midseason, that's pushed Brighton's Moises Caicedo to the top of the list. The Seagulls, however, are insistent that the Ecuadorian isn't for sale.
While there's no way of knowing how things will play out, the current saga is rather telling. If you take a step back and look at the larger landscape, Arsenal's pursuit of Moises Caicedo is about something bigger than soccer. We're talking universal things, like fear and the ability to dream.
Let's break it down.
Arsenal and Brighton are yet to see eye-to-eye about a potential Moises Caicedo transfer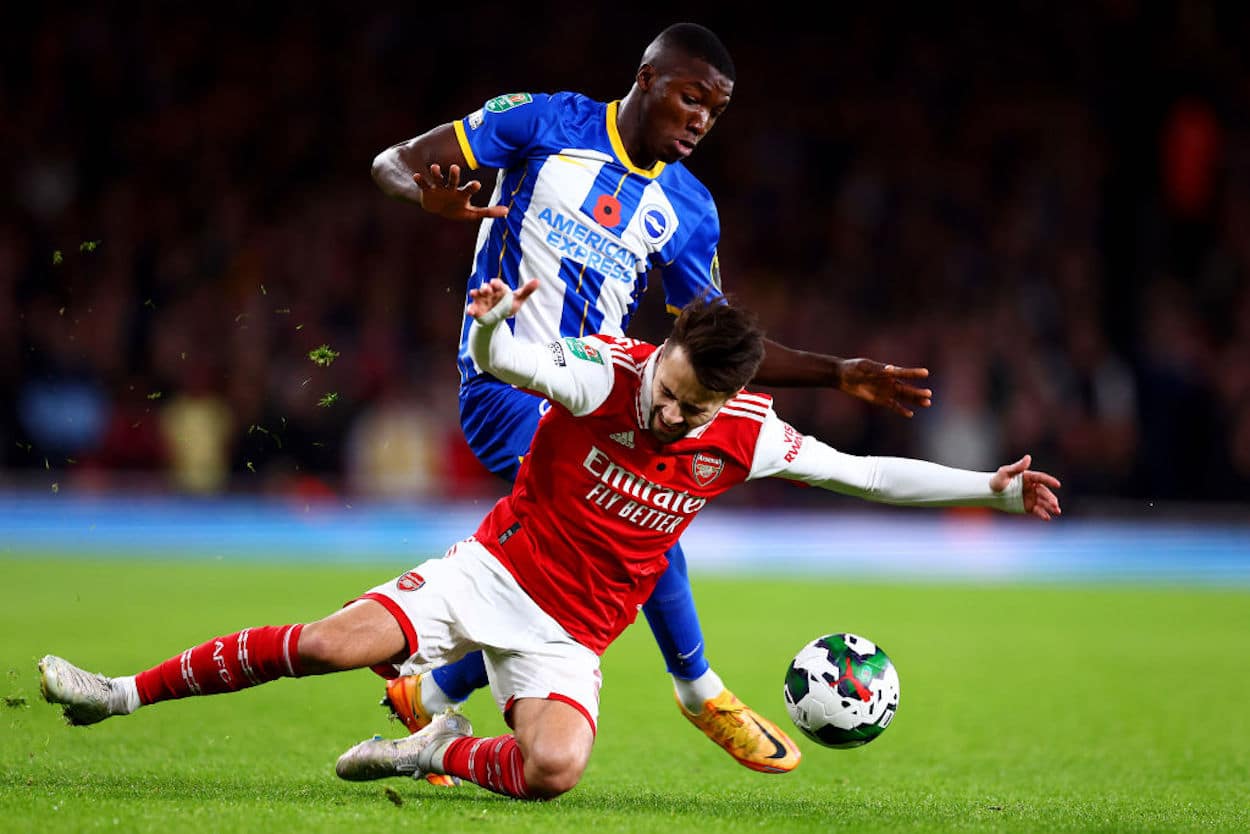 As the cliche says, it takes two to tango. While you could argue that's a bit reductionist for football transfers — the player matters, too — Arsenal need Brighton to budge if they want to land Moises Caicedeo.
While it's tough to completely nail down what's happening during a transfer saga, it appears that the Gunners have made two offers for the Seagulls midfielder. Both of those bids, however, have been promptly rejected. The line out of Brighton is that the Ecuadorian isn't for sale.
Two factors, however, suggest that could change. First, Caicedo took to Instagram and essentially asked to be allowed to leave. While that might not seem like much, clubs are generally cautious about keeping a player against their will. History also indicates that Brighton will sell — it's a key part of their business model — but only at a price that meets their standards. If Arsenal are willing to pay a certain amount, whatever that may be, a deal is possible.
It remains to be seen, however, if Mikel Arteta and Edu are prepared to pay stupid money before the end of the window.
Caicedo would undoubtedly make Arsenal better, but the saga surrounding his transfer also speaks to the Arsenal fan base's collective fear
To be clear, it's obvious why Arsenal is interested in Moises Caicedo. The Ecuadorian has plenty of potential and would be a long-term part of the Gunners' engine room. In the short term, though, he's also provided valuable depth between Granit Xhaka and Thomas Partey. Should either of those men suffer an injury, it would completely alter the club's playing style.
That latter point is incredibly significant. As much as everyone on the red side of North London are trying to remain calm and take things one step at a time, Arsenal are firmly in the title race. Most models list them as the favorites. And while that's thrilling, it's also terrifying.
While virtually every fan base dreams of winning the league, things feel a bit different when it comes to Arsenal. Gooners haven't seen their club lift the big trophy since 2004, when their club went undefeated for the entire campaign. Since then, players have left, and, as much as it hurts to admit, the standards have slipped. After limping through eight-place finishes, no one wants to blow this opportunity.
Beyond that, there's the lingering doubt that Arsenal will be Arsenal and find some way to blow this chance. In 2015-16, the Gunners had an opportunity to push for the title but failed to land any significant reinforcements for January. The North London club finished in second place as Leicester completed a fairytale charge to the title. In more recent history, Mikel Arteta's men had fourth place in their collective hands last season, only to let it slip after some key injuries and bad results.
No one wants to see that again, and I'd wager it's playing a role in how the Caicedo transfer saga is playing out on social media.
If you've spent any time on soccer transfer Twitter, you'll notice there's a divide of opinions. Some feel that Arsenal are insulting Brighton by making these offers for Caicedo. Others are insistent that Edu and company are fixated on a deal that won't happen and that there needs to be a plan B. Then, there's a third (albeit less prominent) camp that feels the deal has to get done, regardless of the price.
At the risk of painting with a broad brush, I'd say that all comes back to one emotion, at least from an Arsenal perspective. It's scary to dream of a Premier League title and know that an injury could change everything. It's even tougher when you've been bitten before. To cite Ted Lasso, it's the hope that kills you as a supporter.
So, to tie it all back to the actual football, would Moises Caicedo make Arsenal better? Of course? Are there other midfielders who could do a job for the rest of the season? Yes. Is it possible that the Gunners will either finish strong or crumble down the stretch independently of what happens during the last few days of the transfer window? Sure.
At this point, though, no one knows which of those paths things are destined to go down. That's the scary part.
Again, it's the hope that kills you.