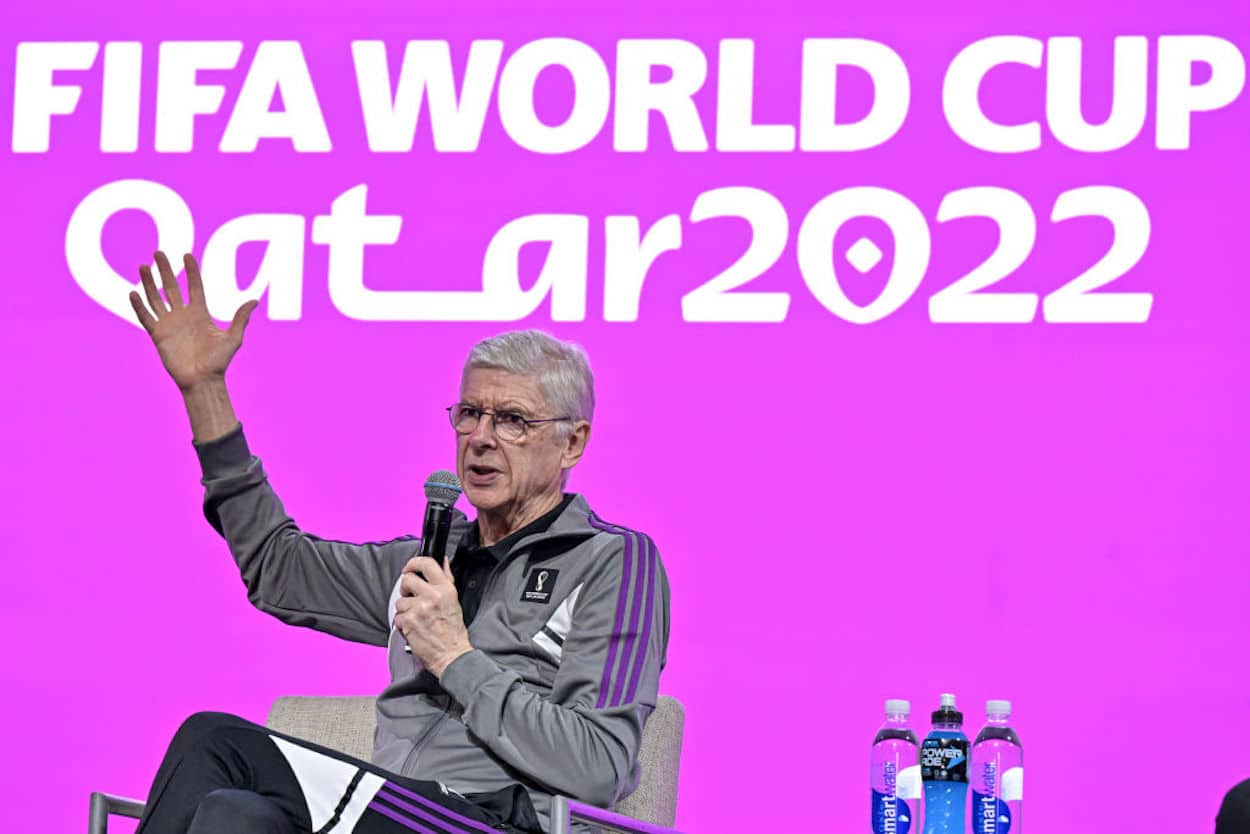 Arsene Wenger Deserves to Be Called Out for His Disappointing World Cup Comments
Arsene Wenger may be one of modern soccer's greatest minds, but he didn't cover himself in glory during some recent media availability in Qatar.
As we've established in previous Sportscasting posts and videos, I'm an Arsenal supporter. That reality, combined with my age, means Arsene Wenger holds a special place in my heart. While no one person is bigger than the club, the legendary manager comes pretty close. He, for better or worse, shaped my views on both soccer and sport during my time in North London.
My esteem for Wenger, however, is why I have to call him out.
At this point, there's nothing new about the famous Frenchman working for FIFA, and if you want to be an optimist, you could argue that post gives him a platform to change football for the better. Wenger's comments at the 2022 FIFA World Cup, however, shatter that charitable reading.
Arsene Wenger suggested that World Cup protests led to worse performances on the pitch
During the 2022 World Cup, one of the storylines has centered on some nations trying to use their time in the spotlight to make statements about society at large. There were plans to wear rainbow armbands, but the threat of on-field punishment ended that idea, and Germany's players covered their mouths before their opening match against Japan.
In Arsene Wenger's mind, those efforts proved to be a distraction.
Speaking at a media briefing for FIFA's Technical Study Group, Jurgen Klinsmann spoke about how nations that struggled to adapt to playing a mid-season World Cup struggled in the group stage. While that's a reasonable — if slightly obvious — point, Wenger took things a bit further.
"I would just add that the teams who were not disappointing with their first game performance — because when you go to the World Cup, you know not to lose the first game — are the teams who have experience," Wenger said (h/t ESPN). "They have results in former tournaments like France, like England, like Brazil. They played well in the first game. And the teams, as well, who were mentally ready, like Jurgen said, that [had] the mindset to focus on competition and not on the political demonstrations."
Let's unpack that quote a bit more.
Purely from a footballing perspective, that link between protest and performance is iffy at best
If nothing else, we know that Arsene Wenger is an intelligent man who knows a thing or two about soccer. In this case, though, he seems to be conveniently picking and choosing his evidence.
Take England, for example. They had planned to wear the rainbow armbands against Iran, and, when that wasn't allowed, the Three Lions took a knee before kickoff. That didn't seem to affect their performance.
And while Germany did make a unified gesture before losing to Japan, the scoreline doesn't tell the entire story. Hansi Flick's squad played pretty well in that game — and, in fairness, actually put up strong expected goal numbers during their three matches — but couldn't find the back of their net. Could you argue that a 10-second stance before the whistle was a distraction? Sure, but it seems like weak logic to suggest that an entire team of professional athletes were all so distracted that they collectively failed.
To take things further, consider Australia. The Socceroos proved to be one of the stories of the tournament, as they escaped the group stages ahead of Denmark and put in a valiant effort against Lionel Messi's Argentina in the Round of 16. Before heading to Qatar, though, the squad "issued a strong collective statement of protest over the human rights record of Qatar," as noted by The Guardian. The video also "[raised] concerns about the "suffering" of migrant workers and the inability in Qatar of LGBTI+ people 'to love the person that they choose.'"
Did that affect Australia's performance? Or do "political demonstrations" only become distracting when they're done at the tournament?
Discouraging protests also runs counter to the ideas that made Arsene Wenger so special
Now that we've discussed the sporting merits of Wenger's point, let me explain why the comments were so disappointing.
At the risk of trying to paint the full picture of a man in a few sentences, the former Arsenal man has always been a progressive thinker who has spoken about the potential of sports to represent something greater than 22 players and a ball. He wanted his teams to make art, for example, and provide supporters with a joyful glimpse at something special.
Implying that using the platform of the World Cup to protest runs counter to that.
During his time in the public eye, Wenger has also been a supporter of equality. As George Weah explained in a Guardian interview, the manager "was a man, when racism was at its peak, who showed me love." The Frenchman also fielded a starting 11 featuring nine Black players — which was unprecedented in the Premier League at the time — did a lengthy interview with Arsenal's official website in 2014 discussing homophobia in sports, and, in summer of 2020, spoke about the "anti-racist" nature of sport (h/t The Daily Mail).
It seems incongruous to hear that same man suggesting that it was a poor choice for World Cup squads to make a statement before a match.
At the risk of trying to analyze Wenger's behavior and draw a link between past and present, it's possible that his loyalty to his current employer is getting the best of him. If we learned anything during his time at Arsenal, the former manager is fiercely loyal and will absorb plenty of slings and arrows on behalf of those above him. While there's no way to know if he feels the same way about FIFA that he did about Arsenal, it's not impossible to imagine him towing the company line and accepting some imperfect realities in the hope that FIFA can be a net positive in the world.
That, however, is both an incredible positive reading on the situation and nothing but my theorizing. It does nothing to excuse Wenger's comments in Qatar.
As I said at the start of this piece, I think the world of the former Arsenal boss. Holding him in that high regard, however, also means I have to call him out when it's necessary.