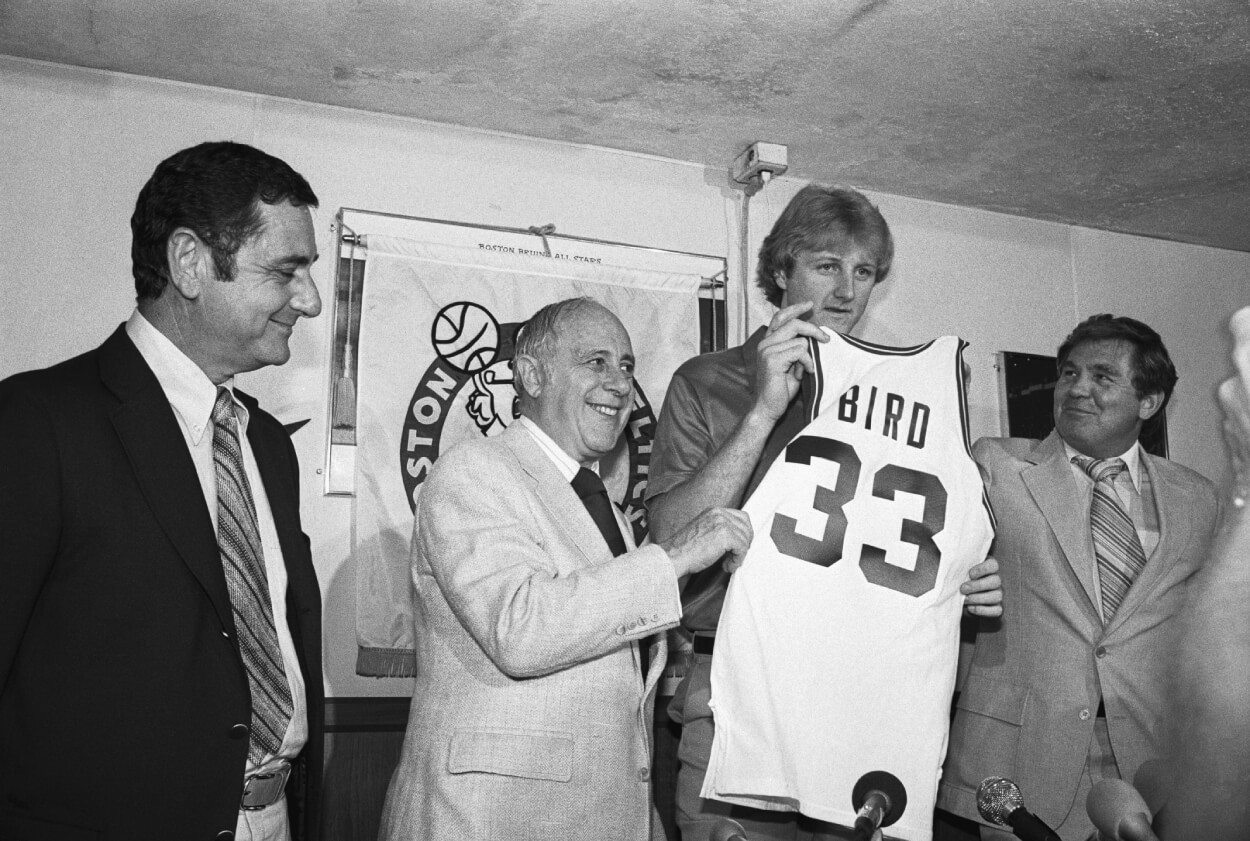 As a Rookie With the Boston Celtics, Larry Bird 'Couldn't Relate to All That Money'
Larry Bird wanted no part of those intense rookie negotiations with the Boston Celtics.
Larry Bird took a much different approach than others to get to the Boston Celtics. Boston drafted Bird as a junior at Indiana State and held his rights for one year after he elected to play out his senior year with the Sycamores.
Negotiations went down to the wire. They got heated between Celtics GM Red Auerbach and Bird's agent Bob Woolf. Bird admitted he wouldn't get involved in those battles. All that money being discussed was a whole new world to him.
Larry Bird became the highest-paid rookie when he signed with the Boston Celtics
Although Auerbach knew he had a star in the making, he had to downplay Bird's greatness during the negotiation process.
"Bird's a cornerman, that's all he is," Auerbach said to Woolf in their first meeting, according to Sports Illustrated. "And that makes him the least important of the three major positions — center, fast guard, then corner."
The two sides were miles apart, with Auerbach and the Celtics offering far less than the $1 million per year Woolf aimed for.
Woolf explained his side of the story to Sports Illustrated.  
"Look, Red started fooling with me at $250,000," he said in October 1979. "I told him, 'I'm going to ask for $1 million, and you say no. Then you've got to start at $500,000, and I'm going to say no. Come on, Red, you come up, and I'll come down. That's the way negotiations work.'" 
Negotiations went down to the wire. Had an agreement not been made, Bird would have re-entered the 1979 NBA Draft. Instead, the two sides came to an agreement. Bird inked a five-year deal, averaging $650,000 per year. He became the highest-paid rookie in NBA history.
Bird admitted he 'couldn't relate to all that money'
In his book Drive: The Story of My Life, Bird admitted those long, drawn-out negotiations were something he wasn't prepared for.
"My first contract negotiation was really kind of wild," he said in the book. "I certainly wasn't prepared for it. Even though I had such a great college career, as with all college seniors, you are still an unproven entity at the professional level.
"Red Auerbach is famous as one of the toughest negotiators in sports. He has rarely wavered from his negotiating process of trying to make his first offer his last offer as well. Red offered Mr. Woolf a $500,000-a-year salary for me. I'm sure the labels "too slow," "can't run," and "can't jump" were mentioned more than once during the negotiations.
"Mr. Woolf told me he wanted to make me the highest-paid rookie in sports, and I just left everything in his hands. I couldn't relate to all that money anyway."
The deal finally got hammered out, and Bird showed he was both worth the wait and worth the money. He guided the Celtics to three championships in the 1980s and captured three straight MVPs from 1984 to 1986.