Austin Cindric: 'If You Need Breaking and Entering Tactics, Harrison Burton Is Your Guy'
We need Austin Cindric to win more races. Not only would that help make the NASCAR Cup Series more unpredictable than usual, but it would lead to more interviews of the Team Penske driver like the one preceding the 2023 Daytona 500.
And that would be a good thing, because he's got great stories to tell.
Austin Cindric will attempt to defend his Daytona 500 title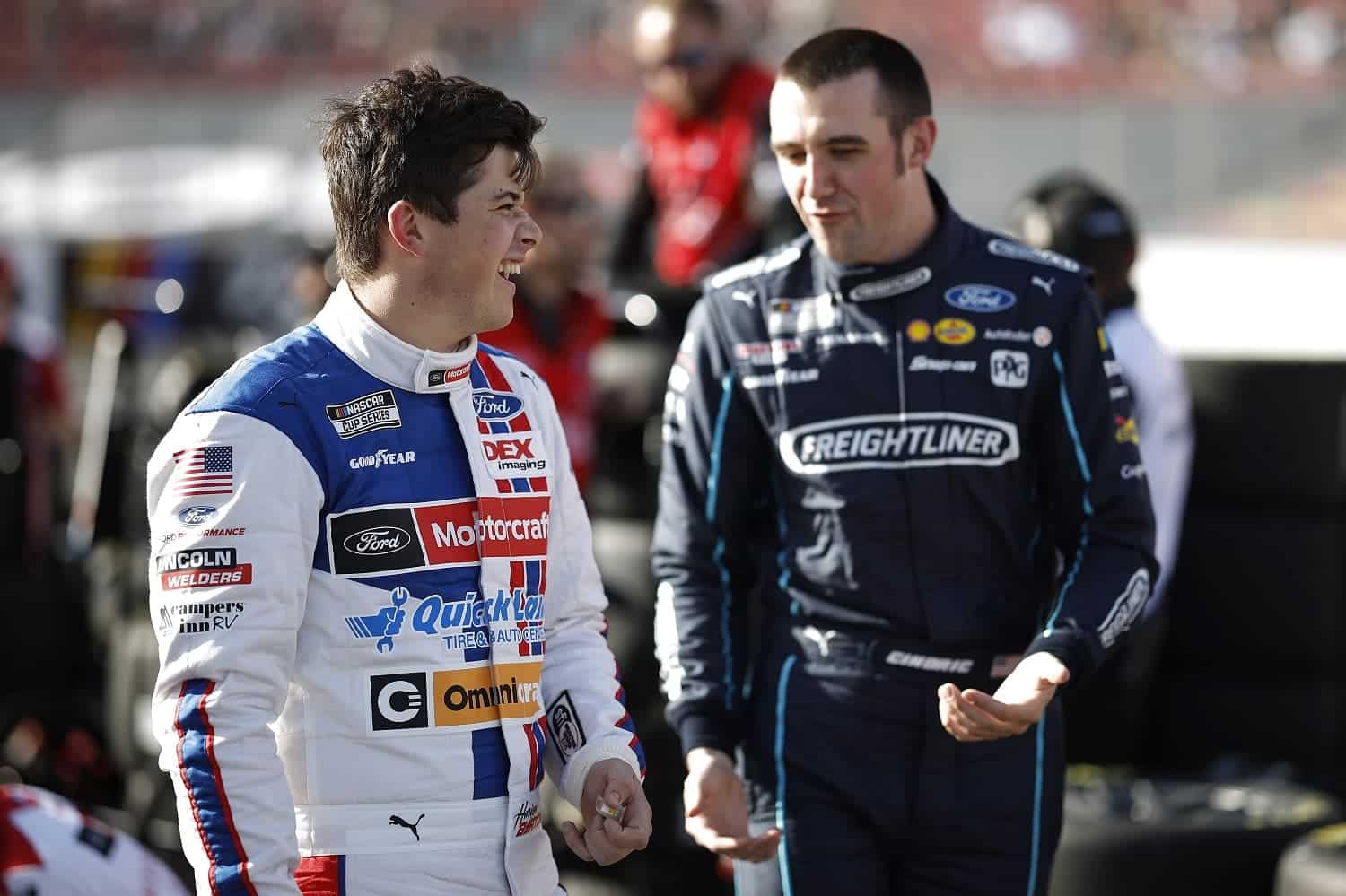 Austin Cindric has already built quite the NASCAR resume. Cindric, 24, finished third in the 2017 Craftsman Truck Series, then moved on to the Xfinity Series, where he won the 2020 championship and placed second in the following season.
Then, making just his eighth Cup Series start ever, Cindric opened last season by winning the Daytona 500. It all but clinched the Rookie of the Year Award for him one race into the year. There were ups and downs the rest of the way, but Cindric made the playoffs and advanced to the second round.
On Sunday, he begins his sophomore season in NASCAR's top series five positions behind polesitter Alex Bowman.
Austin Cindric had a serious off-season duty
Winning the 2022 Daytona 500 was worth $2 million or so to Austin Cindric and the No. 2 Ford outfit at Team Penske. It also put the young driver in the spotlight in a way he couldn't possibly have been prepared to handle. He spent the next month in demand everywhere, and it was a distraction.
He didn't crack the top 10 again until Sonoma in Week 6, then went nine more races outside the top 10 before finding his stride again with a streak that started at Sonoma.
On top of all that, a jury duty summons showed up in Cindric's mail two weeks after Daytona. Given the nature of his job, it was easy for the driver to get a postponement, but the bill came due in December.
The case for which he was empaneled was no run-of-the-mill crime. In fact, it was a murder case, and the jury returned a guilty verdict.
Harrison Burton comes to the rescue
Like many drivers, Austin Cindric camped out this week in the Daytona infield. His parents stayed there during the Rolex 24 and left their motorcoach behind for Cindric to use. When he arrived, however, the defending Daytona 500 champ discovered he had only one of the two necessary keys to get in.
He figured he could open the utility compartment in the front of the trailer, push the bed out of the way, and crawl in. He figured wrong because there were too many panels in the way. Cindric enlisted the help of the shorter, slimmer Harrison Burton, the second-year driver for Wood Brothers Racing. Burton was able to wiggle his way in to unlock the door from the inside, and Cindric had a place to sleep.
"Harrison Burton, without a race so far in 2023, is teammate of the year," Cindric told Fox Sports on media day. "He helped me break into my camper. So, if you need breaking and entering tactics, Harrison Burton is your guy."
Got a question or observation about racing? Sportscasting's John Moriello does a mailbag column each Friday. Write to him at [email protected]