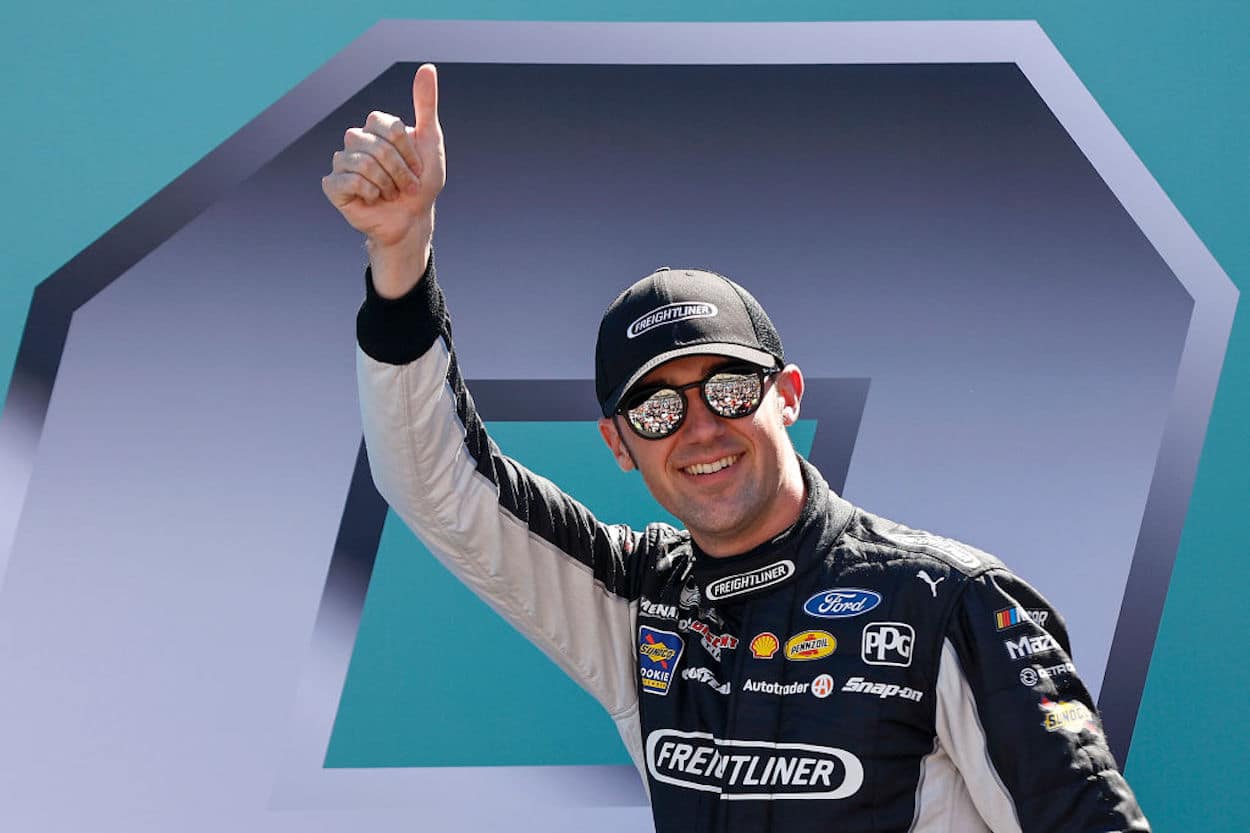 How Austin Cindric Produced a Dominant Victory Over Harrison Burton and Todd Gilliland in NASCAR's Rookie-of-the-Year Battle
What goes does it take to put together a Rookie of the Year campaign? Look no further than how Austin Cindric raced to the crown in 2022.
When the 2022 NASCAR Cup Series season began, most pundits and prognosticators expected one of the more intriguing Sunoco Rookie of the Year battles in recent memory.
After all, the three drivers in contention for top rookie honors — Austin Cindric, Harrison Burton, and Todd Gilliland — were all proven winners in either the NASCAR Xfinity Series or the NASCAR Camping World Truck Series, which are NASCAR's No. 2 and No. 3 division, respectively.
But instead of the hotly contested, down-to-the-wire rookie race that many anticipated, Cindric rode off into the proverbial sunset, leaving no doubt about who was tops among the Cup Series' crop of talented newcomers.
But how did Cindric — the son of longtime Team Penske president Tim Cindric — manage to put so much distance between himself and his fellow rookies?
Austin Cindric wasted no time making himself the front-running rookie, then pulled away
Leaving no doubt about who'd have the upper hand in the contest for Sunoco Rookie of the Year, Austin Cindric promptly went out and won the Daytona 500 in just his eighth career Cup Series start.

Of course, the victory couldn't have come on a bigger stage, since the Daytona 500 is not only the first race of the Cup Series season but is — without argument — NASCAR's most prestigious event.
And Cindric didn't just win the 500, dubbed the Super Bowl of NASCAR; he won convincingly, leading 21 laps — including the final eight laps — in his No. 2 Team Penske Ford. Meanwhile, Todd Gilliland and Harrison Burton finished 33rd and 39th, respectively, after both getting caught up in a crash.
Cindric's victory not only put him in the national spotlight as he became the first rookie winner of The Great American Race, as the Daytona 500 is known, but the win solidified a playoff berth right out of the gate.
With no real pressure at his back, Cindric managed to secure seven more top-10 finishes — including four more top-fives — by the time the regular season concluded back at Daytona in late August. Then, once the playoffs began, he managed — despite all odds — to make it out of the Round of 16 and reach the Round of 12, where he was ultimately eliminated from title contention.
The 2020 NASCAR Xfinity Series champion and 2021 Xfinity Series championship runner-up finished 12th in his first full Cup Series with NASCAR Hall of Fame team owner Roger Penske's organization, while Burton and Gilliland ranked 27th and 28th, respectively, after each recorded only one top-five finish. Those top-fives, coincidentally, came in the July 31 race on the Indianapolis Motor Speedway road course where third-place-finishing Burton took the checkered flag one spot ahead of Gilliland.
Appropriately, Indy was also the site of one of Cindric's best finishes of the season, as he came home second to race winner Tyler Reddick. So, even on the day when Burton and Gilliland had their best runs of the season, Cindric still ruled the rookie roost.
The struggle was real for Harrison Burton and Todd Gilliland in their debut Cup seasons
As for why Austin Cindric consistently performed at a higher level than both of his fellow rookies in 2022, it's a bit hard to figure.
While Team Penske is without question far superior to Front Row Motorsports — the organization for which Todd Gilliland competes — Team Penske has a close technical alliance with the Wood Brothers Racing organization for which Harrison Burton drives.
In fact, Burton's cars are prepared out of the same Team Penske shop, located in Mooresville, North Carolina, as Cindric's. So it's anyone's guess why Cindric ran away with the rookie race while Burton — son of 21-time NASCAR Cup Series race winner turned NASCAR on NBC race announcer Jeff Burton — struggled so badly. 
But that's exactly what happened, as Cindric quickly jumped to the top of the Sunoco Rookie of the Year heap and never looked back. 
While the results from 2022 make it pretty obvious that Cindric is more than ready for life at NASCAR's highest level, still to be determined is whether Burton and Gilliland — both sons of former Cup Series drivers — merely endured the typical rookie growing pains or need more time at NASCAR's lower levels to be completely Cup-ready.
Burton is a four-time Xfinity Series race winner, having captured all of those wins with Joe Gibbs Racing in 2020, while Gilliland — the son of former Cup Series driver David Gilliland — has been to Victory Lane three times in the NASCAR Camping World Truck Series.
Does Cindric have a more promising future in the Cup Series than Burton and Gilliland? That certainly appears to be a possibility, but then again, it's hard to judge based on a single season. 
What is certain is that Cindric was in a different ZIP code from his fellow rookies in 2022.